Department of Pharmacy Practice Facilities & Labs
Overview
Saint Joseph's is committed to preparing our graduates for successful careers in pharmacy professions by providing cutting-edge learning labs and facilities that support team-based learning and integrate well with our innovative competency-based curriculum. These environments offer a true reflection of the future of healthcare. Here's what we offer.
Compounding Laboratory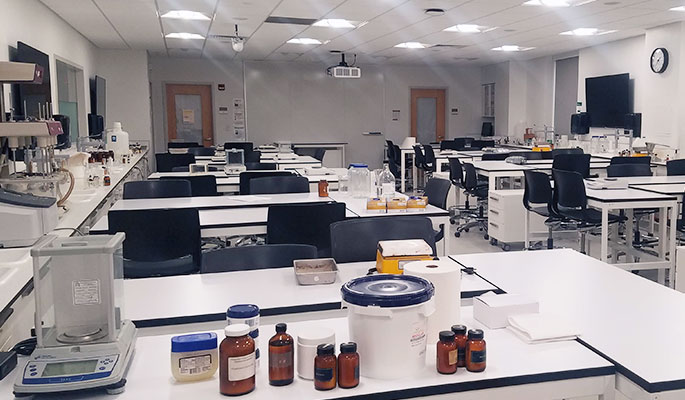 The compounding laboratory is a multi-purpose facility designed to train students in techniques associated with basic compounding.
Students in the Doctor of Pharmacy curriculum utilize the laboratory on multiple occasions throughout their professional curriculum.
In addition to being the site of training in basic compounding, the laboratory also serves as a staging area for more advanced laboratory courses within the curriculum.
Continuum of Care Simulation Suite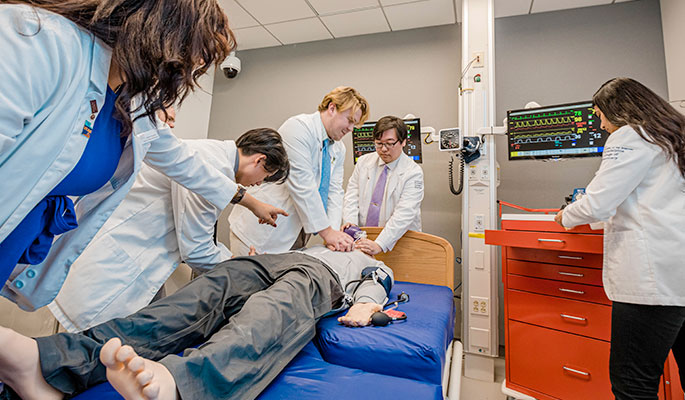 The Continuum of Care Simulation Suite (C2S2) is designed to simulate the full range and process of patient care, from community pharmacy to an intensive care unit.
Patient care rooms with modular walls can be configured as one to five rooms. All rooms can be recorded for video and audio playback enhancing student learning. This suite has six high fidelity Laerdal manikins, one high fidelity pediatric Laerdal manikin, and cardiac and lung task trainers—providing real-life, hands-on simulations and symptoms to help develop individual decision-making and teamwork skills.
Model Pharmacies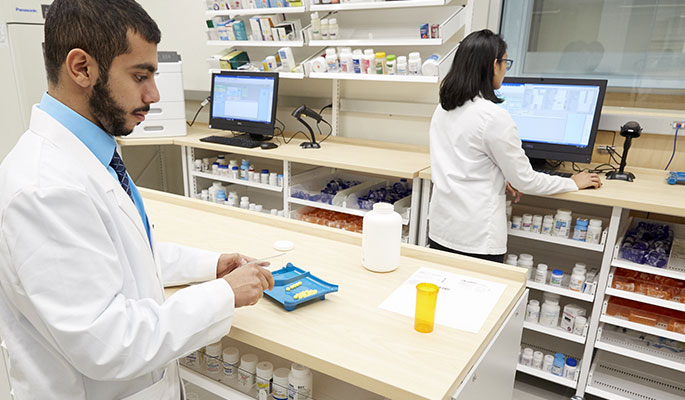 A model inpatient pharmacy and the Rite Aid Community Pharmacy Learning Center are state-of-the-art resources. The community pharmacy has a waiting room and two patient interview rooms.
Pioneer Rx is available to all students for real-world prescription simulation. This leading retail pharmacy computer software system provides features such as patient medication synchronization, identification of risks, and tools to manage the pharmacy workload.
Team-Based Learning Room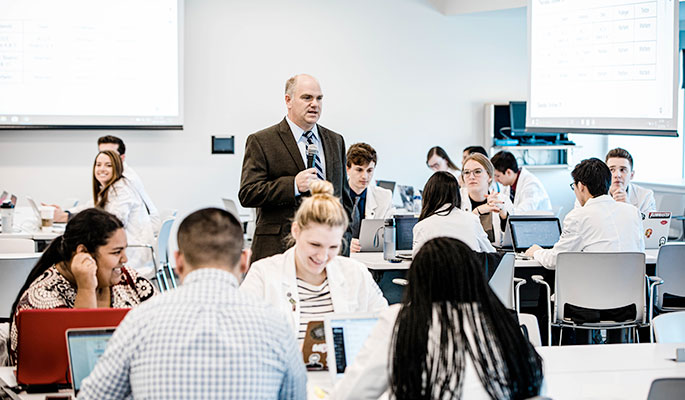 This large, modular classroom can accommodate up to 200 students, but can also be divided into halves or quadrants for team-based learning exercises.
Its modular walls serve as whiteboards, and projection screens on all four sides provide a 360° learning experience.
Integrated Professional Education Complex (IPEX)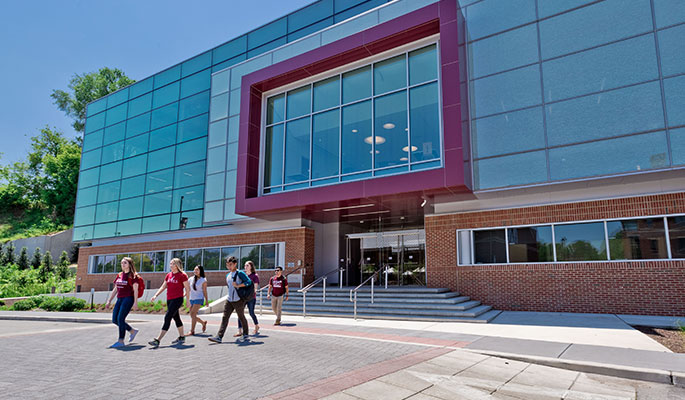 These learning labs and facilities are housed on the third floor of the Integrated Professional Education Complex (IPEX). This 57,000-square-foot, three-story building was designed to promote an interprofessional education model, allowing students from several disciplines, including pharmacy, physical therapy, occupational therapy, physician assistant studies, exercise science, psychology, and healthcare business, to study, interact, and learn with and from one another. Hands-on experience with students from other related healthcare disciplines provides a valuable opportunity to fully understand the value of interprofessional activities in everyday practice.