If you are an incoming Saint Joseph's University freshman who is passionate about the field of autism, consider participating in the Kinney Center's Apprentice Program. This immersive summer experience hosts and trains a cohort of students who have identified autism as a passion and/or career trajectory. Ease into your freshman year with a leg up on your classmates. Not only will you begin college with a course under your belt, but you will gain a new group of friends, and will know campus like the back of your hand.
Why You'll Be Glad You Participated
Complete a 3 credit course over the summer, allowing you to start freshman year with a reduced course load!
Get the training and experience needed to become a full fledged Kinney SCHOLAR in the Fall Semester. Freshmen who do not participate in the Apprentice Program have to wait until their Spring semester to join the SCHOLARS team.
Live in community with incoming freshmen who have similar interests and passions. Kinney's Apprentice cohorts have historically formed lifelong friendships as a result of this shared experience.
Get paid an hourly wage.
Enjoy social events, nights out with fellow SJU students.
Make an immediate impact on the autism community.
I chose to participate in the Apprentice Program because when I came to tour the Kinney Center while applying, I fell in love with the atmosphere around the center. When I heard about the camp experience, I knew I had to come to campus early."

Molly Burke '22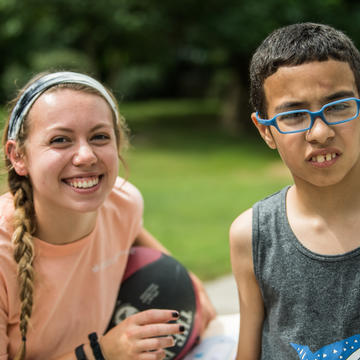 Next Steps
Prior to being accepted into the Apprentice Program, you must first get accepted into Saint Joseph's University.
January 1, 2022 - Application and Interview Process Begins
May 1, 2022 - Applications Close
May 15, 2022 - Acceptances Mailed
June 12, 2022 - Training Begins
June 27, 2022 - Camp Kinney Begins
August 4, 2022 - Camp Kinney Ends