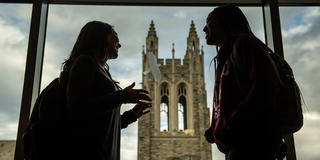 Department of Economics
The Department of Economics offers traditional courses as well as extensive student-professor interaction, a friendly and supportive environment for all students, and experiential learning opportunities in the form of internships, independent research and service-learning.
The Department of Economics provides students with the strong analytical skills required for assessing a full range of public policies and understanding the global, national and local economic issues in a broad context. These skills will enable students to analyze particular economic questions such as identifying and assessing tradeoffs in the context of limited resources, using data to evaluate economic events and testing hypotheses about how consumers and producers make decisions.
Our economics program offers two majors, a B.A. in Economics and a B.S. in Quantitative Economics, to prepare students for graduate study or careers in an array of fields. Introductory courses give students an appreciation of the way economists view the world and offer insight into the techniques used to analyze problems. Meanwhile, our small upper-level courses allow students to select a set that matches their individual interests and provides appropriate preparation for individual classes.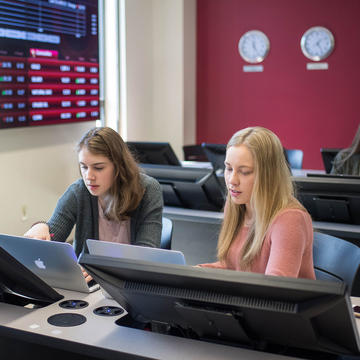 Economics Degree Programs
Economics Degree Programs
Our B.A and B.S. majors and minor in economics offer flexibility in course selection, giving students exceptional opportunities to pursue complementary interests in related disciplines.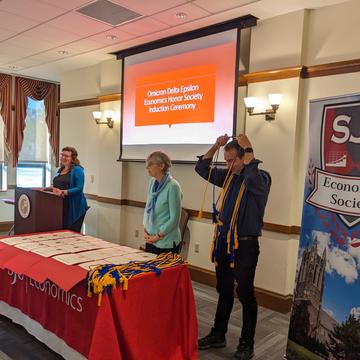 Our Faculty
Economics department faculty are deeply dedicated to supporting students in achieving their academic and career goals.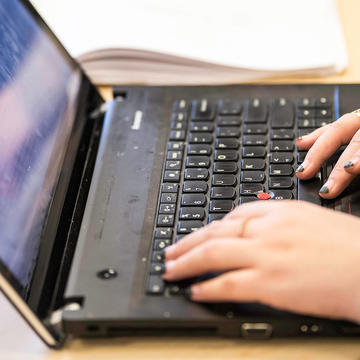 Internships
The Department of Economics offers an academic internship program where students earn course credit for their internship.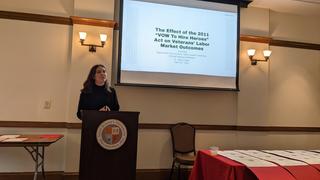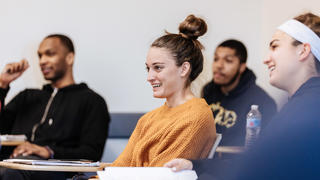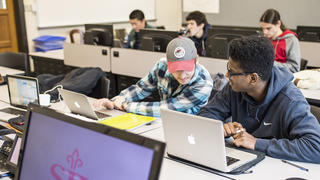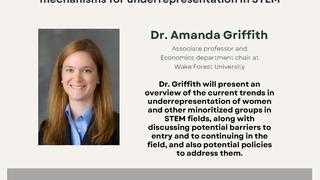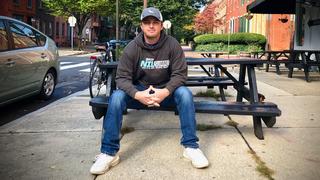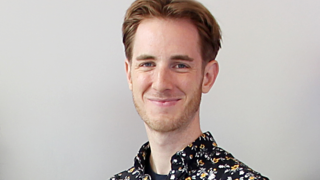 Zoe Hoag '23 completed her honors capstone project in Economics. Hoag's research project titled "The Effect of the 2011 'VOW to Hire Heroes' Act on Veterans' Labor Market Outcomes" stemmed from her work at the Veteran's Office at Saint Joseph's University. Her paper was the first to study the effect of VOW, a major federal policy, on labor force participation and unemployment of veterans. She found that the policy was effective at increasing labor force participation, but there were no effects on unemployment. Following graduation, she is attending Temple University for law school. To learn more about the honors program, see https://www.sju.edu/honors-program.
The Department of Economics is pleased to add three new courses for Fall 2023! Dr. Nancy Fox will teach Economics of Food (ECN485) as a service-learning course, first teaching students about the economics of the food industry, then moving to policy discussion and connecting to social justice. Dr. Jerry Hionis will teach Economics of War & Conflict (ECN471) as a special topics course, using economic theories and case studies to explore global conflict. Finally, we will be offering ECN290, a one-credit professional prep seminar designed to help our students with their job search.
The Department of Economics just launched a new major: Bachelor's of Science in Quantitative Economics. Students pursuing a B.S. in Quantitative Economics will take the same core as students earning the traditional B.A. in Economics, including introductory and intermediate micro- and macroeconomics. B.S. majors will then take required coursework in econometrics, and upper division quantitative economics electives such as environmental economics and international macro, preparing them for careers in analysis or research, along with graduate school in economics and related fields.
Brandon Gergel from the Economics class of 2013 (and M.S. International Marketing Class of 2015). He is working as a playwright and producer of a multilingual theater company in Taipei, Taiwan. "Love, a/Verse" ran from August 19-26 at Thinkers' Theatre on Dihua Street, Taipei, as part of the Taipei Fringe Festival.

The Opportunist Newsletter
Stay up-to-date with departmental events and highlights with our department newsletter, The Opportunist. Our student editor and writers publish several issues per semester focusing on upcoming and recent departmental events, economics in the news, and alumni features.
SJU's intensive curriculum, helpful professors, and deep hands-on approach helped to guide me to the right position as a private equity analyst at DuPont Capital Management."
Economists can do a lot of good if they know how to help people. It's the study of all choices, not just the choices you make with your money."
Saint Joseph's has given me a greater depth of perception that enabled me to look at the world differently."