Industrial Pharmacy Laboratory
Under the directorship of Dr. Pardeep Gupta, the Industrial Pharmacy Laboratory (IPHL) at Saint Joseph's University is a full-scale research facility serving the needs of the current drug pipeline, including small molecules and proteins.
A catalyst of scientific progress, IPHL is a GLP-compliant pharmaceutical research facility offering complete drug delivery research services. The laboratory is fully equipped to support analysis, preformulation, and formulation research. IPHL scientists collaborate to overcome formulation and manufacturing challenges, streamline processes to increase cost-effectiveness, and develop product specific analytical methods for an array of different clients.
Recent projects include complete preformulation and formulation of oral solid dosage forms, formulation and supply of preclinical samples, formulation of a liposome based IV product, lyophilization cycle development, and development of a filtration method for a difficult to filter product.
Funded by the Burroughs Wellcome Fund and the Philadelphia College of Pharmacy, IPHL occupies 4,500 square feet of state-of-the-art space in the historic Griffith Hall.   
Areas of the Industrial Pharmacy Laboratory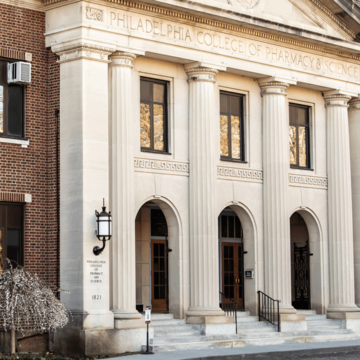 Empowering Partnerships
IPHL works with other academic institutions and GMP companies to fulfill their clients' clinical and marketing needs. The lab's location in Philadelphia's University City creates collaborative opportunities with Drexel University, University of Pennsylvania, Jefferson University, and the Science Center.
A legacy of innovation
IPHL stands on a strong foundation of pioneering scientific achievement. Beginning in 1821 as the Philadelphia College of Pharmacy—the first such college in North America, it was here that Joseph Price Remington published what is now considered the standard text in the field, Remington: The Science and Practice of Pharmacy.
Dr. Robert King opened the core laboratory facility in the 1960s. Several decades later, Dr. Joseph Schwartz developed IPHL into a center of active collaboration with the pharmaceutical industry.
Through IPHL, Saint Joseph's students—tomorrow's pharmacy leaders—have the opportunities to hone their skills and gain invaluable bench experience working on real research projects alongside experts in the field.