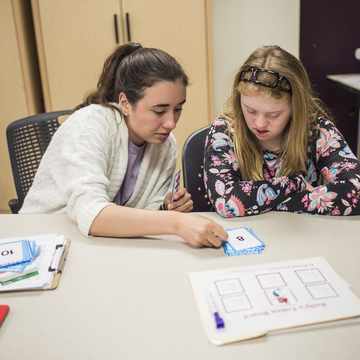 Build your resume, help your community and experience a college campus.
If you are a local high school student looking for meaningful volunteer experience consider participating in the Kinney Center's High School volunteer program. High School volunteers work alongside neurodiverse peers modeling appropriate behavior, participating in conversations and building friendships. Your role is essential to helping our participants with autism develop the communication and social skills needed to build relationships with family members, teachers, therapists, and peers. Your high school volunteer experience will be guided by a Saint Joseph's University undergraduate student, called a Kinney SCHOLAR. They will provide you and your fellow high school volunteers with the following:
Training on autism spectrum disorder
Meaningful feedback and guidance
Team building
Facilitation of group project
Access to campus life

Applications for Fall 2021 will open in August 2021.
Everyone is so happy and positive, and it makes me that way. It makes me feel comfortable to work with these kids."

Caroline Glavin