Resident Assistants
Resident Assistants at Saint Joseph's
Resident Assistants, or RAs, are vital within the University as they are involved in direct and extended contact with resident students. The Resident Assistants are typically the foundation of the hall to which they have been assigned and, as representatives of the University, are interested and trained individuals who are available for advice, counsel, support and encouragement. RAs serve as role models, mentors, peer-advisors and programmers. They develop community among resident students and uphold our shared community standards. The RA role is crucial to the residential experience, but it's also fun and rewarding and provides some very real leadership skills.
Meet Our Resident Assistants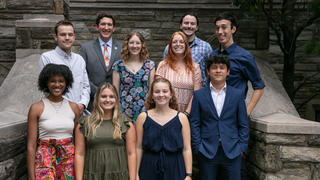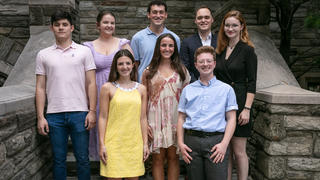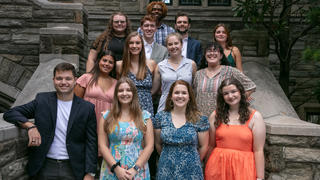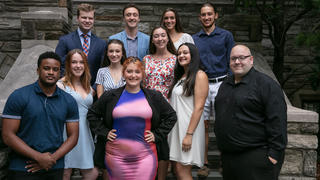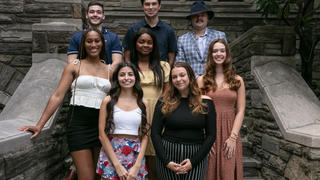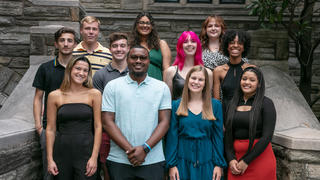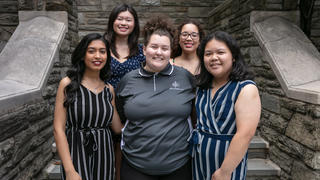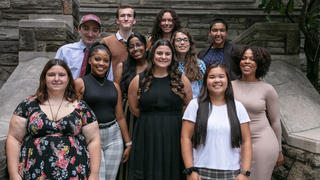 Cardinal Campus: Villiger Residence Hall. Residential Area Manager: John Burke.
Central Campus: LaFarge Residence Center. Residential Area Manager: Mairead Young.
City Ave Apartments: Rashford Hall & Lannon Hall. Residential Area Manager: Erica Langholz.
Merion Campus: McShain Residence Center. Residential Area Manager: Steve Porcelli.
Overbrook Campus: Ashwood Apartments and Townhouses. Residential Area Manager: Mairead Young.
West Campus: Pennbrook Apartments and Merion Gardens Apartments. Residential Area Manager: Eric Morton.
University City: Osol Hall. Residence Hall Manager: Caroline Virone.
University City: Living & Learning Commons. Residence Hall Manager: Krista Romaine.
Resident Assistant Selection Process
The RA Application process for 2023-2024 academic tear positions is now closed. Please check back in October 2023 for updated infromation regarding the 2024-2025 RA selection process.
Can you picture yourself as an RA? Want to develop leadership skills and marketable resume experience? Want to make a difference in the SJU residential community? Consider applying for a RA position for the 2023-2024 academic year!
Information Sessions
Interested students are encouraged to attend an optional information session to learn more abou the position and the RA application process. Information sessions are scheduled at the following dates, times and locations:
| | |
| --- | --- |
| Wednesday, November 16 | 6:00 p.m.,  Campion- Banquet Hall South (Hawk Hill) |
| Friday, November 18 | 12:30 p.m., Living & Learning Commons Lobby (University City) |
| Tuesday, November 29 | 4:00 p.m., Zoom (Password: SJU) |
| Thursday, December 1 | 11:00 a.m., Zoom (Password: SJU) |
| Wednesday, December 7 | 4:00 p.m., Campion- Sunroom 1 (Hawk Hill) |
| Thursday, December 8 | 5:00 p.m., Campion- CID Lounge (Hawk Hill) |
Application
RA applications will be available electronically from Monday, November 28, 2022, through Thursday, January 19, 2023. Completed applications must be received by 4 p.m. on January 19, 2023. 
Our application form is available here. If the link does not direct you to the application form, please try to open the application in a different browser and on a computer, not a phone.
RA Seminar
The first part of the RA Seminar process will be held over the weekend of February 4-5, 2023. Applicants should hold 9 am - 3 pm to participatein this process. Applicants will be scheduled by Residence Life to participate in one of the sessions that weekend. For those applicants unable to interview that weekend, you must email RA_Selection@sju.edu by the application deadline to see if we are able to accommodate. Your application will have more instructions.
Participation in the seminar weekend is a requirement of the selection process and does not guarantee a Resident Assistant position. Candidates will be emailed as to which seminar session they are assigned to in the morning or afternoon on Monday, January 30, 2023.
Individual Interview
RA Applicants will participate in one individual interview. The individual interview is a chance to answer and ask questions in a smaller setting with a member of the Residence Life professional staff and at least one current RA. These will take place between February 16-21, 2023.
Candidates will be sent a link to sign up for their individual interview on Monday, January 30. Please note: you will be assigned a session for the Seminar, but you will register for your own individual interview.
All candidates will be notified of their selection status and placement decisions by March 3, 2023 (approximately two weeks before Housing Selection).
Thank you for your interest in becoming a member of our RA team! We hope to meet you through the RA selection process!
Contact Us
For general inquiries and information regarding the RA position or application process, please call 610-660-1941 or email ra_selection@sju.edu.