School of Education and Human Development Academics
The School of Education and Human Development offers a wide range of undergraduate, graduate, doctoral and certificate and endorsement programs that prepare students to become caring educators and clinicians. Many of our programs offer a path to professional certification. We also encourage you to explore your interests by adding a double major, combining courses across schools and disciplines or choosing a 4+1 bachelor's/master's combined program. Find the program that matches your academic, personal and professional goals below.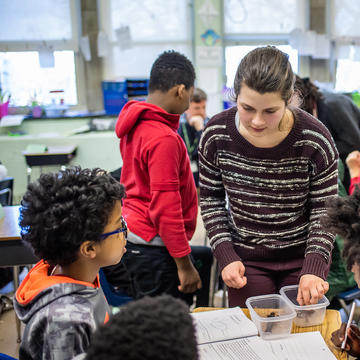 Experiential Learning
Fieldwork, Student Teaching & Clinicals
Experiential learning is crucial to our school and programs. In addition to our rigorous academics, our focus on hands-on experiences not only prepares graduates to pass their licensure exams but also to enter the job market as top candidates.
Our students engage in a range of fieldwork and clinical experiences including urban teaching initiatives, service learning programs and practicums with our community partners, school districts and healthcare facilities. They also have the opportunity to work with on-campus centers such as our nationally-renowned Kinney Center for Autism Support and Education, the Center for Addiction Recovery and Education and the Institute for Clinical Bioethics.