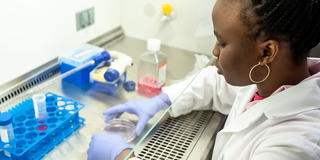 Academics
The School of Health Professions educates students to become compassionate healthcare providers and skilled researchers through our proven curriculum and accredited programs including occupational therapy, physical therapy, pharmacy and physician assistant.
We also offer direct-entry admission to our OT, PT and PharmD programs for exceptional incoming first-year students who have a clear vision for their career path and are ready to commit to the field. The direct-entry option allows first-time students to seamlessly transition from high school and secure a guaranteed spot in the professional phase of their program without needing to reapply if all progression requirements are met.
Additionally, we have state-of-the-art laboratories and a number of longstanding affiliations and partnerships with major healthcare providers and pharmaceutical companies throughout the Philadelphia region and beyond, giving our graduates an impressive and extensive network and diverse opportunities to engage in hands-on learning and community outreach.
The Student Experience
The School of Health Professions offers academic programs rooted in hands-on learning, community outreach, interprofessional collaboration and research. These experiences complement your classroom learning at Saint Joseph's University and allow you to gain practical skills in a number of health and science fields.
Here, you'll train in some of the best hospitals in the greater Philadelphia region or choose to broaden your exposure by traveling to out-of-state clinics. You'll also make an impact by participating in community service such as our pro-bono physical therapy clinic.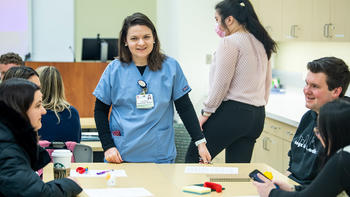 Teamwork and collaboration are important competencies for students entering the health workforce, which is interprofessional learning embedded in our programs. Engage in interprofessional learning activities, which include clinics and partnerships with students at Saint Joseph's and nearby institutions.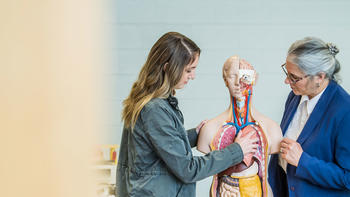 At Saint Joseph's, world-class faculty and ambitious students work together to conduct groundbreaking research that advances the science and practice of 21st-century healthcare. Learn about the research that takes place in our cutting-edge facilities and get involved.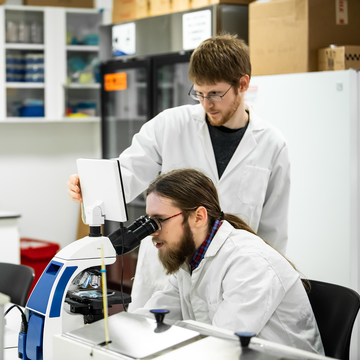 Research Spotlight
Strengthening Detection of Recreational Toxins
The research taking place in the School of Health Professions knows no boundaries. Garrett Walker '23, a pharmacology and toxicology major, and Jason Wallach, PhD, assistant professor of pharmaceutical sciences, are embarking on research that makes it possible to better detect recreational drugs in potential forensic or medical research.