Training Programs Information
Phoenix Training
Schedule a Training
To schedule or plan for training sessions with our team, please contact Meghan Burk.
First responder training in addiction and connection to treatment is most impactful when agencies engage in all three of our interrelated courses:
Supervisors Workshop:
Develop and implement policies
Promote and acknowledge progress
First Responders Training:
Understand addiction and trauma
Overcome barriers and save lives
Peer Champion Training & Network:
Inspire and celebrate colleagues
Influence community and sustain change
Phoenix Training aims to educate all Pennsylvanians who regularly interact with persons living with substance use disorder. More specifically, our training program can reach attorneys, probation & parole officers, correctional officers and children & youth services professionals across the state, as well as police, fire and EMS agencies in the counties indicated in red. 
The PA Department of Health has charged CARE with delivering training on addiction and connection to treatment to first responders in the 34 counties indicated in red. Police, firefighters and EMS professionals whose work is in the grey-shaded counties are encouraged to contact Brenda Scuilli at the University of Pittsburgh. All related professions in any of PA's 67 counties are encouraged to contact CARE for their training needs.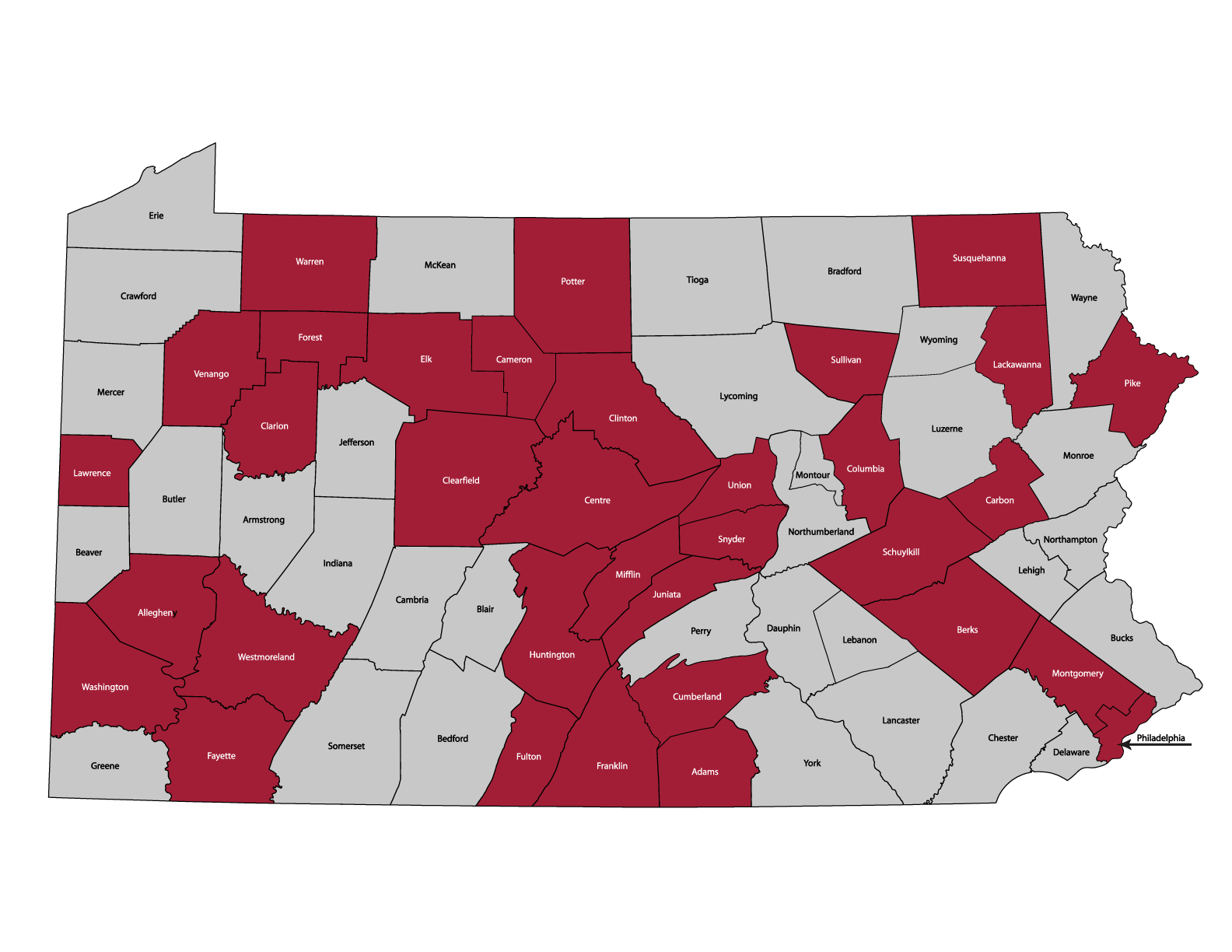 Meet the Team
John Becker Jr. has experience as a police officer, clinician, outreach professional, program developer and director. John possesses a personal understanding of substance abuse among first responders, having overcome addiction in his own life. He is the founder of Guardian Recovery Services, a private practice that provides counseling to First Responders struggling with mental health and substance abuse issues. John holds a B.S. in Behavioral Health Counseling and a Master's in Human Services. He is a Licensed Professional Counselor (LPC) and has obtained Certification as an Advanced Alcohol & Drug Counselor (CAADC). He is the Clinical Director of the Montgomery County (PA) Critical Incident Stress Management (CISM) Team and is certified by the International Critical Incident Stress Foundation (ICISF) in individual and group interventions. John is a Certified Trauma Responder (CTR) and is recognized as a Certified Employee Assistance Professional (CEAP) and Substance Abuse Professional (SAP). John regularly provides training, education and consultation to local, state and federal organizations throughout the United States, on topics such as stress, trauma, wellness, mental health, suicide, and substance abuse, with a focus on members of the first responder community. He can be contacted at 215-833-1572 or jbecker@guardianrecovery.info

Bill Burdette Served 25 years with the Pennsylvania State Police. He started in patrol, transitioning to Troop Vice and PSP Drug Strike Force, criminal Investigation and State Fire Marshal. He spent 11 years as Supervisor of the Eastern K-9 Section. He was sworn in as a Federal Task Force Officer assigned to a DEA HIDTA interdiction team. After retiring Burdette remained active in law enforcement serving a local university, and as a sworn police officer with local school districts.

Forzato began his law enforcement career at the Montgomery County District Attorney's Office in 1986. In 1992, Forzato transferred to the Narcotic Enforcement Team and for the next 27 years, worked in undercover roles and investigated drug traffickers, pursuing them locally, nationally and internationally. As a Lieutenant, Forzato supervised undercover detectives and 480 local police officers who served in a drug task force. Forzato led more than 100 wiretaps where his team seized thousands of pounds of drugs including kilograms of heroin and fentanyl. Forzato was sworn-in as a federal agent in the FBI's Joint Terrorism Task Force. In 2017, Forzato joined Pennsylvania's Attorney General as Deputy Chief of Statewide Drug Initiatives where he led new initiatives addressing the drug overdose crisis in Pennsylvania.

Forzato testified as an expert in drug abuse, trafficking, and wiretapping in local, state and federal courts. Forzato has interviewed hundreds of drug dealers, suppliers and users. Forzato remains up to date on the current drug-trafficking trends statewide, nationally, and internationally.

Forzato trained thousands of local, state and federal law enforcement officers, prosecutors, and public health officials. Forzato now directs the Center for Addiction and Recovery Education at Saint Joseph's University and leads its Phoenix Training for first responders.

Scott Heatley is a United States Coast Guard veteran and a retired Pennsylvania State Police Corporal. He started his law enforcement career in 1986 as a trooper working in traffic, criminal investigation and vice/narcotics units. Heatley was promoted to Corporal in 1998, where he supervised patrol, criminal investigation, and primarily vice/narcotics units. He also served as a supervisor for the State Police Clandestine Lab and Weapons of Mass destruction Response Team.
During his career, Scott Heatley has conducted and supervised hundreds of criminal investigations including wiretaps, and multi jurisdictional investigations at the local, state and federal level. He has been certified as an expert witness regarding drug investigations in local, state, and federal courts. Heatley developed and presented a clandestine lab safety awareness course geared towards first responders and has supervised over 70 clandestine lab investigations.
Heatley served on the Northcentral Counter Terrorism Task Force where he also worked as a facilitator and evaluator for multiple large scale, multi-agency training exercises. He was a certified instructor for the State Police, as well as an instructor for Act 120 (Municipal Police Officer Academy) at Mansfield University.

Tonya Lupinacci recently retired from the Montgomery County District Attorney's office where she served as the Assistant Chief of Trials of the Firearms and Narcotics Division. Mrs. Lupinacci handled all aspects of the District Attorney's initiatives to combat the current opioid epidemic. Mrs. Lupinacci spearheaded the grand jury investigation into the opioid epidemic in Montgomery County which resulted in a comprehensive report and recommendations that was released in May 2017.

Mrs. Lupinacci's experience also includes the prosecution of numerous wiretap cases involving large-scale drug trafficking organizations and homicide investigations. She has taught courses for the Pennsylvania District Attorney's Institute, Pennsylvania State Police and the Montgomery County Drug Task Force. She is also a member of the criminal justice and business law adjunct faculty at Montgomery County Community College.

Mrs. Lupinacci is an active member of the Montgomery Bar Association ("MBA") where she is vice-chair of the Women in Law Committee, as well as a member of the 2019 Leadership Academy.

Mrs. Lupinacci received her B.A. in Journalism with honors from Indiana University of Pennsylvania and her law degree from Widener University School of Law. She is currently a Ed.D. candidate at Saint Joseph's University.

Bryan McCauley is the Program Coordinator for the First Responders Addiction Treatment (FRAT) Program at Livengrin Foundation, a drug and alcohol treatment center in Bensalem, PA. Bryan is a Marine Corps Veteran, a former firefighter, and served as a police officer/ detective in Montgomery County and Philadelphia for twenty years. Much like the veterans and emergency responders he works with, he had to overcome his own alcoholism and engage in recovery. He has been sober and working with others since September 2010. He is continuing his education, attending Alvernia University in the Addictions and Mental Health program. His passion lies in educating and helping others to understand and overcome the disease of addiction.

Mike Noone is a founding partner of the law firm Noone & Borger, LLC focusing on criminal defense, internal investigations, and commercial litigation. As First Assistant District Attorney from 2012 to 2019, Mike served as the second in command of the Chester County District Attorney's Office. Mike supervised all the criminal trial teams, the juvenile unit, coordinated the investigation and prosecution of all adult sexual assault cases and elder abuse cases, and served as co-chair of the Chester County Overdose Prevention Task Force. Mike was also a member of the Executive Committee of the Elder Abuse Task Force.
Mike began his legal career at a Philadelphia law firm where he represented individuals and companies in commercial litigation matters in both state and federal court. Mike then served as an Assistant District Attorney in the Chester County District Attorney's Office. In the time between serving as an Assistant District Attorney and returning as First Assistant, Mike was in private practice in West Chester focusing on criminal defense and personal injury. Mike is a graduate of Wilkes University where he was valedictorian and Villanova University School of Law where he was Chairperson of the Moot Court Board. He is licensed to practice in Pennsylvania, New Jersey, the Eastern District of Pennsylvania, the District of New Jersey, and the District Court for the District of Columbia.

Drew Skelton began his first responder career as a teenager when he joined the Hereford Volunteer Fire Company in Berks County, Pennsylvania. At 17, he became an EMT and served with Bally Community Ambulance, Topton Ambulance and Eastern Berks Advanced Life Support (ALS). He also was a firefighter with the Red Hill Fire Company.

In 1989, Skelton received an Honorable Discharge from the Army after serving as a Military Police Officer.

In 1990, he joined the ranks of the Pennsylvania State Police. While in the state police, Skelton was assigned to Troops J-Lancaster, K-Philadelphia, M-Bethlehem, N-Hazelton and the Bureau of Professional Responsibility, Systems and Process Review Division. He spent the majority of his PSP career in Criminal Investigations and retired from the state police at the rank of sergeant in 2013.

In 2017, Skelton was hired as a consultant by the Borough of East Greenville in Montgomery County, Pennsylvania in order to assist the borough with forming its own police department. He was later selected to be the Chief of Police.

Currently a licensed private detective in Pennsylvania and New Jersey, he is also a member of the National Ski Patrol and is certified by the Pennsylvania Department of Health as an Emergency Medical Responder (EMR).

After 41 years in the Philadelphia Fire Department, Mike Yaeger retired as its Battalion Chief. Yaeger's service started as a firefighter in North Philadelphia, a promotion to Lieutenant where he served in West Philadelphia, and another promotion to Captain in 1994 where he had the honor of leading its elite Rescue 1. In 2008, Yaeger became Battalion Chief.

After recognizing alarming numbers of suicides in the fire service, Yaeger developed a suicide prevention initiative for the department. This led to Yaeger's work with Local 22, the Philadelphia Firefighters' & Paramedics' Union, on its health and wellness program where he assisted in the development of peer support initiatives. Yaeger's work includes supporting firefighters and others at the Livengrin Foundation First Responders Addiction Treatment program, known as FRAT. There, Yaeger helped develop a drug and alcohol program that trained more than 20,000 first responders on post traumatic stress and substance use disorder prevention. This specialized training was delivered at every one of their 63 stations and to all cadets.
Honor Roll of Trainees
CARE is proud to offer Phoenix Training sessions throughout the Commonwealth of Pennsylvania and across law enforcement and criminal justice professions. Agencies and organizations trained by CARE include law enforcement, firefighters, EMS services, probation and parole services and attorneys on both sides of the criminal justice system. At CARE, we believe anyone who regularly interacts with those suffering from substance use disorder have a role on the front lines of the overdose crisis. We look forward to adding to our Honor Roll of Trainees and spreading our message of compassion and hope.
Agencies Trained:
Abington Township Police Department
American Fire Company No. 1, Lansford
Lansdale Borough Police Department
Blaine Hill Volunteer Fire Company
Bucks County Department of Corrections
Bucks County Law Enforcement
Bucks County Probation & Parole
Butler County Drug & Alcohol Programs
Carbon County First Responders
Chester County First Responders
Clearfield County First Responders
Columbia County First Responders
Community Human Services Pittsburgh
Delaware County Bar Association
Douglass Township Police Department
Drexel University Police Department
Fayette County First Responders
Fayette, Washington, Westmoreland & Greene Drug & Alcohol
Horsham Township Police Department
IAF Local 22 Peer Group
Lansdale Borough Police Department
Laurel House 
Lower Providence Ambulance
Manheim Township Police Department
Mifflin County First Responders
Mifflin County First Responders
Mobile Integrated Health
Montgomery County Bar Association
Montgomery County Chiefs of Police
Montgomery County Detective Bureau
Montgomery County Fire Department
Montgomery Township Police Department
Northeast Counterdrug Training Center
PA Crime Prevention Officer's Association
Pennsylvania Department of Corrections
Pennsylvania Prison Warden's Association
Pennsylvania State Police
Pennsylvania State Police Academy
Philadelphia Department of Prisons
Philadelphia Fire Department
Public Defender Association of Pennsylvania
Saint Clair Police Department
Sandy Township Police Department
SEPTA Transit Police
Snyder County First Responders
Springfield Township Police Department
State College Police Department
Tamaqua Police Department
Tioga Children & Youth Services
Upper Dublin Township Police Department
Upper Providence Police Department
Join Our Team
Our peer-to-peer model relies on first responders and criminal justice professionals who share our passion for recovery and connection to treatment. We are always looking for new trainers to join our dynamic team and deliver our message.
Refresher Training Resources
To access Phoenix Training materials, please login to our learning management tool. If you have completed Phoenix Training and have lost access to the refresher training course, please contact us.