Greetings from Bishop Joseph Martino, Vicar for Ecumenical and Interreligious Affairs, Archdiocese of Philadelphia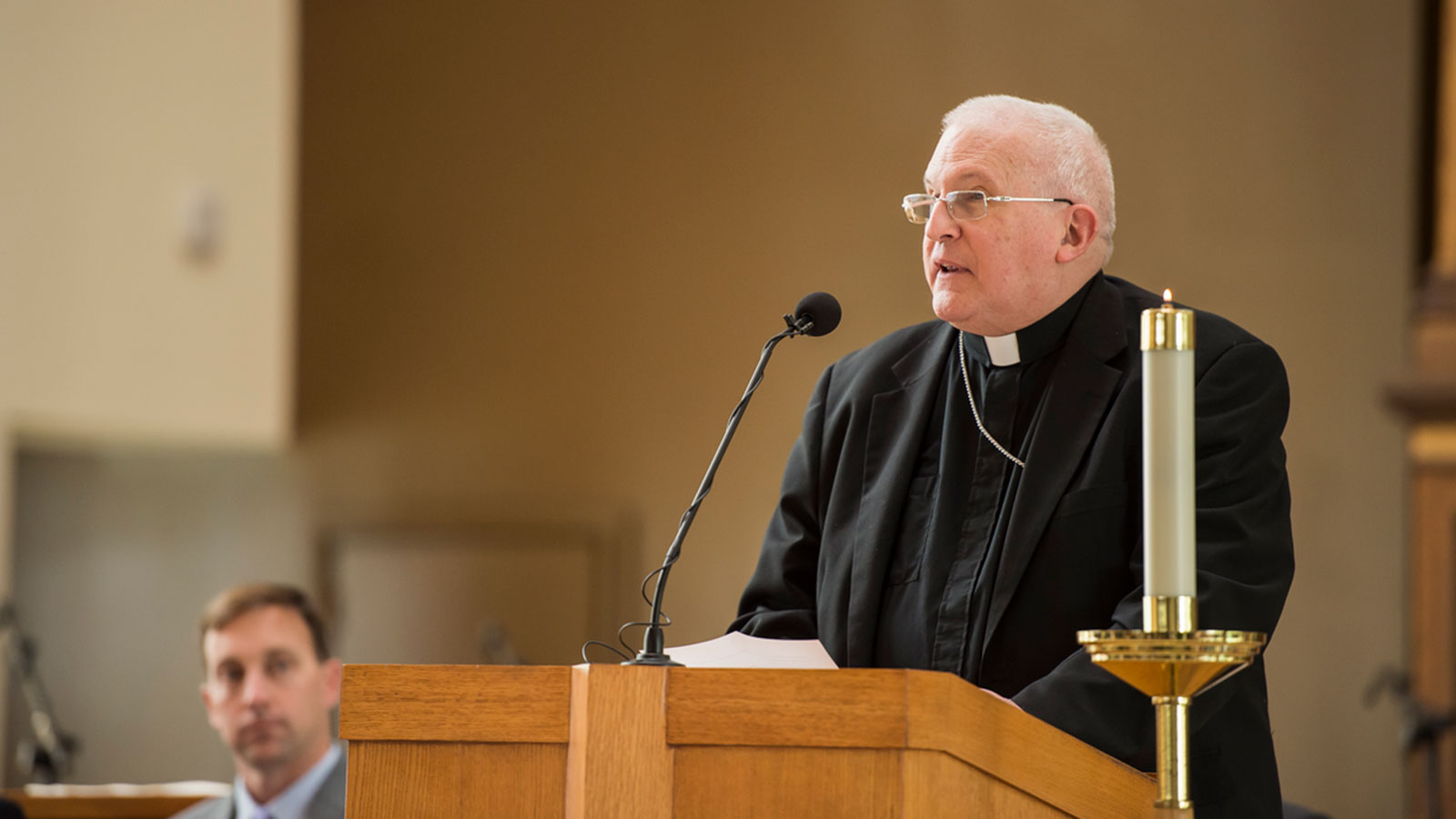 First of all, I want to thank Dr. Mark Reed, the new president of Saint Joseph's University, the many local Jewish organizations represented here, Dr. Philip A. Cunningham and his colleagues at the Institute for Jewish-Catholic Relations here at Saint Joseph's University, and all those who helped to plan this conference and for holding this wonderful event.
Thank you, as well, for inviting Archbishop Charles Chaput, Archbishop of the Roman Catholic Archdiocese of Philadelphia. He really wanted to be with you here today. In view of the fact, however, that Pope Francis will be arriving in Philadelphia in a matter of hours to celebrate the World Meeting of Families, I know that you understand that Archbishop Chaput could not be here personally this afternoon. I stand here as his representative and I'm proud to do so. I know that Archbishop Chaput would want me to thank the Jewish community and numerous volunteers from this university for supporting the World Meeting of Families.
In Archbishop Chaput's name, I extend a particular note of gratitude and of welcome to Rabbi Abraham Skorka, who will soon address us. As a good friend of Pope Francis, Rabbi Skorka helps us to sense in a very special way the presence here of Pope Francis, who no doubt blesses heartily today's assembly.
Congratulations as well to Joshua Koffman for the beautiful sculpture, "Synagoga and Ecclesia in Our Time," which will be dedicated later this afternoon.
We are here celebrating the golden jubilee of the Second Vatican Council's groundbreaking document Nostra Aetate. This declaration is the Council's, the Catholic Church's, sincere declaration about interreligious dialogue, with particular reference to Jewish-Catholic dialogue, but it is a Church document which clearly had major input in its composition from important Jewish leaders and scholars. It is no exaggeration to state that Nostra Aetate reset Catholic-Jewish relations into an atmosphere of mutual respect and reconciliation, of honest listening to one another, and of coming together in the accomplishment of truly good deeds.
This holding of jubilees – and I note the word is jubilee we're using here this today, not anniversary – the holding of jubilees is a concept common to both Judaism and Catholicism. We observe jubilees by giving thanks above all to our heavenly Father, by taking stock of ourselves, and by setting out to do even better than we have done. This type of jubilee celebration seems to me to be an apt template for what we should be doing in this golden jubilee year of Nostra Aetate. First of all, we offer our Creator profound thanks for setting us on the path which has led to fifty years now of productive Jewish-Catholic relations. We come together to take stock and we pledge to do even better to promote harmony between our two communities. This pledge to do better is absolutely essential. Too often great statements are made, great movements are launched, but what is the point of these initiatives – like Catholic-Jewish dialogue even, unless they are beloved, fostered, practiced, and indeed lived?
Thank you all here today for helping us to live the message of Nostra Aetate. Thank you.