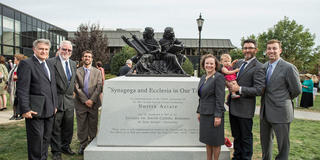 Synagoga and Ecclesia in Our Time
Meaning "Synagogue" and "Church" in Greek, Synagoga and Ecclesia refer to a pair of female figures found in medieval Christian art that personified Judaism and the Church. In that era Ecclesia was portrayed as a majestic, crowned and triumphant figure, far superior to Synagoga who was depicted as defeated, uncrowned, her staff broken, and her vision blinded. This adversarial contrast was repudiated in 1965 by the Second Vatican Council declaration, Nostra Aetate ("In Our Time"). To mark that document's 50th anniversary, in 2015 Saint Joseph's University commissioned a new artwork to reflect Catholic teaching that both communities can learn about God by studying their sacred texts together. This remarkable sculpture, which can be found outside of the Chapel of Saint Joseph's, was created by Philadelphia-based sculptor Joshua Koffman and blessed by Pope Francis.
"This statue is exactly a demonstration of two sisters of the same dignity, the Church and the Synagogue." – Rev. Federico Lombardi, Director of the Vatican Press Office.
"I have no doubt it will become a turning point in the History of Art." – Prof. Mariano Akerman, the Pontifical Catholic University of Rio de Janeiro.
The Medieval Motif of Synagoga and Ecclesia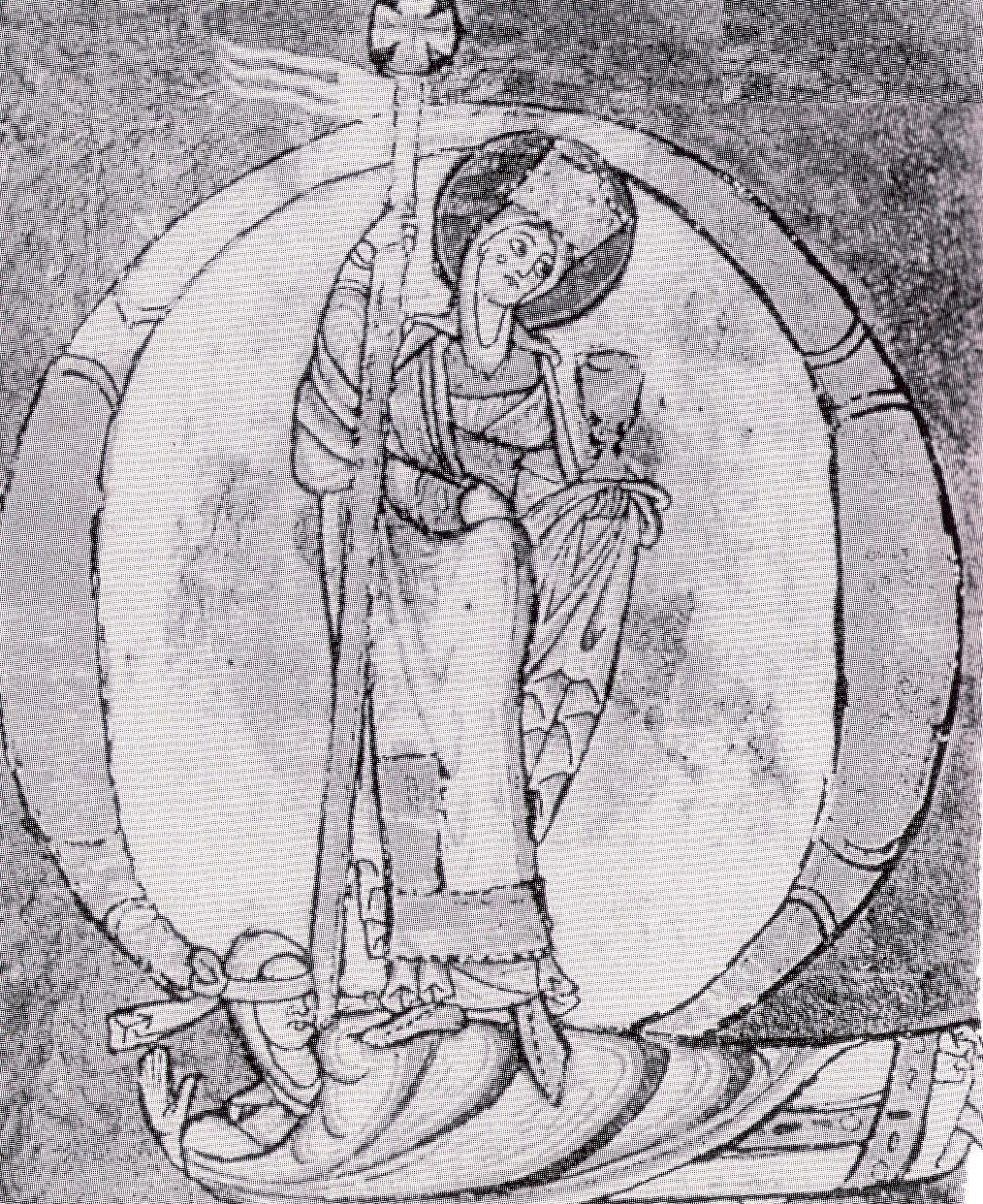 And Its Transformation in a Post-Nostra Aetate Church
In the Middle Ages, the feminine figures of Ecclesia (Church) and Synagoga (Synagogue) were a familiar motif in Christian art. It was a visual presentation of the understanding of the relationship between Christianity and Judaism that prevailed in that era: the Church was triumphant and blessed by God while the Synagogue was defeated and cursed by God. 
Catholic Teaching in Our Time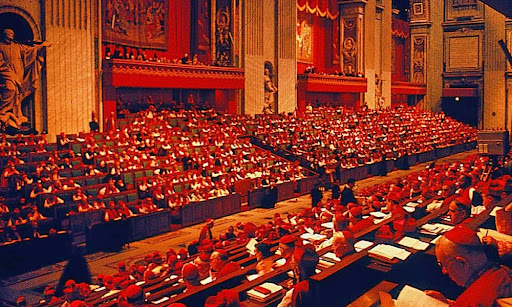 The declaration Nostra Aetate ("In Our Time"), issued by the Second Vatican Council on October 28, 1965, rejected the hostile depictions of relations between Synagoga and Ecclesia that were popular in the Middle Ages. It stated that "God holds the Jews most dear," that "Jews should not be presented as rejected or accursed by God," and called for "biblical and theological studies as well as of fraternal dialogues" between Christians and Jews. This call led the next year to plans to establish the Institute for Jewish-Catholic Relations.  
The statue commissioned by Saint Joseph's University in 2015 to mark the declaration's 50th anniversary reinterprets the medieval motif of Synagoga and Ecclesia to reflect Catholic teaching today. "Synagoga and Ecclesia in Our Time" depict Synagogue and Church as both proud crowned women, living in covenant with God side by side, and learning from one another's sacred texts and traditions about their distinctive experiences of the Holy One. The artwork visually expresses these words of Pope Francis:
"There exists a rich complementarity between the Church and the Jewish people that allows us to help one another mine the riches of God's word."
Meet the Sculptor: Joshua Koffman
Marking 50 years of the new Catholic-Jewish relationship begun by Nostra Aetate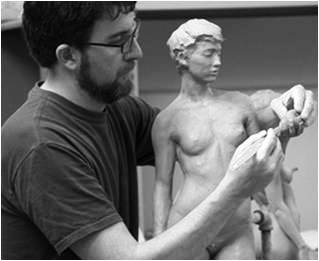 Joshua Koffman is a Philadelphia-based sculptor known for his expressive and dramatic large-scale bronze sculptures. Koffman is an elected member of the National Sculpture Society, and a recipient of many distinguished awards among which are the Alex J. Ettl Grant, the John Cavanaugh Memorial Prize, and First Place in the Grand Central Academy's Sculpture Competition. His work appears in numerous public and private collections and can be seen in Philadelphia's F.A.N. gallery.
In 2007 Koffman co-founded the Philadelphia Traction Company, a collaborative workspace and art center in West Philadelphia, where Koffman continues to model, cast, and create.
Joshua Koffman was captivated by Greek and Renaissance art at an early age. He pursued a formal art education at the University of California, Santa Cruz, earning a BA in Fine Art. Desiring advanced study, Koffman then enrolled at the Pennsylvania Academy of the Fine Arts where he currently teaches.
"My representational work begins with the human. It is heavily influenced by tradition, serves a function, and speaks to a timeless audience. I first create the compositions in clay, mold them, and then cast them in bronze."

---
LINKS
SJU Dedicates Its Nostra Aetate Sculpture; Blessed by Pope Francis Two Days Later

Pope & Rabbi Honor Catholic-Jewish Ties at SJU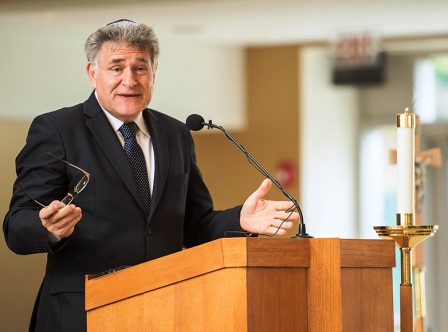 "Synagoga and Ecclesia in Our Time" was dedicated on Friday, September 25, 2015, during a ceremony attended by over 400 members of the Catholic and Jewish communities of Philadelphia. "Celebrating 50 Years of a Journey of Friendship" was a combined effort of Saint Joseph's University; the American Jewish Committee, Philadelphia-South Jersey; the Anti-Defamation League, Eastern Pennsylvania-Southern New Jersey-Delaware; the Archdiocese of Philadelphia; the Board of Rabbis of Greater Philadelphia; the Jewish Community Relations Council of Greater Philadelphia, and the World Meeting of Families.
After greetings from SJU President Dr. Mark Reed, Vicar for Ecumenical and Interreligious Affairs Bishop Joseph Martino, and Jewish Federation CEO Naomi Adler, the keynote address was delivered by Rabbi Abraham Skorka, a longtime friend of Pope Francis. He spoke of his friendship with the Pope, saying, "Each of us had recognized in the other the partner for the enactment of the commitment to interreligious dialogue that we both took as a central priority in our lives." He spoke about the significance of the Second Vatican Council declaration Nostra Aetate and how it enabled his own friendship with Cardinal Jorge Bergoglio, the future Pope Francis.
Dr. Philip A. Cunningham, Director of SJU's Institute for Jewish-Catholic Relations, responded to Rabbi Skorka with remarks entitled, "Charting the Unexplored Paths of Mutuality." Next Dr. (h.c.) Charles Kahn Jr. summarized his over forty years as a member of the Institute's Board of Directors and his friendship with the Institute's longtime director, the late Donald G. Clifford, S.J. The Institute's co-director, Dr. Adam Gregerman, then spoke of "Memorializing the New Relationship between Jews and Catholics," explaining the historical significance of the sculpture about to be dedicated and observing that it also celebrates the scholarly research and educational programs coordinated by the Institute for Jewish-Catholic Relations.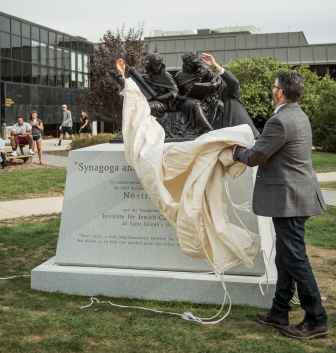 After moving to the plaza outside the Chapel of Saint Joseph, artist Joshua Koffman spoke about what the creation of the sculpture meant to him, saying, "Believe it or not, I was born to create this sculpture. Literally. I have a Catholic mother and a Jewish father. Combine that with years of sculpture training and experience making figurative work, and it appears it was all meant to be." The sculpture reverses medieval portrayals of a majestic Church (Ecclesia) triumphing over a defeated and blindfolded Synagogue (Synagoga), which are found on dozens of European churches. Reflecting Catholic teaching today, it depicts the symbolic feminine figures, shown with dignity and grace, as friends who are studying their respective sacred texts together. Synagoga is showing her companion a Torah scroll, while Ecclesia holds an open Christian Bible. The image recalls the traditional Jewish practice called chavruta, from the Aramaic word for friend, of studying the Torah in pairs.
After the unveiling, the sculpture was dedicated by past SJU president, C. Kevin Gillespie, S.J., who had commissioned its creation. He prayed: "Divine Creator, in dedicating this statue we ask that it become a spiritual force, suggesting to us the beauty of human dignity and equality, speaking to us of the great strides of our partnership united in a shared belief in the God of Abraham, Isaac, and Jacob, and shouting to us to go forth in friendship to further dialogues that will lead to even greater partnership among Christians and their brothers and sisters in faith."
Rabbi David Straus, Institute Board member and Chair of the National Council of Synagogues concluded the ceremony by praying the Shehecheyanu prayer, thanking God for bringing everyone to such a wonderful day.

Two days later, the director of the Vatican Press Office, Rev. Federico Lombardi, announced that Pope Francis would visit the campus to view and bless the new artwork. He described the sculpture, saying, "This statue is exactly a demonstration of two sisters of the same dignity, the Church and the Synagogue." Students and other members of the university and local communities streamed to the Chapel plaza for the opportunity to welcome the Holy Father.
Accompanied by Philadelphia Archbishop Charles Chaput and Rabbi Skorka, Pope Francis was welcomed to Philadelphia's Jesuit university by President Dr. Mark Reed and then by Institute Directors Dr. Philip Cunningham and Dr. Adam Gregerman. After exchanging greetings with the Jesuit community rector Rev. Brendan Lally, S.J.; Board of Trustees Chair Edward Moneypenny; and student body president and vice-president Nicholas Chingas and Natalie Roche, the Pope meditated for a few moments in front of the sculpture and then blessed it with holy water.
The Pope then embraced his friend Rabbi Skorka, who, pointing to the statue said, "They are you and I – Pope and Rabbi learning from one another." These words expressed the resonances between the sculpture and the presence of the two friends who embody the new relationship between Jews and Catholics that Nostra Aetate made possible and the mission of the Institute for Jewish-Catholic Relations.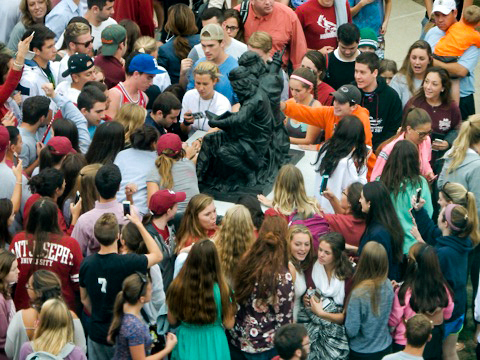 Fr. Lally described the scene after the Pope's departure: "When he left, the students who were behind the barricades rushed down to the sculpture and three- and four- deep hugged the sculpture's base and blessed themselves. It was a demonstration of piety that was deeply moving. … [People] lined up for blessings, bringing their children and babies, as well as themselves. It was an unexpected and overwhelming moment of devotion."
University President Dr. Mark Reed expressed the sentiments of many over the weekend's events when he later wrote:
"While I spent considerable time imagining what that day might be like, I could not have conceived how immense the impact would be. [The Holy Father's] presence for those short minutes left a tangible and lasting grace on our community."
Videos
Pope Francis blesses the "Synagoga and Ecclesia in Our Time" statue at Saint Joseph's University in 2015:
Watch the unveiling of Joshua Koffman's Synagoga and Ecclesia in Our Time statue at Saint Joseph's University on September 25, 2015:
In this 2018 presentation, sculptor Joshua Koffman describes the process of designing and creating Saint Joseph's University's historic artwork, "Synagoga and Ecclesia in Our Time." Learn the steps that are necessary to develop a large public sculpture from an award-winning artist: