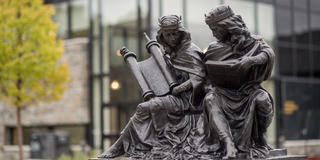 Institute for
Jewish-Catholic Relations
Deepening understanding between Jews and Catholics through shared study since 1967.
The Story of the
Institute
In 1965, the Second Vatican Council called for Catholics and Jews to join in "biblical and theological inquiry … and friendly discussions." Almost at once, the Jesuit community at Saint Joseph's College founded the Institute – the first such response to the Council by an American Catholic institution of higher education. They believed that rapprochement between Jews and Catholics was integral to the Catholic and Jesuit identity of Saint Joseph's and defined the mission of the Institute as increasing knowledge and deepening understanding between the two communities.
Today, the Institute is directed by a Jewish professor and a Catholic professor in the Department of Theology and Religious Studies. They regularly team-teach and partner nationally and globally to research Jewish and Christian reconciliation and reform. They promote opportunities for Christians and Jews to be study partners, teaching and learning about themselves and each other by studying and experiencing together texts, rituals, events, and places. This vision is enshrined in the original Joshua Koffman sculpture outside the university chapel, "Synagoga and Ecclesia in Our Time."
latest
 Videos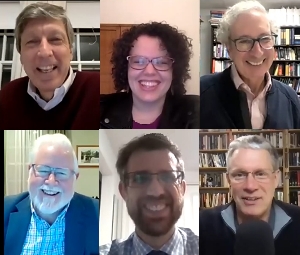 The Bible and the Believer: How to Read the Bible Critically and Religiously
Drs. Marc Zvi Brettler, Peter Enns and Mark Smith —respectively a Jew, a Protestant and a Catholic — discuss whether subjecting the Bible to literary and historical analysis undermines or enhances religions and their interpretations of the Bible. They argue that the challenges such study raises for religious belief should be brought into conversation with religious traditions rather than dismissed.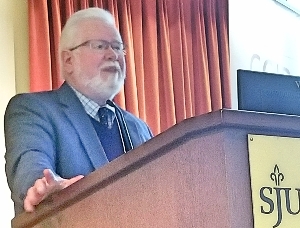 Maxims for Mutuality: Principles for Catholic Theology, Education, and Preaching about Jews and Judaism
Dr. Philip Cunningham gave this keynote address at the annual meeting of the Council of Centers on Jewish-Christian Relations. It outlines his forthcoming book, which proposes ten principles synthesizing Catholic insights that have arisen since the Second Vatican Council declaration Nostra Aetate in 1965. The ten maxims are available HERE. 
International
Collaborations
ENCYCLOPEDIA OF
JEWISH-CHRISTIAN RELATIONS
Dr. Cunningham is an advisory board member for this project of the Berlin-based publisher DeGruyter. He and Dr. Gregerman have also authored articles in it. View an introductory video to the project, which includes an interview with the Institute directors about co-writing one of the entries.
ENABLING DIALOGUE ABOUT THE LAND
The Institute was a university sponsor of a research project of the International Council of Christians and Jews, which led to the publication of a resource book for Jews and Christians on the Israeli-Palestinian conflict by Paulist Press. Watch a video interview with the volume's editors on ICCJ's YouTube channel.
The Institute cosponsors with the CCJR a library of resources in Catholic-Jewish relations called Dialogika ("things of dialogue"). The library provides documents from Catholic, Protestant, Jewish and interfaith bodies, educational resources and texts from the history of Catholic-Jewish relations.