"Memorializing the New Relationship between Jews and Catholics," Dr. Adam Gregerman, Assistant Director, Institute for Jewish-Catholic Relations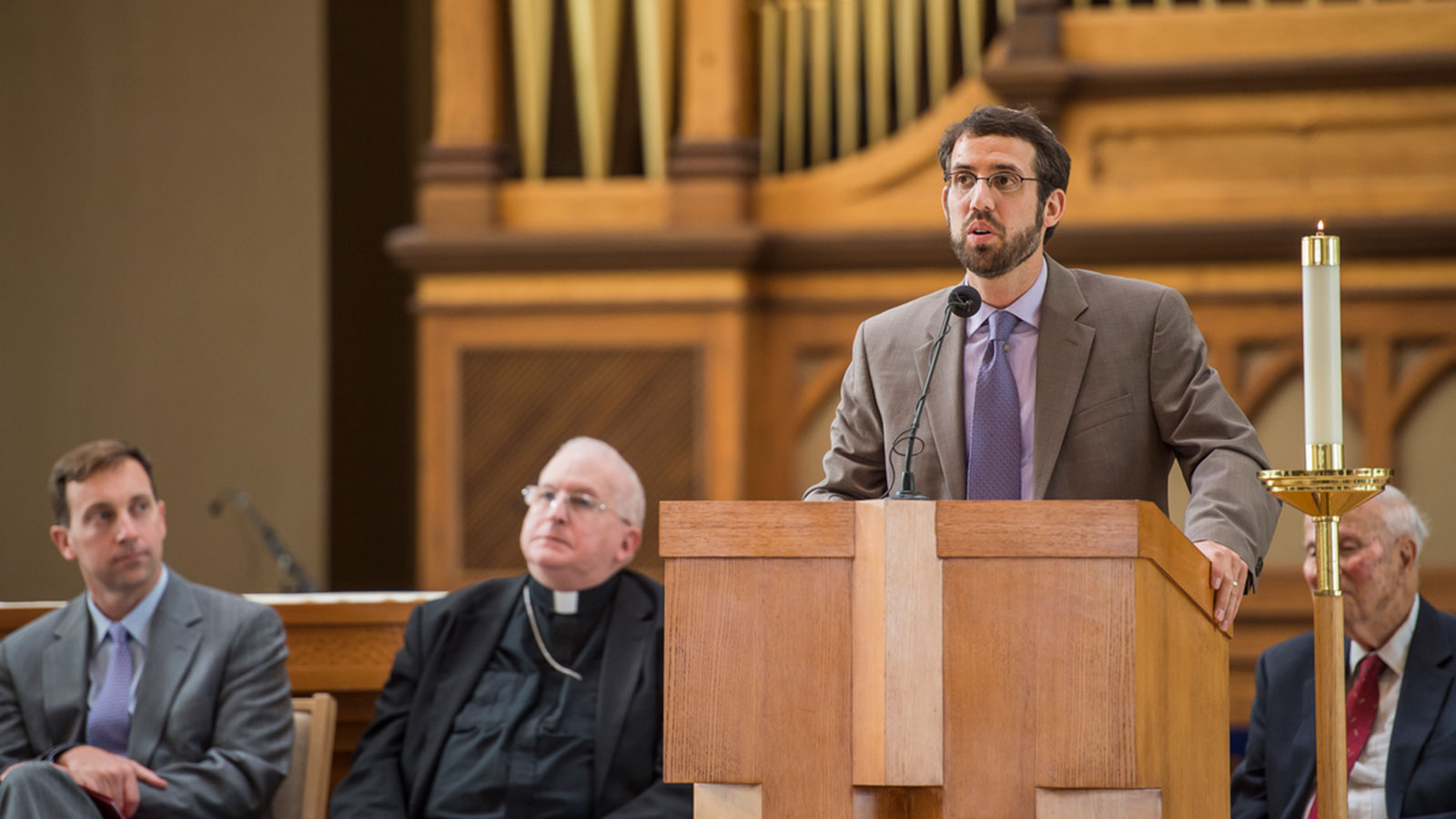 In the modern period we Jews and Christians rely heavily upon the written word. For example, Jews pray from books such as the siddur and mahzor, and Catholics from missals and prayerbooks. Or we study sacred writings by laying out texts before us, leaning over them as we seek out their insights. In this era of widespread literacy, it is hard to recapture an earlier sense of the importance of the visual to religious life. With our preference for the precision of texts, we can overlook the power of images. But in the pre-modern Christian traditions especially and in Judaism as well, most people, being unable to read, learned visually. Rather than access the holy primarily through the written word, many were guided and uplifted by what they saw or touched. Biblical scenes in stained glass, statuary, synagogues that reproduced aspects of the ancient Jerusalem Temple, illuminated manuscripts—these and other visual creations instructed their viewers.
The traditional Christian statues of Ecclesia and Synagoga, found in dozens of medieval churches, were not simply decorative but were serious teaching tools. One figure was a majestic woman, usually crowned and holding a chalice or a cross, as an image of victorious Christianity. She was juxtaposed against a second figure, a blindfolded and slumped-over woman, usually carrying a broken staff or torn Torah scroll, as an image of vanquished Judaism. An example from the Cathedral of Notre Dame in Paris can be found in the program booklet (on p. 5). With these statues, Christians were led to view the relationship between God and the Jews as broken. The original people of God were beaten down and cast off, their place taken by a new people of God. This theological message was profound, and encouraged contempt for Judaism and likely for Jews. Such messages were reinforced in preaching, of course. However, the visual evidence—in some cases detailed, full-size figures looking out at parishioners—surely gave this motif great power.
Modern scholars, clergy, theologians, and educators have vigorously challenged these presentations. Historically, they have questioned views of Judaism after Jesus as moribund and spiritually arid. Theologically, they have rejected traditional Christian denunciations of Jews as sinful, blind to the truth, and eternally cursed for the crucifixion of Jesus. Today we therefore gratefully commemorate the fiftieth anniversary of the Second Vatican Council declaration Nostra Aetate, which initiated a major break with such noxious images and ideas. This influential statement spurred a wide range of salutary changes not only in Catholic-Jewish relations but in relations between Christians and Jews generally. We also commemorate the founding of the Institute for Jewish-Catholic Relations of Saint Joseph's University, which has worked to increase knowledge and deepen understanding between Jews and Catholic for nearly five decades.
To complement the many important statements and studies from Jews, Christians, and interreligious groups that carried forward these remarkable changes over the last half century, we celebrate with a visual representation of the new relationship. We will shortly dedicate "Synagoga and Ecclesia in Our Time." Breaking with the traditionally antagonistic portrayal, the new sculpture expresses the fundamentally re-conceptualized Jewish-Catholic relationship. Working with my friend and colleague Phil Cunningham and the gifted artist Joshua Koffman, and with input from many others, we sought to convey not just mutual respect between Jews and Christians but joy in shared learning. As a scholar and theologian used to working primarily with texts, I have found it richly rewarding to try to convey complex ideas in physical form. For this very contemporary message, we hearken back to a traditional visual medium, with all its power and immediacy. The statue, to put it in Jewish terms, could be seen as a presentation of an interreligious hevruta. This is an Aramaic term taken from the traditional rabbinic idea of paired study of sacred texts by friends for the sake of heaven. Or to quote Pope Francis, we might imagine that the statue's figures are "help[ing] one another to mine the riches of God's word." We believe that joint study of our traditions by Jews and Christians together is a way to deepen our new relationship in the coming years.
It is especially gratifying to see so many members of my own Jewish community here today to celebrate the conciliar declaration, the institute, and the unveiling of the statue. I think I can fairly say it reflects emerging trust between Jews and Christians and a growing commitment among Jews to rethinking our own views. I also hope it reflects appreciation for the decades of support Saint Joseph's University has given to this vital issue. There is much to celebrate, for all of us. Thank you for being here today.