Ragan Scholars
What is Ragan Scholars?
Consistent with the legacy provided by Professor Joseph M. Ragan, whose career spans over 40 years with 29 years as the Chair of the Department of Accounting, the goal of a Ragan Scholar is to think, create, and transform. As a classroom educator, Professor Ragan took the lead in curriculum redesign through technology, creating advanced computer applications for classroom use and in so doing, helped engineer the transformation of accounting education.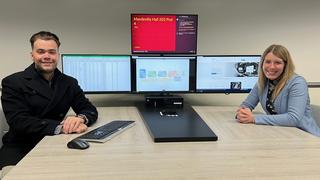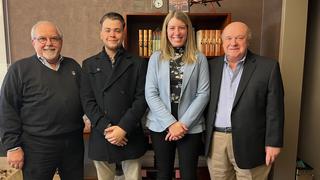 Mitch Kelley '22 (left) and Grace Reed '23 (right) are this year's Ragan Scholars.
This year's Ragan scholars being honored by Dean Joe DiAngelo and Professor Joseph Ragan.
Who can apply to be a Ragan Scholar?
A Ragan Scholar must have demonstrated exceptional academic accomplishment within the Accounting Program and intend to enter the field of professional accountancy. This project award offers undergraduate accounting students technology-based opportunities enabling them to think through an accounting problem, create a solution, and apply the solution with the use of innovative methods.
The selection of student recipients is highly competitive based on project proposals submitted by students. Decisions as to the best projects are made by the faculty in consultation with alumni legacy leaders, in conjunction with the department chair.
This program also underwrites the cost of corporate visits and executive conference opportunities provided to the Ragan Scholars.