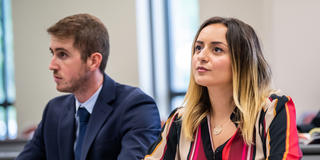 Department of Accounting
The Department of Accounting provides students with the skills and knowledge needed to become competent, responsible, and ethically minded business decision-makers. The department offers an undergraduate major in accounting and a variety of basic and advanced courses in undergraduate, graduate and executive programs.
Accounting is the very language of business, and every business discipline – from management to marketing to finance – utilizes the financial statements developed by accountants. The undergraduate accounting program is an intensive program designed to develop a professional accountant. The coursework will focus on cost accounting systems, tax and auditing and will prepare you for an accounting career in industry, government or public accounting. Practical exercise, as well as theoretical discussion, provides adequate preparation for the Uniform Certified Public Accountant Examination.
The accounting major is designed to provide flexibility in the selection of arts and science courses from broad groupings to augment the professional development of the student. Additionally, a concentration is offered within the MBA program that offers a broad managerial focus stressing the user perspective of accounting information. Classes are taught by a distinguished and committed full-time faculty who are devoted to teaching and student development. Faculty are also enthusiastic about research and publish frequently. Small classes, close advising, interactive instruction and discussion-oriented seminars provide a personal atmosphere for learning.
Throughout my courses here at Saint Joseph's University, I learned both my strengths and weaknesses while being pushed to my best abilities. I had a number of professors who were always willing to help and assist me in my success. I believe that my education here is unlike any other."

Kristin Maier '18

accounting and finance major