Overview
Located on Saint Joseph's Overbrook Campus, Ashwood Apartments offers predominantly two-bedroom (four-person occupancy) apartments known for their hardwood floors and spacious layouts. These four-person apartments may be "upgraded" to a five-person apartment at the discretion of the residents. Apartments are single-gender and are fully furnished. 
Quick Facts

Address: 6050 Overbrook Ave., Philadephia, PA 19131

Capacity: 137 residents (co-ed)

Configuration: Predominantly four-person (upgradable to five-person) two-bedroom apartments and one-bathroom units.

Furniture: Each room has a standard twin bed, desk and chair and wardrobe with a built-in dresser per resident. It also includes a couch and chairs, dining room table with chairs and kitchen appliances (refrigerator and stove/oven).
Meet the Overbrook Campus Staff >
Amenities
Kitchen, living room, dining room, two bedrooms and one full bath
Cable television service included
Internet access
Appliances (refrigerator and stove/oven) and furniture included
Hardwood flooring in most apartments (some may have carpeting)
24-hour security desk
Laundry facilities
Vending machines 
Shuttle service 
Please note: Ashwood does not offer air conditioning. Students living in Ashwood may bring window and/or floor fans. Individual air conditioning units (window, portable, freestanding) are not permitted. Any air conditioning units found in student apartments will be confiscated. 
Life in Ashwood
Ashwood Hall offers students an apartment-style living in a classic building. Each apartment has a dining room perfect for family-style meals and large living rooms to hang out with roommates. Students also have access to the shuttle service and the Overbrook train station right next to their building for quick access to the central campus or Center City.
Floor Plans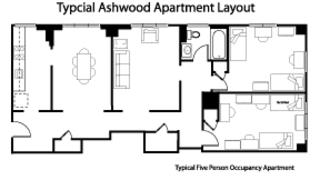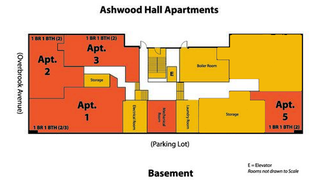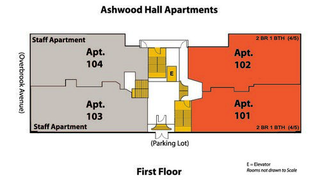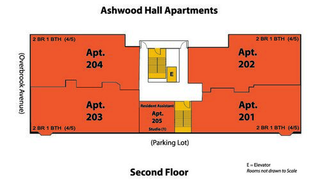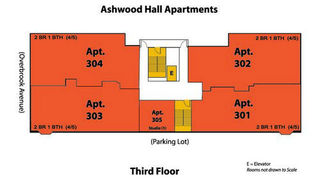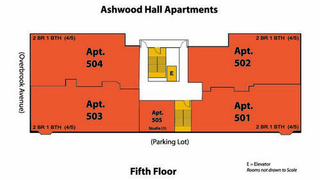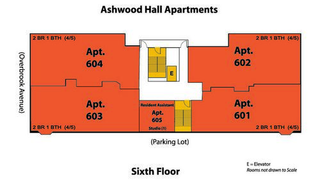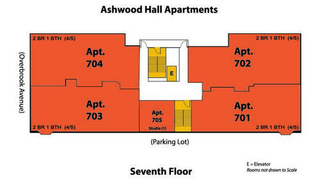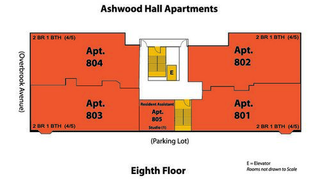 Typical Ashwood Apartment Layout