Overview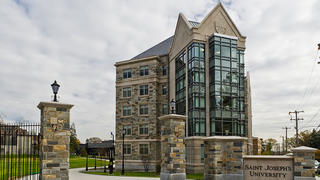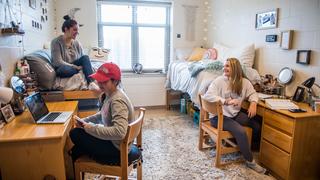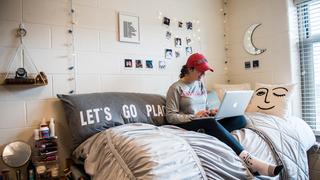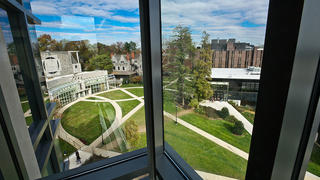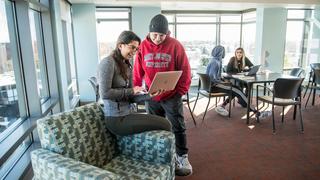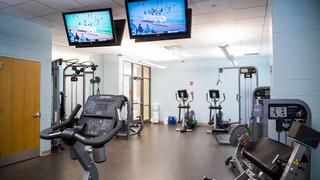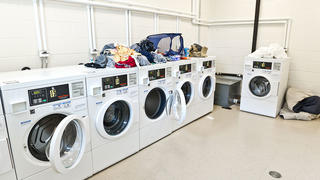 Villiger Hall is one of four residence options for first-year students.
Villiger is a traditional-style, co-ed residence hall, home to about 400 students.
The view of the Philadelphia skyline from the top floor is one of the best on campus.
There is a lot of community space on each floor as well as a gym and main lounge on the first floor.
There are communal laundry facilities and a fitness center in the building.
Villiger Hall is the University's newest residence hall, which opened in fall 2021. It was named in honor of Fr. Burchard Villiger, S.J., who was a faculty member at Saint Joseph's starting its founding in 1851 and the fifth president of Saint Joseph's College. Villiger is a co-ed facility with housing for 400 students, approximately 40 in each wing.
Quick Facts

Address: 2525 Cardinal Ave., Philadelphia, PA 19131

Capacity: 400 residents (co-ed)

Typical Room Dimensions: 20' length x 10' 6" width

Configuration: Six-story high-rise with a hall-style set-up.

Furniture: Each room has a standard twin bed, desk and chair and wardrobe with a built-in dresser per resident.
Amenities
Individual hall lounges and study areas
Common bathroom areas
Air conditioning in all student rooms
Fitness center
Basic cable television service included (Comcast)
Building-wide wireless network access
24-hour security desk
University meal plan required
Laundry facilities
Vending machines 
Life in Villiger
Villiger Hall offers students lots of community space on each floor, as well as a gym and community space on the ground floor. Students also have the benefit of being close to the Central campus and the Maguire campus, which is right across the street. The city views on the top floor are the best.
Floor Plans