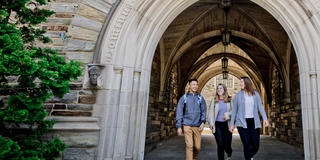 Diversity, Equity & Inclusion at Saint Joseph's University
Saint Joseph's University prioritizes diversity and inclusion and considers it central to the University's mission. This is demonstrated throughout our strategic plan, through the enthusiasm of our faculty, staff and students to drive diversity and inclusion initiatives, and in the care and hospitality granted to each member of the community.
We're Committed
As a Jesuit university, we're committed to educating and caring for the whole person, across all aspects of identity. We're a community of unique individuals, sharing a deep sense of belonging — where voices are heard, opinions are respected and our differences are celebrated and valued. Below, you can explore our areas of focus.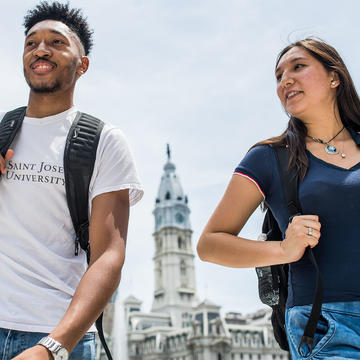 Diversity Statement
Our understanding of diversity prevents any individual from being excluded from this community on the grounds of race, color, gender, sexual orientation, religion, national or ethnic origin, disability, age, marital status or class.
Saint Joseph's acknowledges the dignity of the individual and commits itself to promoting awareness of and sensitivity to human differences. We recognize that the contributions made by diverse groups serve to benefit the personal, academic, and professional growth of all members of the community. Viewed affirmatively, our commitment to diversity means:
that, consistent with our mission, Saint Joseph's University will actively seek to welcome and retain a diverse and inclusive community of students, staff, and faculty
that, through our programs, policies, and curricula, we will foster interaction and understanding among all groups within our community,
that we will make a special effort to enrich ourselves educationally by including at every level people from other nations and cultures.
Increasingly conscious of a more interdependent world, Saint Joseph's remains dedicated to developing people for and with others.