MindWise Mental Health Screening
Behavioral health — which includes mental health, substance use, and more — is a key part of your overall well-being. Brief screenings are the quickest way to determine if you or someone you care about should connect with a behavioral health professional. Think of these as a checkup from your neck up. This program is completely anonymous and confidential, and immediately following the brief questionnaire you will see your results, recommendations and key resources.
Thriving Campus Referrals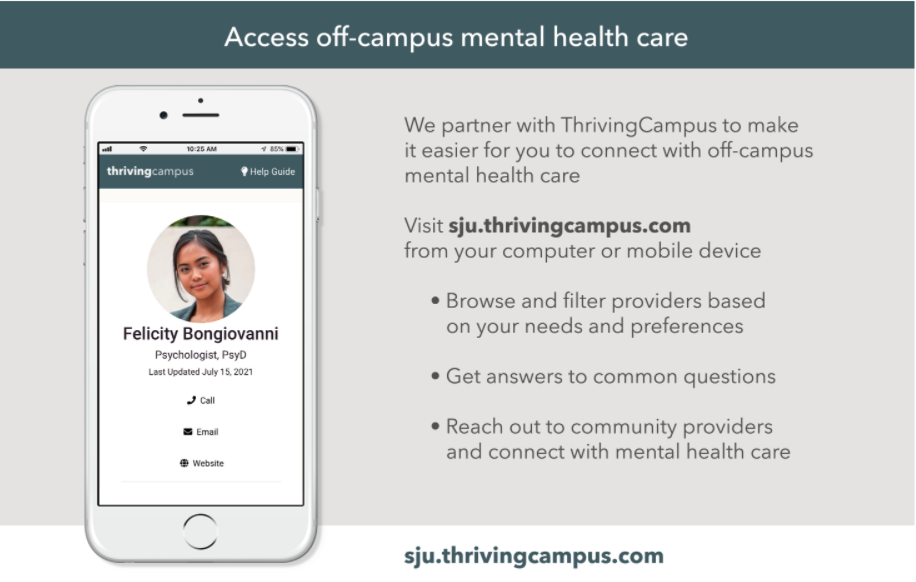 Access sju.thrivingcampus.com to learn more about off-campus community mental health providers who specialize in working with young adults. Find answers to common questions about making appointments, using insurance, and more. Filter by location, preferences, insurance, and other important variables.
Message for Parents
Dear Parents,
The college years often are viewed as the transitional marker from being a child in the family to being a young adult in the eyes of society. Some of you will view this transition as the natural and welcomed end of childrearing for yourselves and as the end of childhood for your sons and daughters. But for those of you who worry about your sons' or daughters' maturity levels or capacities for self-reliance and self-control, letting go of the teacher, protector and nurturer role is a bit more complicated. Of course, all of you will continue to play vital roles in the lives of your college-aged children. Indeed, the following challenges to your college-aged children–adjustment to college, effective career and relationship choices, choices about substance use and the development of self-confidence and personal autonomy– are all enhanced by their close relationships to you. Counseling and Psychological Services (CAPS) provides individual counseling, group programs, trainings and workshops designed to assist your college students toward fulfillment of their personal and academic goals.
Students often will turn to you if they are experiencing emotional or psychological distress or if they are faced with an important decision. If you find yourself worried about your student's moods or behaviors or if he/she has experienced a trauma or a loss, your suggestion to consider seeking counseling can be very influential. Quite often your son or daughter will be receptive to the idea of counseling, in which case you can suggest that he or she call for an appointment at 610-660-1090, or stop by CAPS at A504 Merion Gardens any weekday between 8:30 AM and 5:00 PM to set up an appointment in person. Please note, in order to build a trust-filled counseling relationship, CAPS counselors need signed consent of students before we speak with parents about their counseling or even to acknowledge their attendance. In the course of counseling, if we have reason to believe a student is in imminent danger of harm, we take steps to ensure their safety and consent is not required to contact people who can provide immediate assistance. Parents are welcome to call and consult with one of our counselors if they are concerned about their son or daughter's well-being.
A Message for Faculty and Staff
Dear Colleague,
The following guidelines for assisting emotionally distressed students have been prepared by the staff of Counseling and Psychological Services. We hope that the information on recognizing students who are experiencing emotional distress and on referring them to our services will help you respond to students you teach and advise. Our staff of licensed psychologists and pre-doctoral trainees are here to assist students with a wide range of concerns whether it be for crisis intervention or brief counseling.
We appreciate the referrals we get from faculty and are happy to consult with you regarding your concerns about particular students. Further, we can provide in-class guest lectures on issues that may be relevant to your courses or of concern to college students.
We are also available to recommend referrals for personal reasons to local mental health providers.
Please do not hesitate to call on us when the need arises.
Sincerely,
Greg Nicholls, Ph.D, Director – Counseling and Psychological Services
Warning Signs of Severe Emotional Distress/Depression
Sudden or dramatic changes in behavior that you find disturbing or out of character
References to suicide, including off the cuff remarks or jokes
Significant changes in mood or behavior
Psychosomatic symptoms, including loss of appetite or excessive eating, insomnia or excessive sleeping, gastrointestinal distress, tension headaches, nausea or unexplained pain
Dramatic changes in personal relationships, including death of a loved one, parental divorce, difficulties in family relationships, change in family finances, unsatisfying end to a romantic relationship
Drug and alcohol abuse
Feeling of being a burden to family and friends
Isolation, withdrawal from routine activities and social relationships
How To Refer
Become familiar with the services and staff of CAPS so you will feel more comfortable advocating services. ("I know some people at CAPS. I think you will find them helpful.")
Present counseling as a sign of health. ("You owe it to yourself to get support through this rough time.")
Introduce counseling as an additional source of help so that the student does not feel abandoned or rejected by you.
Be prepared for the student's fear that a referral by you means that s/he must really be in a bad way. ("I'm not a trained psychologist. I'm sure CAPS can offer you insights or suggestions that I am not aware of.")
Suggest that the student call from your office (x1090) or stop by CAPS (Merion Gardens, A504) to make the appointment.
In urgent situations, call the center to say the student needs to be seen immediately. It may be necessary to walk the student over to the center.
Check with the student after the appointment. If the student was disappointed in the session, remind him or her that the process can be slow. Encourage the student to return to CAPS to discuss the negative feelings or to try a different psychologist at the center.
If the student resists the referral, ask him/her to think about it. Maintain your relationship with the student. If you are worried, contact CAPS to discuss your concerns.
If you are uncertain about the appropriateness of a referral, call CAPS for a consultation.