Overview
The Tableau Users Group (TUG) at Saint Joseph's University is a student-run organization that teaches students data visualization skills and encourages them to join Makeover Monday, a data visualization challenge.
We are one of the first major groups featured in the analytics Makeover world when the Makeover Monday Challenge featured us in a blog.
Our group usually meets on select Tuesdays at 5 p.m. during the school year. During these meetings, Saint Joseph's alumni from a variety of corporations may drop in and walk visitors through a basic Tableau dashboard creation.
Learn Tableau One-on-One
If you're interested in learning Tableau in a one-on-one setting, we have support available every Monday in the Fall 2021 semester from 9 a.m. to 9 p.m. until December 6th, via the Makeover Monday virtual lab on Zoom.

You can either choose to bring your own data set or use one that we'll provide through the Makeover Monday challenge website. We can also provide trial access to Tableau if you don't have access already. You can also get assistance for other tools such as Amazon Web Services (AWS), Python, Alteryx and Power BI.

This lab is open to all students, including those in the College of Arts and Sciences and School of Health Studies and Education. Meetings are also available to faculty, staff and alumni.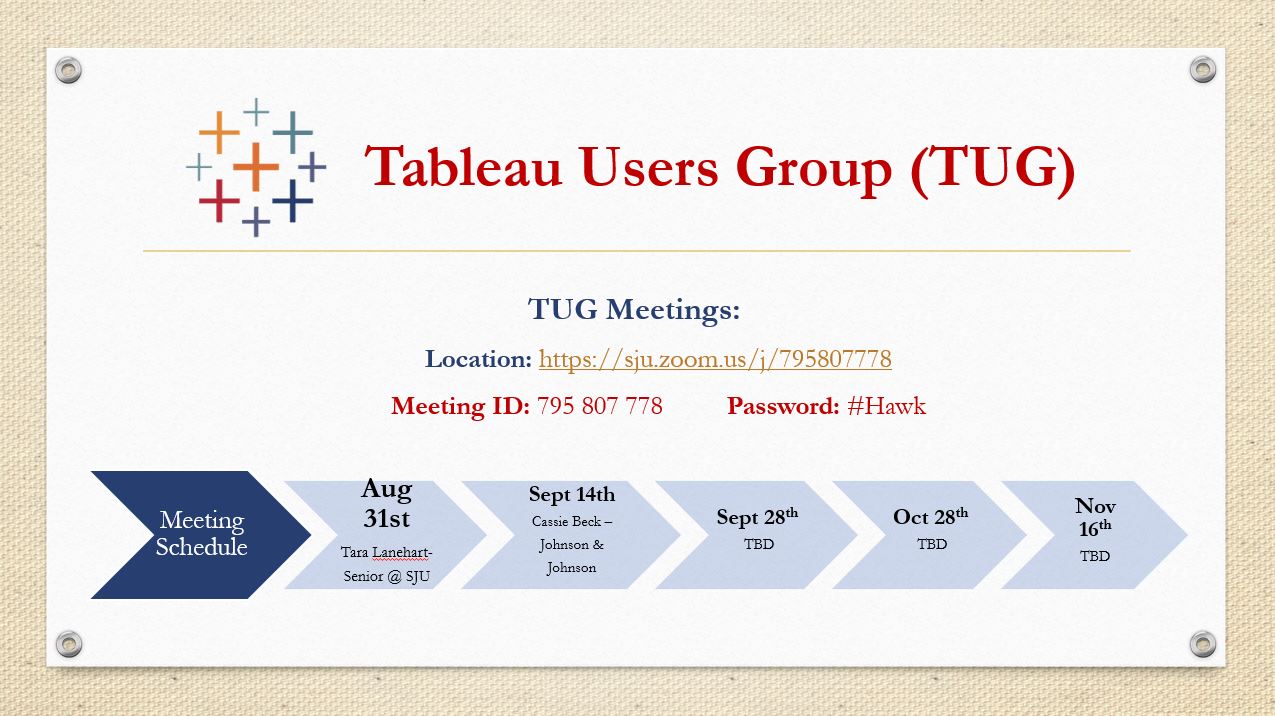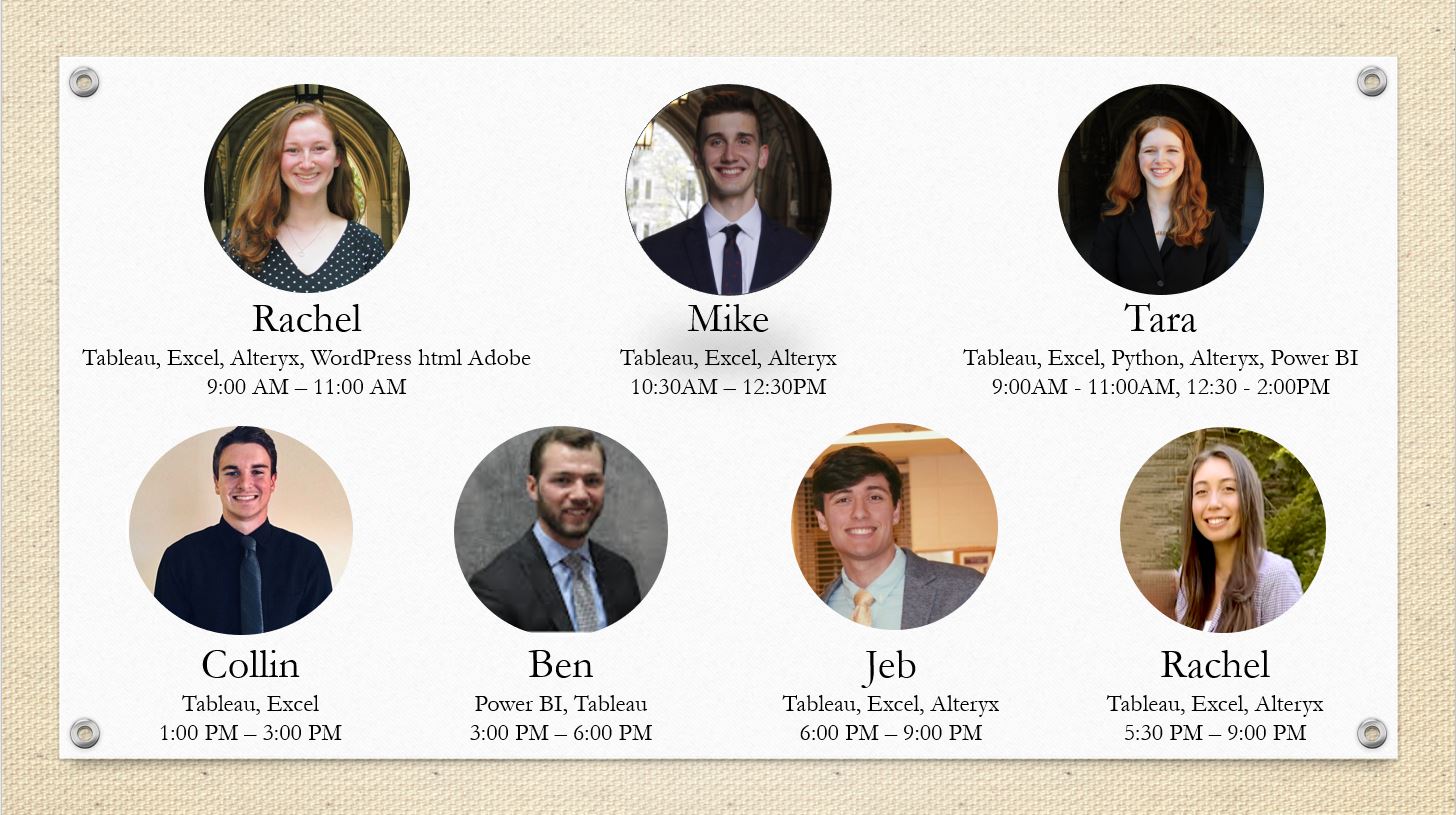 The following students staff the Tableau Tutoring Lab. Below are their areas of expertise and available hours.

Rachel (Tableau, Excel, Alteryx, WordPress, HTML, Adobe): 9:00 a.m. - 11:00 a.m.
Mike (Tableau, Excel, Alteryx): 10:30 a.m. - 12:30 p.m.
Tara (Tableau, Excel, Python, Alteryx, Power BI): 9:00 a.m. - 11:00 a.m., 12:30 - 2:00 p.m.
Collin (Tableau, Excel): 1:00 p.m. – 3:00 p.m.
Ben (Power BI, Tableau): 3:00 p.m. – 6:00 p.m.
Jeb (Tableau, Excel, Alteryx): 6:00 p.m. – 9:00 p.m.
Rachel (Tableau, Excel, Alteryx): 5:30 p.m. – 9:00 p.m.
Upcoming Activities
If you're looking to get involved or learn a trick or two, stop by one of our TUG meetings. Our Fall 2021 meetings are held on Zoom.
| | |
| --- | --- |
| August 31 | Tara Lanehart - Senior at Saint Joseph's |
| September 14 | Cassie Beck - Johnson & Johnson |
| September 28 | TBD |
| October 28 | TBD |
| November 16 | TBD |