Overview
The Tableau Users Group (TUG) at Saint Joseph's University is a student-run organization that teaches students data visualization skills and encourages them to join Makeover Monday, a data visualization challenge.
We are one of the first major groups featured in the analytics Makeover world when the Makeover Monday Challenge featured us in a blog.
Our group usually meets on select Mondays at 5 p.m. during the school year. During these meetings, Saint Joseph's alumni from a variety of corporations may drop in and walk visitors through a basic Tableau dashboard creation.
Tableau Tutoring Lab
Are you a Saint Joseph's student who likes telling stories with data and numbers? Have you always thought that there's got to be a world beyond pie charts and bar graphs? Are you looking to expand your skills and data knowledge? Then come join our group. Whether it's showing how to pull graphics together, change scales or tell the story behind a story in finance, sport or other areas, there is always something to learn from our tutors.
If you're confident in your Tableau dashboarding skills and want to help new users learn, please reach out to Kathleen Campbell Garwood, Ph.D.
Additionally, if you want a real data-viz challenge that also provides a service for others, help make visuals for "Data for a Cause." Non-profit organizations reach out to this organization to get help with data visualizations from students who are working toward advancing their skills.
Learn Tableau One-on-One
If you're interested in learning Tableau in a one-on-one setting, we have support available every Monday from 9 a.m. to 9 p.m. until May 3, 2021, via the Makeover Monday virtual lab on Zoom. 
You can either choose to bring your own data set or use one that we'll provide through the Makeover Monday challenge website. We can also provide trial access to Tableau if you don't have access already. You can also get assistance for other tools such as Amazon Web Services (AWS), Python and Power BI.
This lab is open to all students, including those in the College of Arts and Sciences and School of Health Studies and Education. Meetings are also available to faculty, staff and alumni.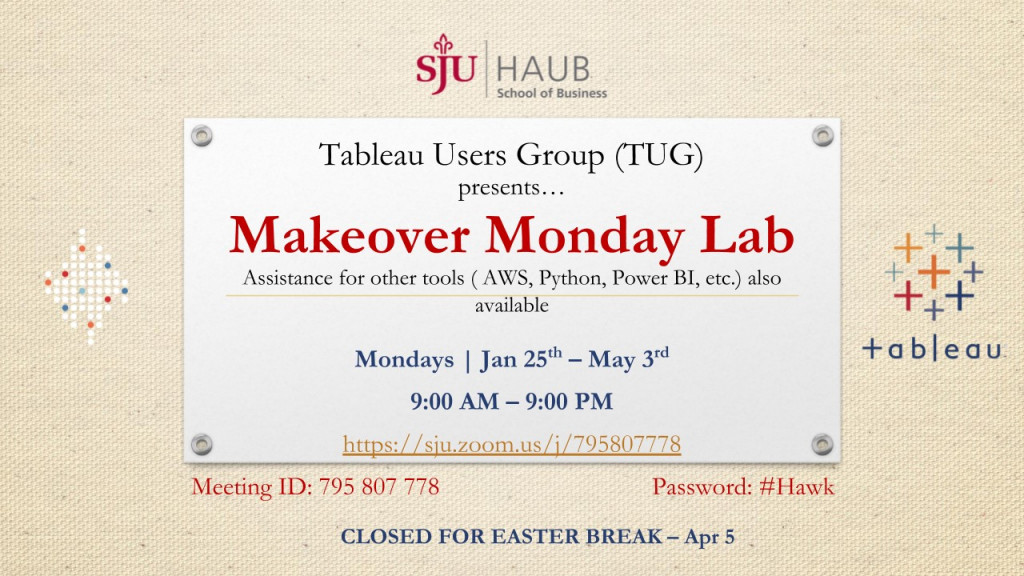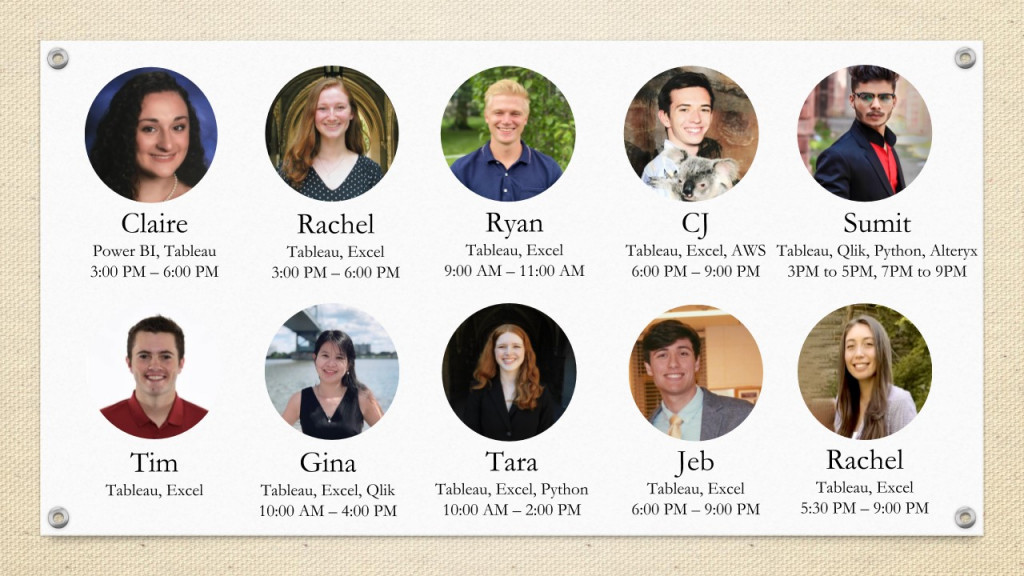 The following students staff the Tableau Tutoring Lab. Below are their areas of expertise and available hours.

Claire (Power BI, Tableau): 3-6 p.m.
Rachel (Tableau, Excel): 3-6 p.m.
Ryan (Tableau, Excel): 9-11 a.m.
CJ (Tableau, Excel, AWS): 6-9 p.m.
Sumit (Tableau, Qlik, Python, Alteryx): 3-5 p.m., 7-9 p.m.
Tim (Tableau, Excel): TBD
Gina (Tableau, Excel, Qlik): 10 a.m.-4 p.m.
Tara (Tableau, Excel Python): 10 a.m.-2 p.m.
Jeb (Tableau, Excel): 6-9 p.m.
Rachel (Tableau, Excel): 5:30-9 p.m.
Upcoming Activities
If you're looking to get involved or learn a trick or two, stop by one of our TUG meetings. Our spring 2021 meetings are held on Zoom.
| | |
| --- | --- |
| February 1 | Tim Cavanaugh, SJU undergraduate (Fundamentals) |
| February 2 | Tara Lanehart, SJU undergraduate (Building Blocks) |
| March 15 | Rachel Waro and CJ Berger, SJU undergraduates |
| April 12 | Jeb Besecker, SJU undergraduate |