The 2021 Family Day on Hawk Hill event has passed. Please check back here for a new schedule of events and other details next fall.
Schedule of Events
Saturday, September 25, 2021
10:00 a.m. - 5:00 p.m.: SJU Bookstore Open
Be sure to get your 21% off coupon at Registration.
11:00 a.m. - 3:30 p.m.: Registration - Cardinal Foley Center
Stop by to pick up your tickets for the Hawk Hill Picnic and ask any questions you may have about the day. 
11:00 a.m., 1:00 p.m. & 3:00 p.m. - Barnes Arboretum Tours - Entrance on Lapsley Lane
Join Arboretum Assistant Director and horticulturist Bill Rein for a 45-minute tour of the Barnes Arboretum to learn about the unique history and plants of this campus jewel of Saint Joseph's University. Tours begin at 11 a.m., 1 p.m. and 3 p.m., and are limited to the first 18 people to arrive.
For self-guided tours, maps are available, and student docents are stationed throughout the arboretum and can answer questions and provide insight into the arboretum's unique offerings.
Come get to know the arboretum and all that it has to offer our campus community!
12:00 p.m. - 3:00 p.m.: Hawk Hill Picnic - Curran Lawn
Join in the fun and enjoy a BBQ lunch, performances by SJU student groups, Stuff-A-Hawk, caricaturists, freshly made kettle corn and Mister Softee! Tickets are available on sjutickets.com now through Wednesday, September 23rd. Tickets may also be purchased at the Registration Center on Family Day. Stuff-A-Hawk will be limited to 2 hawks per family. Check out the information below to learn more about the menu and ticket pricing. 
Stuff-A-Hawk will be limited to 1 hawk per family, while supplies last. To reserve your hawk, please click here; pre-registration for Stuff-A-Hawk is required.
Check out the information below to learn more about the menu and ticket pricing.
3:00 p.m.: Quizzo - Curran Lawn
Put your heads together as a family or a group of friends to play this popular trivia game and win some great prizes.
3:30 p.m. - 4:30 p.m.: Coffee & Cookie Hour 
4:30 p.m.: Mass - Chapel of St. Joseph 
Celebrate Mass with Fr. Dan Joyce, Saint Joseph's and the SJU community. All members of our community are welcome! Please note that seating is limited. 
5:00 p.m.: Men's Soccer vs. University of Massachusetts - Sweeney Field
7:00 p.m. & 9:30 p.m.: Big Money Bingo - Mandeville Teletorium 
One of Hawk Hill Productions' most popular events. Feel free to bring your family to Bingo! Prizes include electronics, Philly sports team swag and SJU apparel. Hawk Hill Productions will distribute tickets at 6:30 p.m. (for the 7:00 p.m. event) and 9:00 p.m. (for the 9:30 p.m. event) outside of Mandeville Hall, on the Sweeney Field side of the building. Only 1 member per family must be present to reserve tickets for your group. Doors open at 6:45 p.m. and 9:15 p.m., seating is limited. All are welcome!
*In accordance with Philadelphia and SJU guidelines, masks must be worn during all on-campus indoor events and programs, and are optional at outdoor gatherings.
If you have any questions, please contact sla@sju.edu.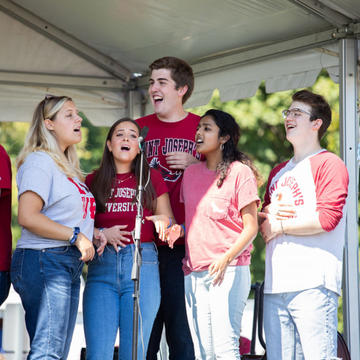 Hawk Hill Picnic
Come join our Hawk Hill Picnic! The menu includes:
BBQ Chicken
Pulled Pork Sandwiches
Hot Dogs
Veggie Burgers
Mac & Cheese
Potato Salad
Cole Slaw
Corn on the cob
Watermelon, Cookies, and Dessert Bars
Beer and Wine
Bottled soda and water
Tickets are available through September 22. Ticket prices are as follows:
Adults (21 and over) - $20
Youth (20 and under including all undergraduate SJU students) - $15
Walk-up tickets:
Adults (21 and over) - $30
Youth (20 and under including all undergraduate SJU students) - $20