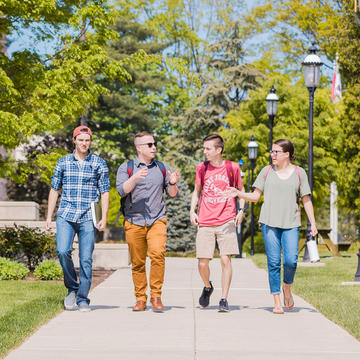 Advancing
Our Programs
Investments in core programs, existing strengths, faculty professorships and research funds all have a major and immediate impact. We also continue to seek funds that are directed to important mission-oriented programs such as the Pedro Arrupe, S.J., Center for Business Ethics; campus ministry and in programs that support and promote diversity, equity and inclusion.
New Areas
of Expertise
Our innovations often spawn new programs, centers and institutes. In the past decade alone, we have seen the addition of the Maguire Academy of Insurance and Risk Management, Kinney Center for Autism Education and Support, Center for Addiction and Recovery Education and McNulty Scholars Program, along with others that further our academic experience.
Developing
New Pathways
The integration of University of the Sciences into Saint Joseph's provides an unprecedented opportunity for cross-disciplinary majors and curricula. Accordingly, we seek investments in new programs critical to society's needs and aligned with student interest to drive innovation in our curriculum.
I believe in the mission of Saint Joseph's University and in the ambition of St. Joe's to be a great university. Such mission and ambition cost money to translate promise into practice and success.
We greatly admire the Kinney Center's mission to train autism professionals for the future, while also serving the needs of families and individuals dealing with autism today. We hope that our support will help the Kinney Center thrive and achieve its goals.
Saint Joseph's taught me how to formulate my thoughts, put me in the business I'm in, and propelled my career early on. Being a donor has been such a fruitful experience and I have made dear connections at the University who I consider lifelong friends.