Steeped in a tradition of academic rigor and social justice, Saint Joseph's has been challenging students to lead engaged lives for more than 170 years. We believe in honoring our past while focusing on the future. Today we prepare students to lead successful lives of meaning and impact in a complex, fast-changing world.
Key Moments in Our History
Saint Joseph's opens its doors with some 30 young men attending classes next to Old Saint Joseph's Church inOld City, Philadelphia.
Saint Joseph's moves to Hawk Hill, Philadelphia and opens the first building on the City Avenue campus.
The University welcomes full-time female students.
The 38-acre James J. Maguire '58 campus is added to Saint Joseph's in the suburbs on the Main Line.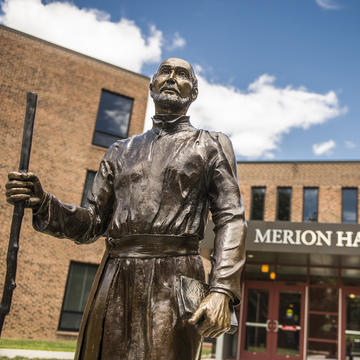 Founded by the Jesuits
Throughout the world, the Jesuits are known for their achievements in education, service and the sciences — and their revolutionary spirit. The order has started schools and colleges throughout the world, in many cases bringing educational opportunity to urban areas.
There are only 27 Jesuit colleges and universities in the United States, and we are one of them.
Whole-person Education
Founded in Philadelphia in 1851, Saint Joseph's University embraces the Jesuit educational model. This means that we recognize you are a multidimensional individual — not just a student — who needs the freedom and encouragement to grow mentally, spiritually, personally and creatively. It means we will invite you to be both reflective and active — in the classroom and in the community. We will support you. We will challenge you. We will guide you on the path to seeking the greater good, living your purpose and finding God in all things.
A good God wants you and me and all of us who make Saint Joseph's our place of belonging to be caught up in the spirit that empowers us to ask good and hard questions."

Daniel R. J. Joyce, S.J. '88

Executive Director of Mission Programs
Steeped in our mission of being individuals with and for others, I learned how to apply concepts taught in the classroom to be the leader I aspire to be."

Dewey Bunch '22

food marketing and leadership, ethics, and organizational sustainability double major