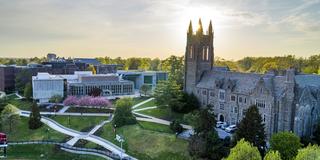 Adult Learner Admission
Flexible, cost-effective class offerings (including part-time and online options) make it easy for busy adults to fully commit to their education goals, from completing their bachelor's degree to earning a post-baccalaureate certificate.
Requirements & Qualifications
Your vision of reaching your education goals is one step closer to becoming a reality. Here are the qualifications prospective adult- learner students need:
Completed application

Official transcripts from all previous colleges or universities attended

Completed application
Official transcripts from all previous colleges or universities attended
JST Military Transcript (if applicable)
Official high school transcript or GED test scores
One letter of recommendation from someone who knows you in a professional or academic capacity
Personal statement of up to 500 words: Tell us why you want to complete your degree, and share your professional goals
Optional: Resume

In addition to the application requirements stated above, international students must also include the following:

Transcript Evaluation: Transcripts from institutions outside of the U.S. must undergo a course-by-course evaluation conducted by a member of NACES.
Proof of English Proficiency: An adult learner who attended university in a country where English is not the official language, or completed less than 24 credits at a university where English is the official language. Proof of English Language Proficiency can be demonstrated with one of the following tests or successful completion of English Language Center ELS Level 112 (see Conditional Admission).

TOEFL: 79 iBT with consistent subsection scores
IELTS: 6.5 with consistent subsection scores
Duolingo: 105 with consistent subsection scores
SAT: 500 evidence-based reading and writing score
ACT: 19 composite score with consistent subsection scores

We do not accept any self-reported test scores to demonstrate English proficiency.

Many of the classes in the adult-learners program require consistent access to — and proficiency with — a computer. Some courses are taught fully on the internet, while others have online components such as group chats and email assignments.
Transferring Credits
A maximum of 75 credit hours/25 courses may be transferred to Saint Joseph's University. Course syllabi or course descriptions may be required to determine transferability. Courses valued at fewer than three semester-credits are ordinarily not transferable, but in some instances may be combined with similar courses to make one three-credit course. A grade of C or better is required for all transfer courses. Grades earned from previous college coursework will not be calculated into your Saint Joseph's GPA. Adult- learner students are required to complete a minimum of 15 classes (45 credits) at Saint Joseph's University. At least four of these courses must be upper-division work in their major.
To search for transfer courses with Saint Joseph's University equivalencies, please consult our Transfer Equivalency System (TES). This database should be used as a guideline. Equivalencies are subject to change, are not guaranteed, and may count differently depending on a student's degree program. Certain institutions and courses may not appear in our database. This does not mean that the courses will not transfer, only that they have not previously been presented for evaluation.
Tuition and Financial Aid
Tuition & Fees
Adult-learner courses aren't just flexible — they're affordable, too. Our adult-learner tuition is offered at a comparable or lower tuition rate than other area four-year colleges and universities.
Financial Aid
Saint Joseph's University degree completion programs qualify for federal financial aid. Additionally, students may qualify for scholarships and grants.
Online Students
Learning online at Saint Joseph's is more than just you and your laptop. You'll be connected to a community of other learners and expert faculty that care about your success. Our online programs come with personalized instruction, academic advising and lifelong career services. 
Meet Your Counselor
Have questions? Need advice? Our team of advisors is happy to talk with you personally.
Schedule a Visit
Take a tour of our picturesque Hawk Hill and University City campuses or schedule an appointment with one of our admission counselors via Zoom, phone or in person. We'll discuss admission requirements, majors and programs and help you accomplish your educational goals.
Request Information
Want to learn more? Fill out our request for information form to get emails and mailed materials or to hear from our admission team.