A House Bound by Love
Originally Published in Fall 2018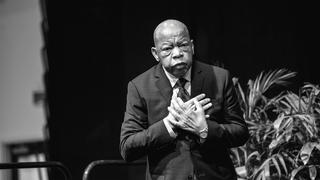 Torrential rains, driving winds and the spring morning's sudden bluster may have swept the civil rights legend and congressman from Atlanta, John Lewis, into Hagan Arena, but it was love that brought him to Saint Joseph's.
"It's good to be here at Saint Joseph's University," he said to the assembled crowd. "I'm honored, I'm delighted."
Full-voiced and sonorous, the quality and cadence of his words were tinged by the sounds of his rural Alabama upbringing, which was determined, but ultimately not defined, by the cruel reality of the Jim Crow South.
Lewis was originally asked to speak at Saint Joseph's on Oct. 26, 2017, to commemorate the 50th anniversary of a speech Martin Luther King Jr. delivered on campus, less than six months before he was felled by an assassin's bullet in Memphis. Student leaders, including James J. Mingle from the Class of 1968, that most fractious year in our recent past, had invited King to Saint Joseph's College, with the full support of the administration, despite opposition from some students who called him a communist, and some alumni, who reportedly pulled their financial backing in protest.
King, who was at a low point in popularity because of his vocal opposition to the Vietnam War, spoke anyway, on the future of integration.
Commitments in Washington kept the congressman from accepting his invitation for October, but something about the appeal made an impression on this last living survivor of the Civil Rights Movement's "Big Six" group, which included King, and is known for organizing the historic March on Washington in 1963. In January, Lewis's office communicated that he could speak at SJU on the morning of April 16, two weeks after the 50th anniversary of King's death on April 4.
"I — I wanted to be here," he said, with emotion. "If it hadn't been for Martin Luther King Jr., I don't know what would have happened to me." Later, he would say, "If it hadn't been for [King], I don't know what would have happened to our country, to America." Lewis came to honor his friend in a place where King had left his mark, and where he is remembered with reverence.
During his opening remarks, Lewis nodded to Daniel Joyce, S.J. '88, executive director of mission programs, who was sitting in the audience, and whose earlier invocation recalled that King had addressed the St. Joseph's College students in that same room, though then it was called the Alumni Memorial Fieldhouse.
"Dr. King emboldened us with a new determination to struggle, to suffer and to sacrifice, in order to let freedom be for all a reality and for justice to shape our lives," Fr. Joyce continued. "May his message and spirit allow us to be who we are called to be."
"Father," Lewis said, "thank you for your service. Thank you for bearing witness to the truth."
The morning provided a nexus for three forces for good in the world, crystalized in that moment and bound together by love: the legacy of King, the civil rights leader who advocated nonviolent resistance, answering hate with love and changing the course of history; Lewis, his protégé, who by his raw courage and unwavering faith in the truth that all people deserve to be treated with dignity and respect, and brings that same struggle, with fortitude and love, into the 21st century; and the Jesuits, whose founder St. Ignatius, the soldier in love with God, calls us from across the centuries to pursue a faith that does justice.
In his speech, devoid of self-pity, Lewis recounted the horrors heaped on him and his fellow peaceful protestors, on bridges and city streets, at lunch counters, in bus terminals, in the backwoods and on country roads. These everyday sites became the crucible for the Civil Rights Movement in America.
Attacked with nightsticks and bullwhips, scalding coffee and spit, and scourged by racial invective, they were kicked, punched, burned with lit cigarettes, trampled by horses, hauled off to jail (Lewis was arrested 40 times in the 1960s) and in many cases, delivered to hospital emergency rooms, over and over and over again.
Yet, not one of them raised a fist in retaliation. Instead, they were stoic, proud and determined, and above all, human. They looked their attackers in the eye and even smiled, genuinely, to remind their tormentors to call up their own humanity. It was a service performed in love to awaken their brothers and sisters from the painful illusion that we are separate from one another, different.
And we're not going back, we're going forward. To redeem the soul of America and create the beloved community."
Such is the power of the nonviolent peaceful protest of Gandhi and King, that in the end, the resistance prevailed. At immense cost to multitudes, to be sure; and with good reason, many think that we're losing ground today.
But that morning in April, Lewis, with great vigor, said: "When you tell me that nothing has changed, I feel like saying, 'Come and walk in my shoes, because Martin Luther King Jr. passed this way.' … Our country's better, as a people, we're better. We still have a distance to go; individuals are trying to take us back — but we've come too far. We've made too much progress. And we're not going back, we're going forward. To redeem the soul of America and create the beloved community."
We all live in the same house, he told us. "It doesn't matter that we're black or white, Latino, Asian American, Native American. We're one family, in one house. Not just the American house, but the world's house."
On that day, as the rains ended, it was a house bound by love.
A Look Back and Forward
Fifty years after King's historic visit to campus, the University dedicated the 2017-2018 academic year to explore the ongoing impact of King's lessons and his call to action through the theme, "Our Destinies are Tied Together."
Beginning with a community reading of King's 1967 speech, a series of events, film screenings, teach-ins and exhibits were held to extend the campus' exploration of key issues such as racism, poverty and war.
Special guests included Angela Rye, Principal and CEO of IMPACT Strategies; Heather Ann Thompson, Ph.D., Pulitzer Prize and Bancroft Prize-winning author; and photographer and curator John Noltner. Former Assistant Provost for Diversity and Inclusion Monica L. Nixon, Ed.D. and Professor Emeritus of History Randall Miller, Ph.D., chaired the committee that organized the year-long series.
"Our commemoration was meant to honor the scholar, theologian and organizer Martin Luther King Jr. — but more importantly, called us to consider that the questions, concerns and demands he raised half a century ago remain with us as challenges and opportunities for change and justice," says Nixon.
Patricia Allen '13 (M.A.) is a freelance writer and holds a master's degree in writing studies from SJU.