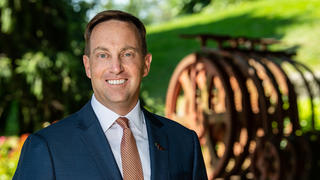 As you read the pages of this special issue of Saint Joseph's University Magazine, it is apparent how truly unique and exceptional this moment is. When the University of the Sciences approached me about a potential agreement, the possibilities were immediately evident. Expansion into high-demand health and sciences fields aligned perfectly with our strategic plans. Saint Joseph's will now steward a 200-year history of excellence and innovation in these fields, allowing for evolution and growth. We also have an alumni network expanded by the nearly 20,000 University of the Sciences graduates we have welcomed. At a time when higher education is all over the news, our headline is one of enduring relevance and agile adaptation.
On the cover of this issue, the word TODAY heralds a new era, one that is ripe with opportunities and avenues. The addition of the University of the Sciences' professional programs and acclaimed faculty strengthen our educational mission, widen our scope of impact and attract a new pool of students who will be transformed as Hawks.
But for all that is new, additive, evolving and possible, there is an equal if not greater amount that is constant. Saint Joseph's University will continue to do exactly what it has always done since 1851 — offer a Jesuit educational experience that touches every facet of our students' lives and yields professionals and citizens prepared and passionate about building a better tomorrow. Our mission is more alive than ever and our academic excellence continues to rise.
Over the years, I have heard countless stories of lives changed by professors, friendships, scholarships, service trips, research experiences — you name it. I've cut ribbons on new ventures and spaces, toasted remarkable alumni, greeted noteworthy politicians and scholars, and yes, even shook hands with Pope Francis. As I, along with my colleagues, our students and our alumni, welcome the University of the Sciences community, I wish to pay homage to their rich history, brimming with stories, milestones and memories like these. I am grateful that our histories paved paths that brought us to this moment and look ahead with great excitement to our future.

Mark C. Reed, EdD
President