Finding Success in a Data-Driven Fashion World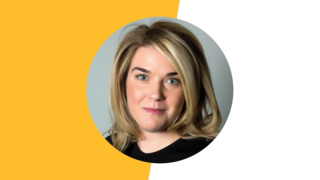 With nearly two decades of experience working with some of the world's top consumer brands, Amanda Bopp '01 has seen first-hand how the rise of Big Data has changed the game in retail.
Brands now have access to more consumer data than ever before, but with that data comes the challenge of leveraging it to create the efficient, emotionally attractive and personalized service that shoppers now expect.
While technical skills are key to navigating that landscape, Bopp, who is currently vice president of digital marketing & analytics at life and style brand Kate Spade New York, says the "soft skills" she learned as an undergraduate at Saint Joseph's have also been crucial to her success.
"The world is changing so quickly, and the rate at which we're able to learn things and understand them has increased exponentially," she said during a recent lecture on campus. "But you have to make sure you have a solid foundation, and that foundation should contain communication skills, critical thinking skills, the ability to think creatively and to be open-minded."
Bopp visited Saint Joseph's as part of the "Conversations with Interesting Women" lecture series in conjunction with the University's "2020: Focus on Women" initiative.
You have to make sure you have a solid foundation, and that foundation should contain communication skills, critical thinking skills, the ability to think creatively and to be open-minded"
Bopp grew up just outside New York City and attended a small all-girls Catholic high school. When it came time to start thinking about college, she considered several smaller Catholic universities, but remembered visiting Saint Joseph's the summer before senior year and having "a really great visit, and thinking it would be a good environment for me."
She chose to major in international relations because she wanted to gain a global perspective and liked being able to take classes in political science, history and economics without having to choose one discipline.
"I wanted to understand why things in the world were the way they were, how things had been and how we got to where we are," Bopp said.
Although Bopp hadn't initially considered marketing as a possible career, a summer internship at an advertising agency ignited a passion for being able to do work related to something tangible, whether it was a billboard along the highway or consumer goods in a department store display.
After graduating, she got a job with Nestlé, where she ended up working for more than seven years. It was while working there as a business analyst that she realized the value of a skill she had honed as an undergraduate taking economics classes – the ability to link data to insights or outcomes, and being able to explain that connection clearly to different audiences.
Bopp went from Nestlé to working for two different analytics consulting firms where she was able to build on her passion for data by working side-by-side with scientists to develop and interpret insights for clients including L'Oréal, Estée Lauder and Michael Kors. From there, she was recruited to join Michael Kors as a vice president focused on building a customer loyalty program and digital marketing strategy for the luxury fashion brand.
Among her projects at Kate Spade New York has been to work at creating a "full funnel" digital marketing strategy with messaging crafted to each stage of the customer journey. The brand, which includes handbags, clothing, accessories and home goods, was founded in 1993 by Kate and Andy Spade, and was acquired in 2017 by Tapestry Inc. (formerly known as Coach Inc.).
"I'm an intellectually curious person, and as long as there is a problem to solve or something to learn, I'm always really happy," she says.
Another aspect of her Saint Joseph's education that has helped her along the way is having a service-oriented mindset. "Teams today have to be highly collaborative," she says. "It's really critical that if you have expertise in an area that is newer that you bring others along on the journey and find ways to partner and learn from each other."
Rachel Kipp is editorial director