A Future-proofed Education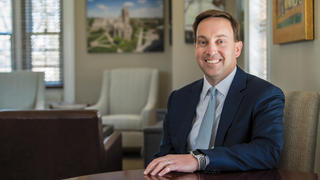 I have said often in recent weeks and months that the education we provide at Saint Joseph's has never been more relevant. In an unpredictable future, our graduates are able to apply the various skills and knowledge they gain through our rigorous academic programming and their exposure to issues of justice, ethics and civic responsibility. We prepare leaders who are future-proofed, and our alumni demonstrate this in so many ways.
This resounding truth about the unpredictability of the future took center stage in our city in June during Philadelphia Magazine's virtual ThinkFest, of which Saint Joseph's was a sponsor. The virtual festival of ideas, at which I spoke and introduced Philadelphia Mayor Jim Kenney, featured leading medical professionals, economists, and government and educational leaders, and was organized around the theme of "The Future of Everything."
In my opinion, there is no better city to host such important conversations than in the home of revolutionary thinkers and the cradle of liberty. And there is no better University to sponsor these discussions than St. Joe's, which is built on the timeless, yet modern 500-year old Jesuit tradition. You'll read more about why in our cover story.
I hope that some of you had the opportunity to tune in to ThinkFest, but if not, I can tell you that the conversations revolved around the importance of agile leadership and honest discourse about matters of inequality, civic engagement and innovation.
These are themes that undergird everything we do at St. Joe's. Take our growing portfolio of leadership programs that focus on developing the hard and soft skills required to succeed. Our Day of Dialogue last winter that brought students, faculty and staff together for uncomfortable but important conversations about diversity, equity and inclusion. And, earlier this summer, students, faculty and staff gathered on campus for a peaceful protest in support of the Black Lives Matter movement. Most recently, our Unlimited Learning series brought together some of our leading scholars and thinkers for a discussion about structural inequality in Philadelphia. All of the work we do on campus is being approached from new angles and with fresh perspectives.
Although spread out physically, our community came together in the spirit of understanding and prayer to reflect on the recent protests against systemic racism for a virtual session titled, "30 Mindful Minutes." And we've heard from many of you asking about how you can be involved in the work we're doing to advance diversity, equity and inclusion. What we value will persist, but how we carry out our mission must constantly evolve.
A global pandemic combined with the flaring of racial tensions in our communities is calling us to act. I am so proud of the way that Hawks far and wide have shown up to support one another, their communities and their alma mater. But I wouldn't have expected any less.
When the pandemic prompted us to move to a virtual environment in March, everything from coursework to academic advising to administrative operations continued without interruption, and our summer learning registrations actually increased.
As we move through these unprecedented times of the pandemic and the ongoing pursuit for equality, we will rely on the Hawk spirit of optimism and strength to permeate Hawk Hill. It's true that nothing will be "as usual" about the fall of 2020, but Hawks are resilient, and we must remember that the education we provide is essential and long-lasting.
Flexibility will continue to rule the day for the foreseeable future and Hawk Hill is ready.
Be safe and well,

Mark C. Reed, Ed.D.
President