Frances M. Maguire '14 (Hon.)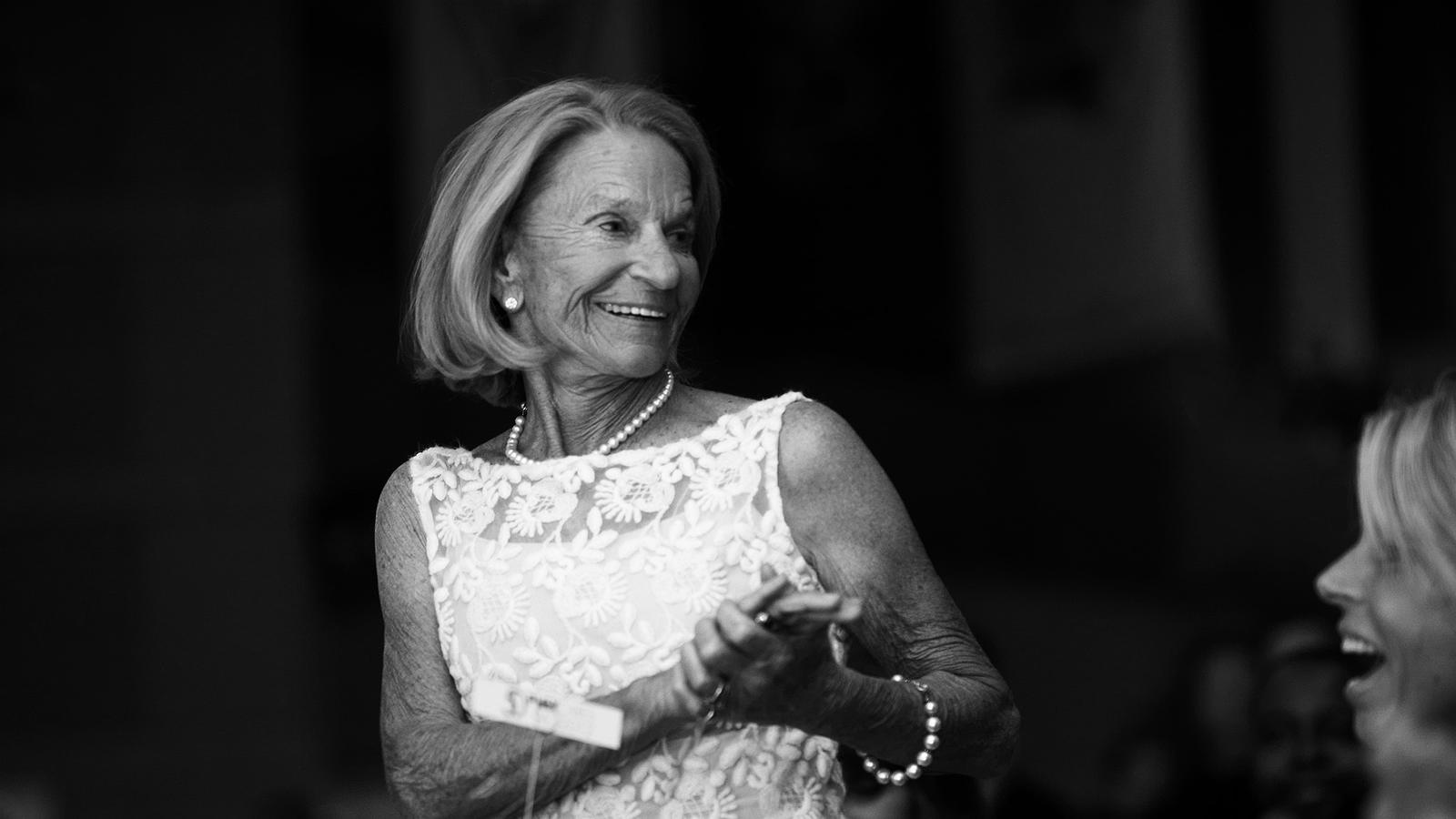 Saint Joseph's mourned the passing of Frances M. Maguire '14 (Hon.), a devoted wife, mother and grandmother and passionate advocate for education and the arts.
Together with her husband James J. Maguire '58, "Frannie," as she was known by friends and family, was one of the University's greatest benefactors. Through their jointly established Maguire Foundation, the couple grants hundreds of scholarships to students at every level from grade school through college, connecting them to a faith-and justice-based education.
Frannie was known for her great talent and passion for the arts. She began her training studying painting and sculpture at the Cheltenham Art Center. She also studied at the prestigious Vermont Studio Center and the Pennsylvania Academy of the Fine Arts (PAFA). Saint Joseph's is the beneficiary of Frannie's artistic talents: the Chapel of St. Joseph – Michael J. Smith, S.J., Memorial is home to a bust of Fr. Smith, sculpted and donated to the University by Frannie.
In 2018, on the heels of Jim and Frannie's history-making $50 million gift to SJU, the famed gallery at the Barnes Foundation was named the Frances M. Maguire Art Museum to honor her as an accomplished artist and arts advocate. In 2014, the University awarded Frannie and Jim honorary Doctor of Public Service degrees for their work to advance social justice and education.
Saint Joseph's joined with many other institutions in mourning Frannie's passing. She was a proud graduate of Gwynedd Mercy University, and also made the largest alumni gift in the university's history. The Frances M. Maguire School of Nursing at Gwynedd Mercy is a tribute to her father, a surgeon and her mother, a nurse.
Additionally, she was an ardent supporter of the Pennsylvania Academy of Fine Arts, serving on the Board of Trustees. PAFA's Samuel M.V. Hamilton Building is now known as "The Frances M. Maguire Gallery in Honor of the PAFA Faculty."
Frannie also served on the boards of the Woodmere Art Museum and the Academy of Children's Music, was a volunteer for the Philadelphia Museum of Art's Blind Artist Program and was named a judge emeritus of the Garden Club of America.
Lawrence W. Pierce '48, '67 (Hon.) 
Judge Lawrence W. Pierce '48, '67 (Hon.), the first Black graduate of Saint Joseph's University, passed away on February 5.
A federal judge for more than two decades, Pierce dedicated his life to the study and practice of law. He served in New York City as a public defender, assistant district attorney, and deputy police commissioner before his appointment as U.S. district judge for the Southern District of New York in 1971. He also served on the U.S. Court of Appeals for the Second Circuit, the U.S. Foreign Intelligence Surveillance Court, the Third United Nations Congress on the Prevention of Crime and Treatment of Offenders and the Fourth UN Congress.
Born on December 31, 1924, in Philadelphia, Pierce entered then-Saint Joseph's College in 1942, before deferring his studies for a call to serve as a sergeant with the 92nd Infantry Division in Italy during World War II. He was honorably discharged three years later and returned to Saint Joseph's, graduating with a bachelor's degree in business administration in 1948, before going on to receive his law degree from Fordham University in 1951.
Throughout his life, Pierce remained a dedicated alumnus of Saint Joseph's and recognized the influence a Jesuit education had on his personal formation. He has served on the University Board of Trustees and was awarded the University's highest alumni honor, the Shield of Loyola award, in 1987.
"Students who matriculate at St. Joe's receive an education that instills in them Jesuit values," he said during a visit to campus in 2010. ""Values which will help them grow spiritually and intellectually and lead them to lives with substance and purpose."
Rev. Dennis McNally, S.J.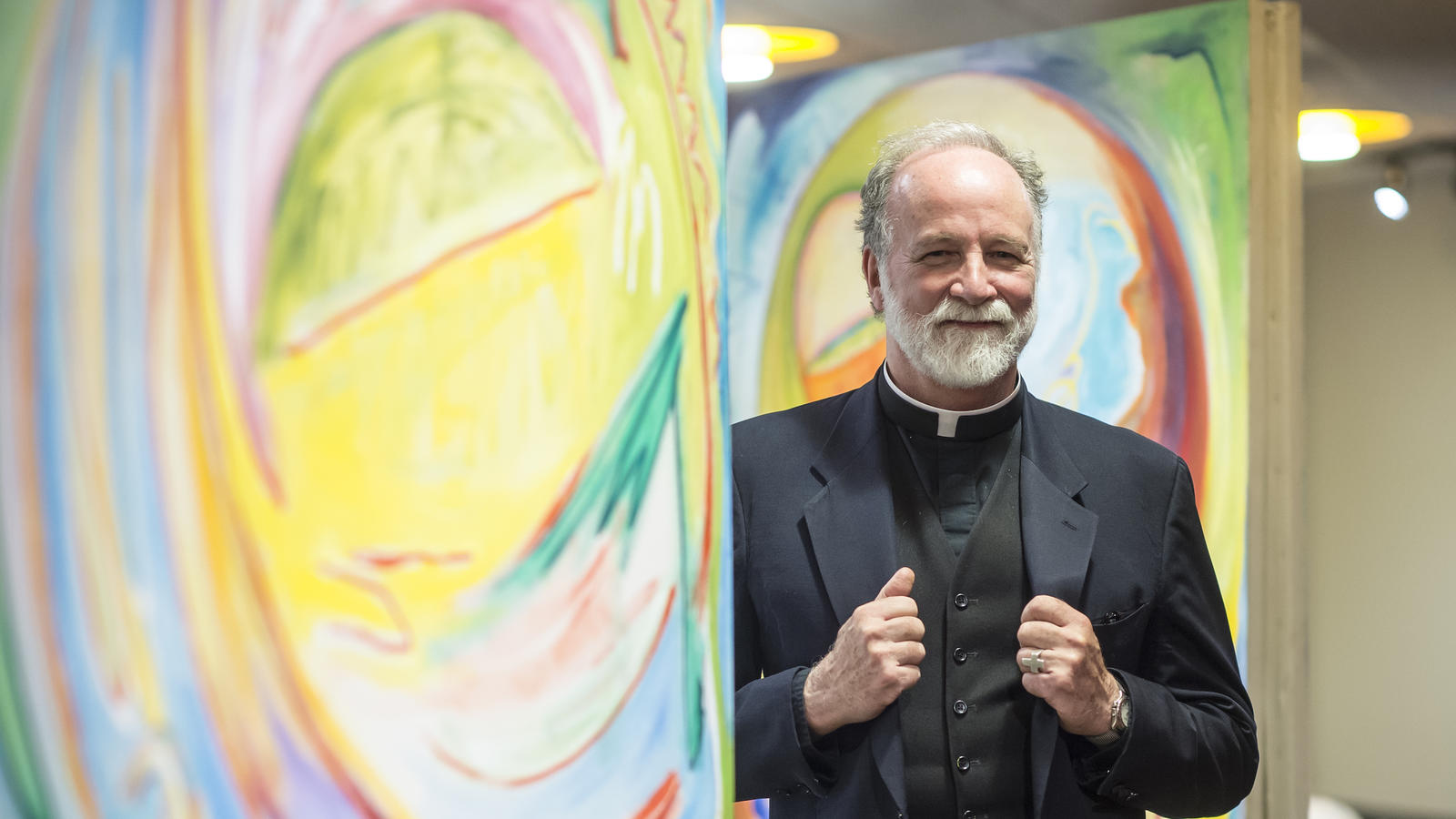 Longtime faculty member, gifted artist, inspiring mentor and devoted Jesuit priest, Rev. Dennis McNally, S.J., passed away unexpectedly but peacefully on May 6 in his room at the Loyola Center. Fr. McNally served Saint Joseph's loyally since 1975, chairing the Department of Fine and Performing Arts for 22 years and guiding aspiring artists.
A prolific painter, Fr. McNally's work was inspired by his faith and he likened the process of painting to prayer. He generously shared his art with others and hoped that it would inspire them to pray.
"Fr. McNally has left an indelible mark on our University, on countless students throughout his more than four decades on campus, and on his colleagues and Jesuit brothers," said University President Mark C. Reed, Ed.D. "He will be missed, as will his creativity and spirituality."
The University was set to award Fr. McNally the Lindback Award for Distinguished Teaching this spring and did so posthumously in his honor. He is remembered for his development of new courses in a variety of media, teaching courses ranging from ceramics and figurative sculpture to architectural history and art education, leading experiential learning opportunities in Tijuana and Appalachia, and the hundreds of alumni weddings he presided over.
Make a difference in students' lives.