Welcoming New Jesuits to Campus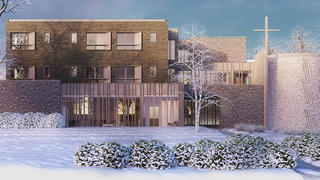 The opening early next year of the new Jesuit residence at Arrupe Hall will affirm Saint Joseph's commitment to Jesuit tradition and teachings, bringing 15 Jesuits from four different locations across Philadelphia to live and work together in a collaborative, active ministry. 
"Arrupe Hall will be a new and inviting hub of activity for the Jesuit community on Hawk Hill and in the City of Philadelphia," says University President Mark C. Reed, Ed.D. "It represents a tangible expression by the Maryland Province of its commitment to Saint Joseph's, and the presence of this community of Jesuits will create academic, sacramental and pastoral opportunities on campus and beyond."
The decision to build a new Jesuit residence came in the summer of 2018 and represents a deep and ongoing commitment by the University to preserve and build upon its Jesuit identity and tradition. As the Jesuit population ages, there was a desire to bring a diversity of Jesuits to campus. "Bringing these people together will bring about a new energy," says Eugene Geinzer, S.J., one of two new Jesuit Superiors on campus. "It will propagate new ideas and ways of thinking.
We want to mix people in various kinds of ministries, to get them to collaborate and work together, so we can address a new ministry to the City of Philadelphia," says Geinzer, who was spiritual director at Le Moyne College in Syracuse, New York before coming to Saint Joseph's last year. The members of the Arrupe Jesuit Community will be from four ministries throughout the city: Old St. Joseph's Church, St. Joseph's Prep, Gesu School, and the University.
Geinzer will share the title of Jesuit Superior with Robert Keane, S.J., who is the current Rector at Boston College. A Navy chaplain for 23 years, Keane will arrive at Saint Joseph's in September, where he will oversee the retired Jesuits who will remain in Loyola Center, as well as those in the infirmary in Manresa Hall. Geinzer will oversee the active Jesuits, who will be housed in Arrupe Hall. In accordance with governance changes within the Society of Jesus, the title of Rector will no longer be used.
Brendan Lally, S.J., will complete his term as Rector on September 15. On January 1, 2021, Lally will move into Arrupe Hall, where he will become the Delegate for Senior Jesuits, which includes all retired Jesuits throughout the East Coast. He will have close to 300 men under his care.
Construction on the new building began in the summer of 2019, starting with the demolition of Jordan Hall. Progress on Arrupe Hall was halted for six weeks because of the COVID-19 outbreak, and the original plan to finish the building by August was pushed back until the end of the year. Geinzer anticipates that the new residents will be able to move in by January 2021. Loyola Center and Manresa Hall will remain open and function exclusively for retired Jesuits, and for Jesuits in the infirmary.
Once it is finished, Arrupe Hall will provide a place for actively employed Jesuits across the city to collaborate, share ideas, and think creatively. The new building will house 13 working Jesuits, who will commute between the University, Gesu School and St. Joseph's Prep. The four members of the Arrupe Jesuit Community who work at Old St. Joseph's Church will reside in Center City to be readily available to the active parish there. Bill Rickle, S.J., campus minister for athletics and student life, will also be connected to the Arrupe community, but will remain in his current residence. 
Arrupe Hall will serve as a center for the Jesuits in their educational and spiritual work both at SJU and across the Philadelphia metro area."
Some of the features of Arrupe Hall include a 40-foot weathering steel cross, and a curved chapel inspired by the Gregorian calendar. The residence will also include several gathering spaces, such as a patio, meeting rooms, and parlors for the Jesuits and visitors to come together, a large residential kitchen, and a dining hall. "We've never really had a place on campus where we could invite faculty and staff to lunch or dinners," Geinzer explains. "Now, we will frequently – possibly daily – have colleagues from all four ministries come in for lunch or dinner." He hopes that colleagues will leave these meetings with new ideas to share with their workplaces and with their communities.
 Community outreach is also an important goal of this new collaborative Jesuit ministry. "We want to develop outreach to other organizations in Philadelphia," Geinzer says. "For example … with the current racial crisis, it will be important to work with our African American brothers and sisters and their parishes. This consolidation is city-wide, not just for the University."
Arrupe Hall is named for Pedro Arrupe, S.J. who served as the Superior General of the Society of Jesus from 1965-1983. Born in 1907 in Bilbao, Spain, Arrupe was a medical student in Madrid before joining the Society of Jesus in 1927. He was ordained into the priesthood in 1936, and was sent to Japan as a missionary. Arrupe was living in Hiroshima when the atomic bomb was dropped in World War II, and used his medical training to help the injured and dying. 
"Father Arrupe was very much in the vanguard of the Jesuit rescue relief services," Geinzer says. "He was also at the forefront of the reformation of the Jesuit ministry, and of the Jesuits getting involved in faith justice." In 1976, Arrupe visited Saint Joseph's University and met with Ed Brady, S.J., who would go on to found SJU's Faith-Justice Institute.
"Arrupe Hall will serve as a center for the Jesuits in their educational and spiritual work both at SJU and across the Philadelphia metro area," says Daniel Joyce, S.J. '88, executive director of mission programs. "This is an important goal for both the Jesuits and the mission of Saint Joseph's as we impact our city and region."