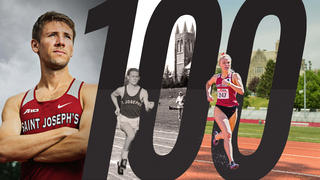 In the years after what was then Saint Joseph's College moved from its location just north of the city at 17th and Stiles to its current site in Overbrook on Philadelphia's west side, elaborate plans were set in motion. In 1929, William T. Tallon S.J., president of the College, oversaw a $1 million proposal for a 5,000-seat stadium situated in a bowl in the foreground of Barbelin Hall. The preliminary plans included accommodations for a full football field, a baseball diamond, a quarter-mile track and, rather incredibly, an eventual expansion to 72,000 seats.
Packed in the annals of history, plans changed here and there. Of that original plan penned all those years ago, one feature remains: that track.
It is, in hindsight, appropriate. The act of running is inherently tied to time, right? Get where you're going, as fast as you can. Even if it takes a hundred years. For Saint Joseph's track, that's been the long road from yesterday to today.
This year, the program is celebrating a centennial anniversary that dates back to 1920-21, when the first relay team comprising young men from Saint Joseph's College toed the line at the Penn Relays — the oldest and grandest track and field competition in the U.S. In the years since, the men's track and field program, along with cross country and the 1980s addition of the women's track and field and cross country programs, has been a critical stitch in the fabric of St. Joe's athletics.
In a lot of ways, its identity represents a core principle of the University itself.
"The question of being developmental," says Mike Glavin '78, in his 32nd year as men's track coach at Saint Joseph's, "is where do you start and where do you finish?"
In its 100-year history, St. Joe's men's indoor and outdoor track and field has produced 29 NCAA qualifiers, including seven NCAA All-Americans, and reams of IC4A champions and Atlantic 10 champions. Cross country has similarly produced 11 NCAA qualifiers and, as a team, placed fifth in two consecutive NCAA Championships in 1955 and 1956 to earn back-to-back All- American program honors.
Too many names. Too many accomplishments. One thing in common: people. Among Saint Joseph's varsity sports, track and cross country is predated only by basketball (1909) and baseball (1910), but without question, more student-athletes have come through the track program than any other team on campus. For most of its hundred years, the program ran cross country in the fall, indoor track and field in the winter, and outdoor track and field in the spring.
From program heads Johnny Oakes to Ken Smith to George Bertelsman to Lou Nicastro to Kevin Quinn '62 to Glavin, and from races at Philadelphia's Belmont Plateau to meets at New York's Van Cortlandt Park to the annual Penn Relays, the program has been both ubiquitous and is, in the words of SJU Board of Trustees Chair James M. Norris '85, "arguably among the most successful programs, beginning to present, in athletic department history."
Norris would know.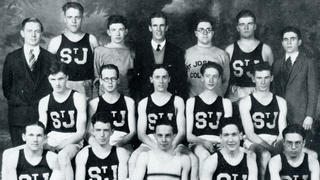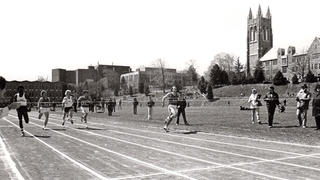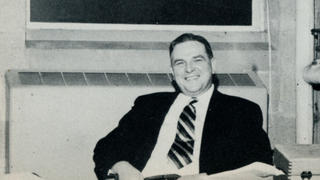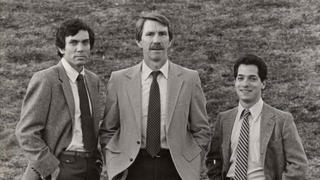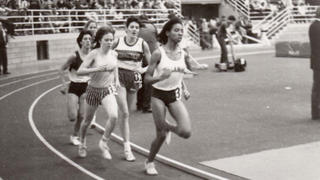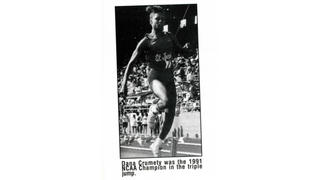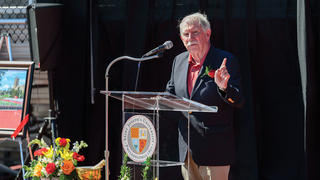 1920/21: Founding of St. Joe's track program.
1929: University track built.
1947: George Bertelsman named head coach of SJU men's cross country and track and field.
1955-56: Cross country places fifth in back-to-back NCAA championships.
1966: Kevin Quinn '62 (middle) named head coach.
1975: John Kelly '50, Frank McLaughlin '56 and Kevin Quinn '62, comprise inaugural SJU Track Hall of Fame.
1976: Ed Lennex '76 earns All-American honors in both the indoor and outdoor triple jump.
1982: Introduction of women's team as varsity sport.
1984-85: Jim Norris '85 sets school record for 1500m, qualifies for NCAA championships.
1988: Mike Glavin '78 returns to his alma mater as head coach of SJU men's cross country and track and field.
1991: Donna (Crumety) Stewart '92 wins SJU's first and only NCAA title.
1993: Cross country becomes first SJU women's team to claim an Atlantic 10 title.
2000: Christine Kane O'Connell '01 qualifies for NCAA championships in indoor track, outdoor track and cross country.
2013: Kevin McDonnell '12, '15 (M.S.) places 10th in the 10K at the NCAA outdoor championships.
2016: Men's 4x400m relay of David Henderson '18, Chris Banks '16, Torey Doaty '17 and Alec Peabody '16 wins ECAC title.
2017: Dedication of Kevin Quinn '62 Track.
Go back to 1980. Norris was a teenager with some options. A senior miler at Bishop Kenrick in Norristown, he was considering Penn, Notre Dame and Saint Joseph's for college. Penn and Notre Dame were recruiting Norris to be pieces of their programs. The latter, St. Joe's, recruited him because it wanted to turn him into something more than he was.
That was the pitch. Head Coach Kevin Quinn knew how to make it because 20 years earlier he lived it himself. He was a scrawny late bloomer at St. Joseph's Prep who went on to run for Bertelsman and Nicastro at the University from 1958 to 1962. He ended up setting the school record in the mile and two mile, was a two-time NCAA qualifier in the mile and was the first American to cross the finish line of the 1961 IC4A cross country championships, earning third overall.
Quinn took over the program as coach in the fall of 1966. When recruiting Norris, he and Assistant Coach Mike Diorka, a 1970 SJU grad who arrived as a walk-on and exceeded all expectations as an athlete, made all their selling points but didn't feel great about their chances. After meeting with Norris and his parents, Quinn returned to campus and told Diorka, "He's never coming to St. Joe's."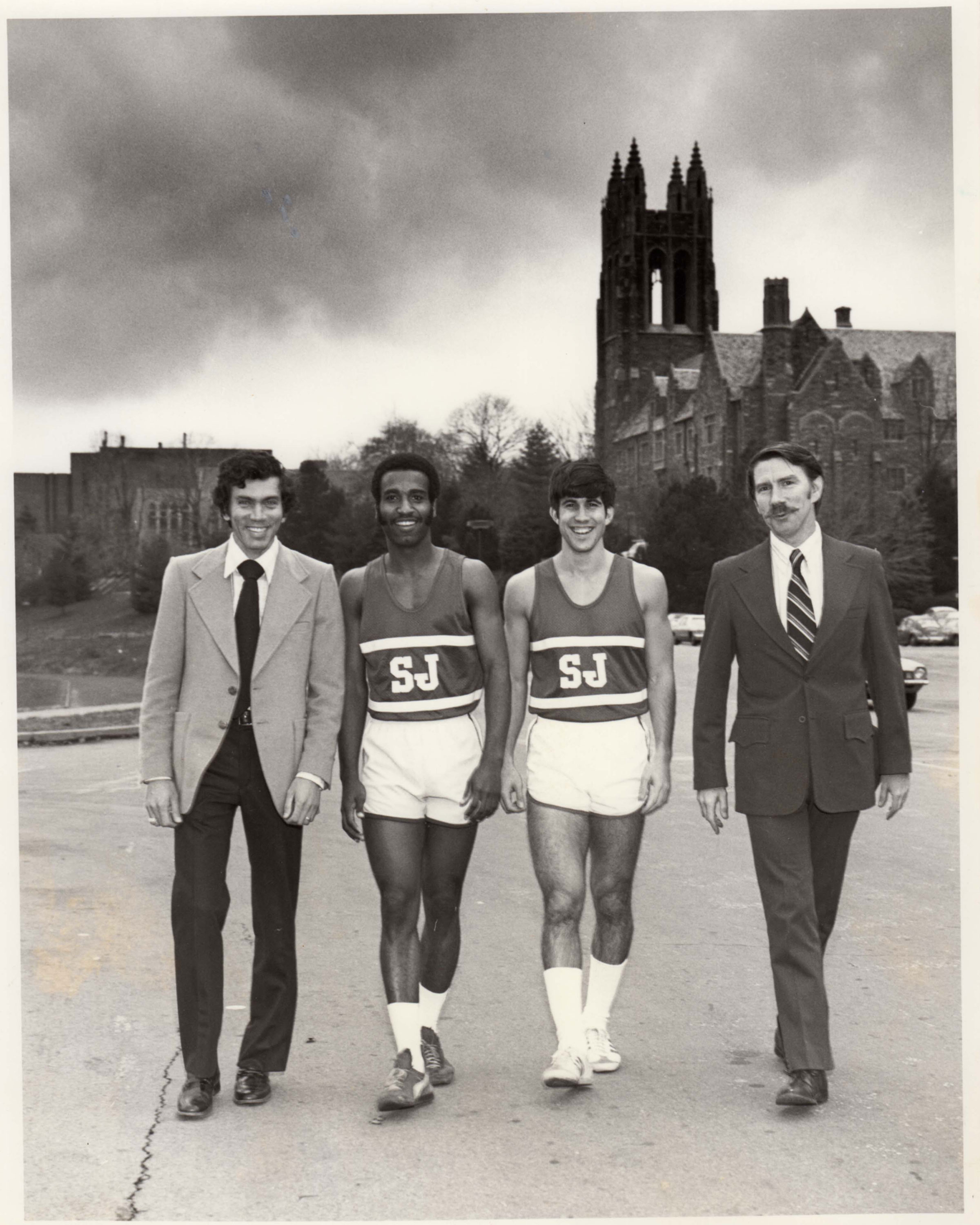 Not long after, Norris picked Saint Joseph's.
"Coach Quinn clearly had the reputation as a developmental coach and St. Joe's had the reputation of a developmental program," Norris says. "I ran well in high school, but I was far from a superstar. I needed a place like St. Joe's."
Norris was a freshman in 1980-81. He had a lot of talent. He also had, let's say, an independent streak. The young man enjoyed his early college experience. It led to some trouble. Quinn coached him on the track, fought him off the track. Finally, after two years, Quinn called a meeting. This was one of those moments between coach and athlete. Not a pep talk. A real talk. One about life. One about decisions.
Norris listened. Defiance gave way to acceptance. Things changed. He grew up, turned into an NCAA qualifier in the 1500 (his 1984 indoor school record of 3:44.6 still stands) and was inducted into the Saint Joseph's Athletics Hall of Fame in 2001. Like countless Hawks from track and field and cross country, Norris went on to a successful career. He retired in December 2020 as managing director of Vanguard International and has served on Saint Joseph's Board of Trustees since 2015. 
The act of running is inherently tied to time ... get where you're going, as fast as you can. Even if it takes a hundred years.
There are countless stories like Norris'. St. Joe's track is a program where modest recruits turn into all-conference performers and where walk-ons develop into scholarship athletes. It's a program where 4:25-to-4:30 milers turn into 4:02-to-4:05 milers. It's the program of alumni like John Cunningham '52, Fred Maglione '71, Vince Papale '68, Ed Lennex '76 and Joe Genther '79; of Steve Ave '89, Joe Brady '69, Jim Van Blunk '82 and Karl Savage '01. On the women's side, it's the program of Elaine McGillian Van Blunk '86, Dinae (Rafferty) Norris '87, Donna (Crumety) Stewart '92, Vicki Boyer '94 and Christine Kane O'Connell '01. On and on the names go.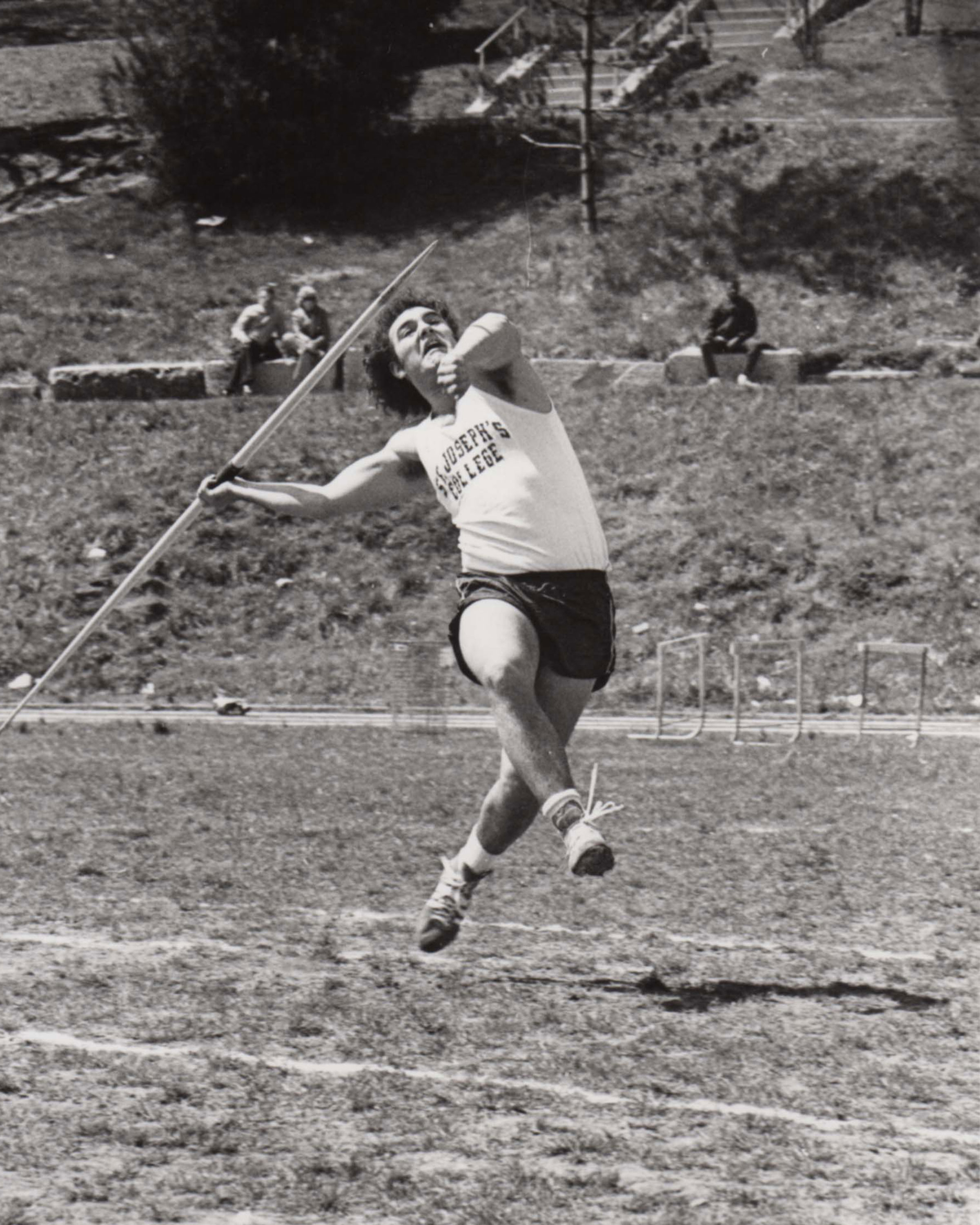 In 1991, Stewart became Saint Joseph's first and only NCAA champion with a moment of defiance that defines the school's spirit. It was the NCAA outdoor track and field championships at the University of Oregon's Hayward Field and Stewart was in a showdown with jumpers from powerhouse programs Texas, Florida, LSU and Arkansas. On the last round of attempts, four-time All-American Cynthea Rhodes of Texas jumped 43 feet, 8 1/2 inches to take over first place. A wild celebration broke out for what was thought to be Rhodes' victory. She was congratulated by teammates and coaches and even some fellow competitors.
They didn't seem too concerned that Stewart had one more attempt.
"And I'll never forget that feeling of disrespect," she says now.
Stewart was a former standout at Philadelphia's Hallahan High School recruited by the likes of SJU, Drexel and Temple. Now she was here. The biggest stage. She collected herself. She rocked back onto her heel, took off down the straightaway. Hop, step, jump. Forty-four feet, flat. Onlookers were stunned.
"Championships are the result of hard work and I put in all the work to get there, to be there and to compete," Stewart says. "All I needed was the opportunity. Coach Quinn gave me a scholarship. I gave St. Joe's an NCAA championship."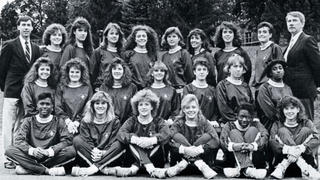 It all comes back to development. The program develops the person.
"I'm grateful for what St. Joe's did for me as an athlete, but I can't even believe the impact that (Quinn) had on me as a person," Norris says. "I don't think there's any question that I wouldn't be where I am today if it weren't for him kicking my butt."
As is the nature of the sport, everything comes full circle. That old track that was supposed to be a football stadium? It was rededicated in 2017 as the Kevin Quinn '62 Track. Norris and Dinae (Rafferty) Norris '87, a fellow St. Joe's Hall of Famer and a foundational piece in the early women's track programs, joined Dennis Salter '83, Bob Doman '71 and other SJU track alumni to honor their old coach.
"The fact is, those who went through four years at St. Joe's under Kevin Quinn realized later that they were cared for," Glavin says.
Quinn, as is very much his nature, specifically asked to only bear a passing mention in this story. To write of St. Joe's track and not write of Kevin Quinn, though, would be to chronicle the Rolling Stones and forget to mention Mick Jagger.
In total, as an athlete and coach, Quinn has been part of St. Joe's track for 53 of its 100 years. He coached 147 men's and women's cross country, indoor track and outdoor track seasons that spanned 49 years. He led 40 NCAA qualifiers, nine NCAA All-Americans, and 10 ECAC/IC4A champions. He coached the women's track and field and cross country programs from 1985 until his retirement in May 2015.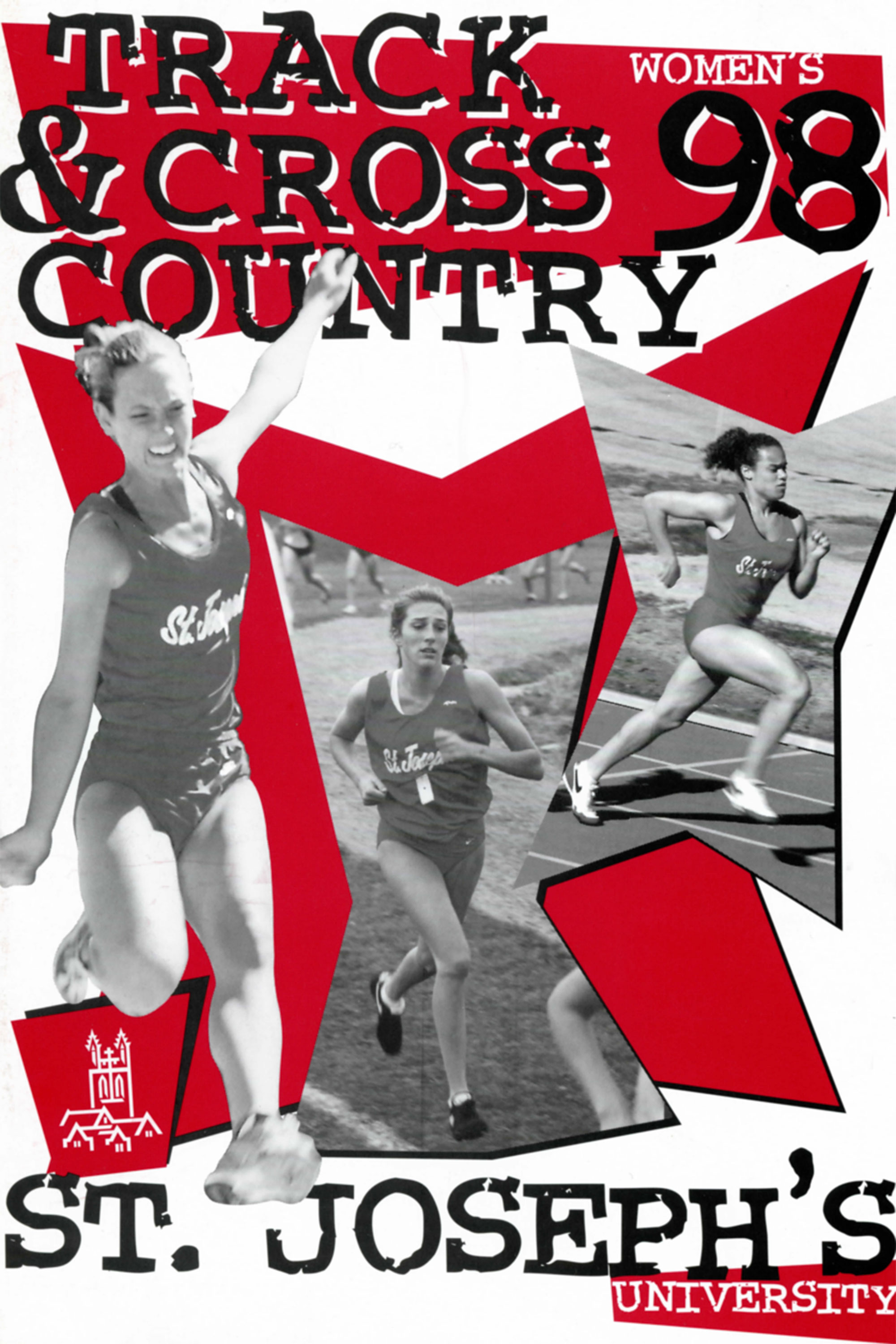 The same way current coaches like Glavin and Women's Track Head Coach Melody O'Reilly pay homage to Quinn and those who came before them, Quinn points to Bertelsman and the early roots of the program. A long jump record holder as a collegian at the University of Illinois in the 1930s, Bertelsman moved to Philadelphia as a salesman after the war. He became a part-time coach at Saint Joseph's and quickly turned it into a dominant figure in the Middle Atlantic Conference (MAC) with early stars like Joe McLaughlin '53 and Frank McLaughlin '56. In cross country, the Hawks won every league title from 1947 through 1957, in addition to six team MAC track championships between 1948 and 1959.
Bertelsman was named Saint Joseph's athletic director in 1948. He was a transformative figure in school history, adding several sports to the athletic department, making the decision to hire Jack Ramsay as basketball coach in 1955 and overseeing the construction of Alumni Memorial Fieldhouse (now Hagan Arena) in 1958. Bertelsman was among the founding fathers of the Philadelphia Big 5 and, despite representing a modest Catholic commuter college of roughly 1,400 students, was named to the prestigious NCAA Rules Committee.
"It can't be overstated how respected Mr. Bertelsman was," Quinn says.
In recent years, the Hawks of today still bear resemblance to the Hawks of yesterday. The 400-meter corps carries on the tradition that previously went from Jim Gavaghan '59 to Mike Black '75 to Ron Manion '78. The last 20 years have produced 17 individual Atlantic 10 titles between indoor and outdoor from 400m, 500m and 800m, and 12 additional 4x400m relay titles. Middle distance runners have produced more than 40 individual A10 titles in events from the 800m through 10,000m between indoor and outdoor seasons. Cross country has produced four Atlantic 10 team titles, seven runners-up finishes and five individual champion titles.
Zach Michon '20 '22 (M.H.A.), currently a graduate student, is an eight-time Atlantic 10 All-Conference selection and six-time Atlantic 10 individual champion. He's overcome a major childhood leg surgery to remove a benign tumor in his knee to become one of the top runners in program history.
"We look for kids who develop as people, as students, as characters and as athletes," Glavin says. "It's always been that way. Now that I think of it, whether it's the school or the track program, the future of St. Joe's is the past of St. Joe's, it just can't be arrived at in the same way."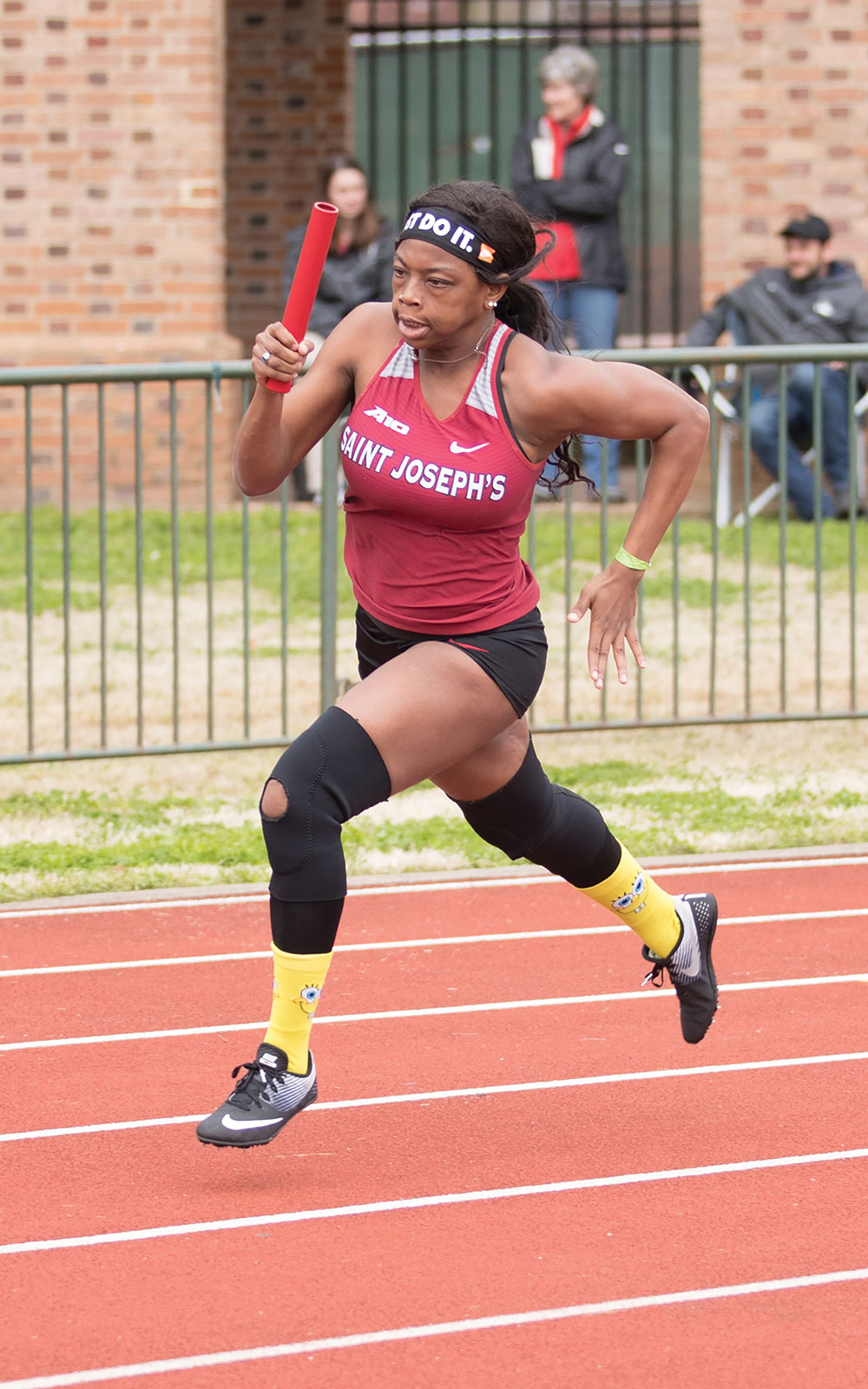 Which is why for decades, SJU track alumni have been among the most active in giving back. Of the funds raised for the women's and men's teams, 53% and 78%, respectively, comes from former Hawk runners.
Recently, mental health programming for current St. Joe's students throughout the athletic department is being spearheaded by gifts from three track and field alums.
"The culture in that program has bred the engagement that's been seen when people are gone," Saint Joseph's Athletic Director Jill Bodensteiner says.
"They weren't only part of St. Joe's. They were part of something really special in that program. It's incredible to see. It's an incredibly rich history."
These are the layers that build when one comes upon another. A developmental program pushes its athletes to achieve things they didn't think they were capable of. They then, in turn, identify their success with that of the program. And that's how you make a Hawk.
For Saint Joseph's track and field and cross country, 100 years' worth of layers have led to today and will go on to tomorrow. For the Hawks, there is no finish line. 
Brendan Quinn '06 is a senior writer for The Athletic.