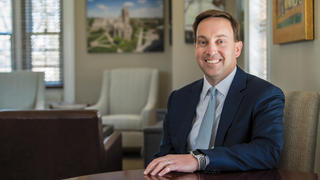 In my many years of work in higher education, I've attended and participated in dozens of Commencement ceremonies. Some might say, if you've seen one, you've seen them all. Well, that is, until this past year.
After a first-ever virtual conferral of degrees in 2020, we returned to on-campus ceremonies for the Class of 2021, albeit still altered by the pandemic. Instead of a sea of black caps and robes, there was a checkerboard with gaps for physical distancing. Masks covered smiles. And as much as I wanted to, I couldn't shake every hand as our graduates crossed the stage.
But for the graduates gathered on Curran Lawn on May 22, what was not lost was the abiding sense of pride for all that had been accomplished and anticipation of everything that comes next. While the pandemic has taken much from all of us, the Hawks I have encountered in the past year — students, faculty, staff, alumni — have proven that great change cannot stop us. We simply find another way.
Nothing is greater evidence of this philosophy than the recent announcement of University of the Sciences' historic merger with and into Saint Joseph's. For institutions of higher education in a growingly competitive market that demands constant revamping of academic portfolios, sometimes the most efficient and effective way to meet these demands is to find another way. In our case, this merger made great sense, and the powerful combination of our academic programs will allow two very strong institutions with deep roots to emerge even stronger. No other opportunity provides us with the same ability to add key health and science programs, so close to our campus, with a shared student-centered mission.
As we emerge from the challenge of the global pandemic, Saint Joseph's is ready to meet new challenges. In the coming months and years, I look forward to the new avenues we take and the opportunity to bring our Jesuit liberal arts core to new programs and disciplines, and ultimately to the students who will benefit immensely from our unique brand of education.

Mark C. Reed, Ed.D.
President