Meet Saint Joseph's University's VP of Marketing and Communications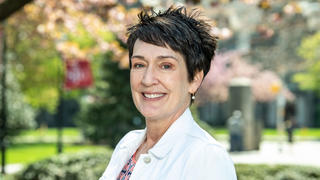 Liz Kennedy Walsh has been named the new vice president of marketing and communications at Saint Joseph's. Reporting directly to the President, Walsh serves on the University's senior leadership team and oversees a team responsible for driving enrollment, philanthropy and reputation through strategies including internal communications, media relations, content, social media, digital and traditional marketing, creative expression and branding.
Walsh brings more than 25 years of experience to the role, most recently serving as associate vice president of university communication and marketing at Villanova. There, she directed a team of 21 and was involved in all aspects of marketing and communications including a rebrand, website redesign, recruitment campaigns, COVID-19 response, market research and more. Prior to her tenure in higher education, Walsh directed marketing in the tourism and entertainment industry including at the National Constitution Center, Adventure Aquarium, the Kimmel Center for the Performing Arts and the Wilma Theater.
Walsh is civically engaged on campus with appointments on numerous committees including issues management, COVID-19 and the presidential task force on race. She is also active in her community as the former vicechair of the advisory board at the Haverford YMCA. She holds a master's degree in theater from Villanova and a bachelor's in English and communication from University of Scranton.