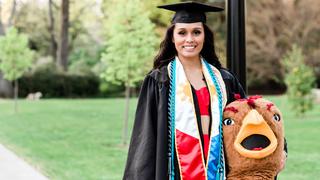 On a Friday night, instead of hanging out with friends, the Hawk is flapping its famous wings at a wedding.
Sundays that would be spent relaxing before going to the library are instead spent at Citizens Bank Park to celebrate the Phillie Phanatic's birthday alongside Philadelphia's other iconic mascots, from the Temple Owl to the legendary Gritty.
Inside the Hawk costume is a St. Joe's student, and for the past three years, one of those students has been Asia Whittenberger '22.
Being the face of a university, especially one with a storied Division I basketball program, is a tall order. But for Whittenberger, it's been worth it.
"The time part is a big deal, but you realize what the Hawk means to people," she says. "At the Phillies game when the Hawk came out, it got one of the loudest rounds of applause out of all the mascots. That was cool to hear that this tradition is so big in Philadelphia; people value what the Hawk does so much."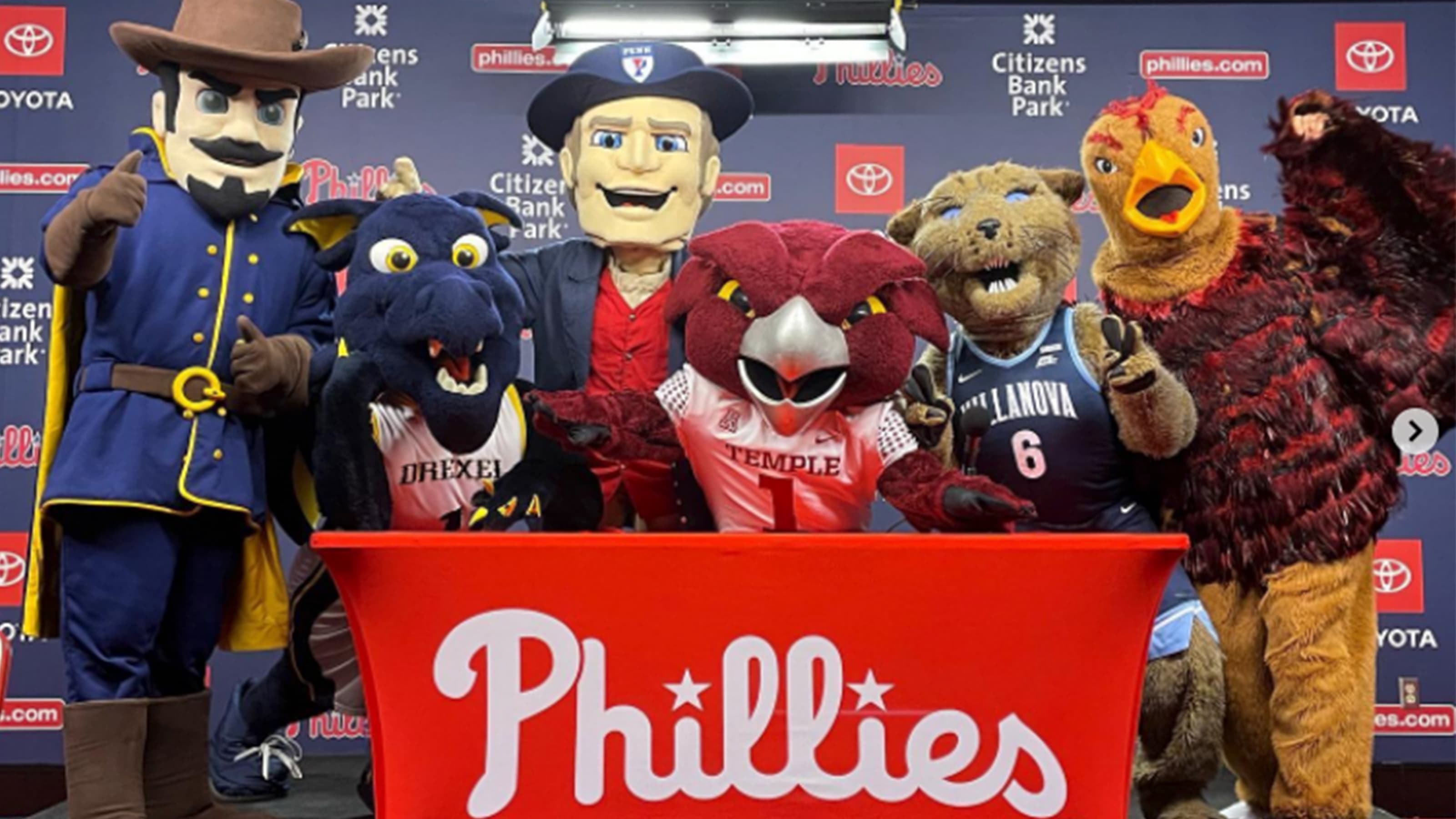 For those who know Whittenberger, including Jack Jumper, director of athletics communications, she and the Hawk are one in the same.
"She embodies everything that the Hawk is, from the spirit, personality, understanding what St. Joe's is, Asia has gotten that from day one," he says. "She's just been an amazing person to fill the wings these past couple of years."
Sitting in the press box at a women's soccer game in October 2019, Jumper mentioned to Whittenberger that the Department of Athletics was looking for someone to step into the suit. 
Whittenberger came to St. Joe's as a member of the women's soccer team, but an injury kept her sidelined and working behind the scenes in athletics at least 20 hours a week to maintain her athletic scholarship. 
"It was a perfect match," Whittenberger says. "I'm really happy I did it."
From then on, Whittenberger, flapped, ran and danced during every women's basketball matchup, even when the coronavirus pandemic meant she had to get creative. 
She embodies everything that the Hawk is, from the spirit, personality, understanding what St. Joe's is, Asia has gotten that from day one
During home games amid COVID-19, she was relegated to the stands, where she worked off the court to keep fans' and players' spirits up. For away games, Whittenberger still suited up, but in her apartment in Rashford Hall, where she livestreamed herself flapping from the Hawk's Instagram account, @NeverStopFlapping. It wasn't always easy, she says, but she did it to keep the tradition going. 
The sociology and communication double major kept herself busy during her time on Hawk Hill. Not only did she flap for every women's basketball game and various events on and around campus, but she was also involved in University Student Senate, served on the executive board of the Asian Student Association, participated in Weekly Service, tutored in the Writing Center and worked as a resident assistant (RA), most recently working as a head resident assistant on campus. 
After she graduates in May, Whittenberger will complete a year of service as an academic support coordinator with Philadelphia Futures, supporting low-income and first-generation high school and college students. As a first-generation college student herself, she says she is excited to help students on their respective academic journeys to college. 
"I wouldn't have the knowledge or perspective I have if it weren't for the classes I took, and what being an RA has taught me, what being a Writing Center tutor has taught me, what being the Hawk has taught me," Whittenberger says. "I deliberately chose what I did. I loved everything I've done at St. Joe's, and I knew it would help me down the line."
The legacy she's proudest to leave on Hawk Hill, though, is advocating to establish a scholarship for the women's Hawk mascot. As a female in the male-dominated world of mascots — and athletics in general — her role as a role model to young women and girls is very important to her. Especially, she says, as a woman of color. 
"Nobody expects it to be me under the suit," Whittenberger says. "I want that legacy to continue with more women being under the suit because more women deserve to represent the school in this way."
Going forward, every student mascot on the women's basketball team will receive a full tuition scholarship. 
"That's something I'm very proud of," Whittenberger says.