5 Key Facts About Esports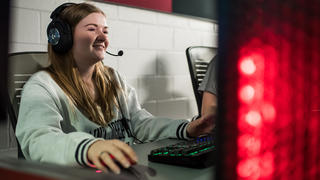 Beginning this fall, Saint Joseph's University is leveraging the popularity and growing business impact of the esports industry to offer a new esports initiative. This includes a lab, an esports marketing course and an esports club. 
Esports – the "e" stands for electronic – is organized video game competitions that feature both professional and amateur players, competing as individuals or on teams, in front of ever-increasing audiences both online and in person.
Here are 5 key facts to know about esports as an industry and on Hawk Hill:
The industry's growth is explosive
The first varsity esports team was created at Robert Morris University Illinois (now part of Roosevelt University) in 2014. Now, esports is a nearly billion dollar per year industry. According to an annual report on the industry by Newzoo, an esports market research firm, the total global esports audience is expected to grow to 495 million people in 2020, reflecting year-on-year growth of 11.7%. Global esports revenue will grow to $1.1 billion in 2020, up 15.7% from 2019. Three-quarters of the growth will be dollars earned from media rights and sponsorships, showing the potential of the industry not just for players, but for support sectors like marketing, advertising, information technology and analytics. 
Esports spectatorship is not limited to the internet
Live events, such as the Overwatch League Grand Finals, fill arenas around the world as fans gather to see the best of the best show off their skills and claim prizes in excess of $1 million. In fact, the 2019 edition of the Grand Finals was held at Philadelphia's Wells Fargo Center, and sold out a month before the competition. Nearly 12,000 fans bought tickets priced from $50-$250. But playing is only half the appeal; esports truly hit the big time via online streaming services such as YouTube and Twitch, which allow spectators to watch gamers compete from anywhere on the globe. The improvement of technology has allowed for greater and easier access to the internet, which caused an increase in viewership of gaming. 
Esports arena to be built in Philadelphia
Fusion Arena is expected to be the largest new-construction, purpose-built esports arena in the Western Hemisphere, and it will be located in the heart of the Philadelphia Sports Complex, adjacent to Xfinity Live!. This $50 million arena will seat up to 3,500 guests, and will include two balcony bars, club seats with USB ports, exclusive suites and flexible loge boxes. The entrance will feature a 6,000-square-foot entrance that will include 2,000 square feet of interactive media surface hovering 30 feet above guests. The Fusion Arena is scheduled to be opened in 2021. 
SJU's esports initiative is multi-faceted
The esports program at Saint Joseph's combines three key elements: a dedicated lab space, academic coursework, and a club sport that competes against other institutions. The new esports lab, a refurbished computer lab in Merion Hall, had its soft launch on Hawk Hill in March. The lab is part of a larger effort to provide learning opportunities within the sector – including a new marketing course that will launch in the fall – and to foster collaboration among the existing gaming community on campus. The lab will include 24 state of the art gaming stations at ergonomic workstations and an upgraded audio/visual system. Stations will be arranged in clusters of six to enhance the team play, with one coaching station connected to a 65-inch interactive display so teams can review, interact and annotate over the top of gaming footage.
Popular esports games tend to be active
The most popular esports games are often first-person shooter, fighting or "battle royale" games, where players and teams are competing to be the proverbial "last one standing." But sports games such as FIFA Soccer and Madden NFL franchises have also found popularity among esports competitions. Other more popular titles today include League of Legends, Fortnite and Overwatch.