Alumna's Honors Capstone Project Could Impact How Clinicians Think About Childhood Sleep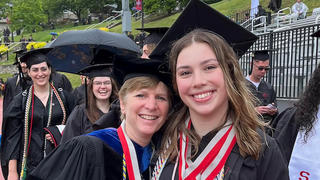 Sleep, or lack thereof, is top of mind for every new parent and a concern often brought to their child's pediatrician. However, as Mikayla Carson '22, '23 (MS) discovered, parents' concerns are much more common than reflected in pediatricians' clinical notes. 
While at Saint Joseph's, Carson worked closely with Jodi Mindell, PhD, professor of psychology, on her honors capstone project, which focused on discrepancies between caregiver-reported early childhood sleep problems and clinician documentation, recommendations and referral. She discovered that parental reports of their child's sleep concerns, including snoring, insomnia, insufficient sleep and more, are often not documented in their child's chart, possibly because the issue was never discussed or the concern was not perceived to be important enough to include in the child's chart. Therefore, some young children may not be getting the treatment they need. According to research by the National Institutes of Health (NIH), children who got insufficient sleep had more mental health and behavioral challenges than those who got sufficient sleep.
Carson's study has now been published in Academic Pediatrics, the official journal of the Academic Pediatric Association. Additionally, it was recognized by the American Academy of Pediatrics (AAP) as being a critical finding that the AAP needs to educate its constituents on. Mindell emphasized the magnitude of this accomplishment. 
"It is very rare that an undergraduate honors student takes an idea, develops it, analyzes [data] and then gets it published," says Mindell. "We would never be able to do this level of research without student involvement. I am incredibly honored and fortunate to have students like Mikayla who are interested and motivated to do the work and are excited about research."
The study focused on 170 caregiver-child relationships. From the sample size, 92% of children had at least one caregiver-reported sleep problem. However, only 20% of children had their clinician document a sleep problem and only 12% received a documented sleep recommendation. Just 1% of clinicians moved forward with documented sleep-related referrals. While this discrepancy is significant, Carson and Mindell say it is unsurprising.
I think about my experience in primary care and I don't know that I was ever screened for sleep problems.
These results emphasize for Carson and Mindell that primary care providers need more education regarding sleep, especially on how to screen and diagnose sleep issues in children. Regardless, they hope this study can instigate change. 
"Enhanced screening would help with provider competence and hopefully help with those referrals and recommendations," says Carson. "For example, if a child snores, they might think, 'Is this something we should watch closely or is this severe enough that they should be referred to a sleep specialist?'" 
Mindell is proud of Carson's work on this study and will continue to work with her on other projects. 
"Once a member of our [research] team, always a member of our research team," says Mindell. "Mikayla was also the lead coordinator for a study that we have been conducting with Beds for Kids, a nonprofit organization in Philadelphia that provides beds, bedding and sleep education to families who do not have a bed for their child. We just finished collecting those data." 
Carson recently accepted a job at Haverford College that will allow her to continue pursuing her passion for research and educating future generations. 
"I'm so excited," says Carson. "I'm [Haverford's] new lab instructor and research manager. I'll be teaching statistics and research methods labs. I'll also be helping with student projects and helping with psychology faculty research projects. I can't stop talking about this job with people. My family never hears the end of it."