Alumnus Combines Experience, Passion and Teacher Preparation to Promote Bilingual Education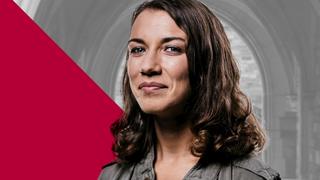 Elaine Estes '20 had a clear career goal in mind: to become a Spanish teacher. And her chosen path of study — majoring in both Spanish and secondary education — would help her achieve that goal easily.
But Estes wasn't content with what was easy. At a time when people of Hispanic or Latino background represented the largest minority in the United States, Estes used the unique combination of opportunities available to her at Saint Joseph's to build a curricular toolkit to better serve bilingual students.
As if earning credits for two majors wasn't enough, Estes added minors in Latin American Studies and Theology & Religious Studies, and pursued certification to teach Spanish.
"A lot of people might look to education as a way to learn to become a teacher," Estes says. "St. Joe's really stresses the power that education holds in forming you as an educator."
To gain better perspective on the quality of bilingual education in Philadelphia, Estes undertook a research project comparing the resources available to Hispanic students learning English in the city to their counterparts around the country. She says that while Philadelphia is doing well in expanding bilingual elementary school lessons in Spanish — the city's most widely spoken minority language — there is still work to be done. 
"The school district needs to find ways to follow emergent bilingual students up through the secondary level and fine tune the curricula used to reach more students in more schools who speak more languages," she says. "They should also expand offerings for gifted students who happen to be bilingual."
But Estes wasn't just hoping to see a change. She wanted to be part of it. She gained valuable on-the-job experience student-teaching 7th grade Spanish and social studies at Antonia Pantoja Charter School in a neighborhood in North Philadelphia with a 56% Hispanic population — four times the citywide average representation. Estes took the lessons from Spanish and secondary education that she learned on Hawk Hill to Hunting Park.
"I learned in my linguistics-centered Spanish classes at St. Joe's that bilingual students have strengths in speaking and listening, but that their reading and writing lacks," she explains. "I know, then, that I'll be more effective reaching them through conversation than writing."
Student-teaching prepared Estes for the mechanics of leading a classroom, but she credits the immersive and experiential learning opportunities she could only find at Saint Joseph's with shaping her overall educational philosophy.
One chance in particular stands out for her: an independent study project she completed in Cuba, made possible by one of her mentors, who has colleagues in the country that allowed Estes to shadow them for several days. Cuba has one of the highest adult literacy rates in the world — 99.75%, according to UNESCO — and Estes wanted to find out if there was a secret to the highly regarded education system. Instead, she learned while talking to the people there that while levels of education are high, satisfaction in the outcomes from the schooling is not.
A lot of people might look to education as a way to learn to become a teacher. St. Joe's really stresses the power that education holds in forming you as an educator."
"Because the education is government-controlled, citizens have little autonomy in deciding what they want to learn and how to use it in a career after completing school," she says. "My study there made me think a lot about the values behind education systems, and educational paths can be created to both satisfy the needs of a community but also the desires of individuals."
Carrying two majors and two minors may seem like a lot of work, but it was nothing new for Estes. She accomplished her academic and professional goals of becoming a teacher while earning spots on the Atlantic 10 and SJU Athletic Director's honor rolls as a captain and cross-country specialist for St. Joe's track and field team. Running, Estes says, taught her the tenacity to keep striving for success.
"You have to continually push yourself to see improvement," she says. "I never would have expected to be at the place I was on this team, but running taught me the kind of lifestyle I want to live: one where you keep working hard to accomplish your goals."
Today, Estes is working as a full-time teacher at the Merion Mercy Academy, serving her community and preparing her students for a bright future.