Camp Kinney Offers Summer Growth for Young People with Autism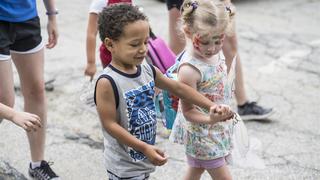 This summer, the Kinney Center for Autism Education and Support will holds its ninth Camp Kinney, an accredited camp that fosters interaction between individuals with Autism Spectrum Disorder (ASD) and their neurotypical peers. Hosting campers that range in age from two to 30, the camp will run June 25 to July 26, and will give approximately 100 participants an opportunity to improve social skills and independence as they explore new experiences.
Campers can look forward to a petting zoo, a visit from the Franklin Institute, a trip to the Elmwood Zoo, a sensory friendly concert performed by the group Music Monkey Jungle, and a visit from the Eagles Eye Mobile.
"It's so much fun to meet kids that are my age and know that I'm not the only one with autism in the world," says camper Samuel LaCoste, 16.
While participants engage in recreational activities like swimming, playing games and learning to cook, SJU's Kinney SCHOLARS (Students Committed to Helping Others Learn about Autism Research and Support) are hard at work making sure everything runs smoothly. SCHOLARS are SJU undergraduate students who provide support to campers (and to the Center's learners in its youth, adult and transitional programs throughout the academic year) as 1:1 or 2:1 staff members. They are also the camp's lead teachers. 
"Many children who attend Camp Kinney would not have the opportunity to attend a traditional summer camp," says Abigayle Jayroe '14 (MBA), director of operations at the Kinney Center. "At Camp Kinney, kids with autism get to swim, do silly science experiments, and most importantly, make friends. Throughout the day social and life skills lessons are seamlessly worked in by our dedicated staff of behavior analysts."
Before working directly with individuals with autism, SCHOLARS, who often major in autism studies, psychology and elementary and special education at SJU, engage in intensive trainings and earn certifications in CPR, First Aid, Epi-Pen and CPI (Crisis Prevention Intervention). Trainings and certifications are completed on campus in the two weeks prior to the start of Camp Kinney and are renewed annually.
"Training not only prepares us for working with our learners at Camp Kinney," says Devin Spillane '19, a graduate assistant pursuing a masters in health education and Applied Behavior Analysis (ABA). "It also gives us real life experience to draw on during classes in the Fall, and is building our resumes for graduation."