Composers and Coders: Twin Brothers Combined Their Passions on Hawk Hill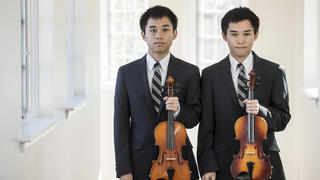 Dylan Dinh picked up his pencil with his right hand and began to compose an original song for his senior capstone project, a brand-new role-playing style video game. Sitting across from his twin brother, Dustin Dinh picked up his own pencil  — using his left hand — and began composing a different original song for his capstone project, developing the same video game alongside his brother. 
Had you not seen which hand they used to pick up their pencils, you might have a hard time telling the two brothers apart. Both double majors in computer science and music who graduated in May, the Dinh brothers have subtle nuances that differentiate the two from each other — Dylan is straightforward and blunt in the way he speaks, while Dustin chooses his words more carefully.
"Aside from the small things, we are actually very similar, which really isn't surprising for identical twins," says Dylan. 
The far more surprising aspect of their relationship, one might argue, is how the subtle differences between the two manifest themselves in their music. 
Suzanne Sorkin, Ph.D., associate professor and department chair of music, theatre and film, has worked with the Dinh twins since their arrival on Hawk Hill. Their music, she says, exemplifies both their unique voices and style, as well as how ably the two work and flow together.
"That's one of the things that's most striking about them — that their voice in their music is so individualized," says Sorkin. "Dylan has a real sense for developing melodic lines, creating melody over time. On the other hand, Dustin is highly gifted at creating unique textures — the way an individual line in a composition relates to other lines — in his compositions." 
The ebb and flow of the twins' music adds a dimension of complexity to the video game that they've spent most of their senior year developing together. 
The goal for their capstone projects, Dylan admits, was ambitious, but presented them with a much-welcomed challenge. The game takes place in a fantasy world filled with magic, witches, wizards and monsters. 
"The best comparison I can give for the battle system is that it is similar to 'Space Invaders'," says Dylan. "We found that creating the video game was quite difficult because there are a lot of things that go into making a game, and adding new features to the game would sometimes cause errors or bugs to appear." 
That's one of the things that's most striking about them — that their voice in their music is so individualized."
The other aspect of the project was creating original music for the game. Each of the brothers composed his own music, which Sorkin says adds greatly to the overall design. 
"Dylan's piece, called 'Forest,' makes it obvious how he is so sensitive to melodic lines. It really helps to create these different images in your mind that allow you to picture yourself walking through a forest," says Sorkin. "Dustin's piece, titled 'Winter,' helps to bind the story of the game together. The overarching idea is constantly changing, creating a kaleidoscopic feeling when you hear it." 
Outside of the classroom, both Dylan and Dustin found a passion for service at the Inglis House, a long-term care facility where they worked through their service-learning class. At the Inglis House, they formed lasting relationships with the community members they worked with, leading to what they called a "bittersweet goodbye."
With graduation behind them, the twins plan to leverage their computer science and programming background in searching for jobs. The dream for both is to work on developing video games in one capacity or another, but they're well prepared to take on other opportunities. 
"Just like our music, making video games will probably turn into a pastime for us, but it's our dream to be part of making a video game that gets released for public consumption," Dustin says.