Congressman John Lewis Remembers MLK, Inspires Hope in Campus Speech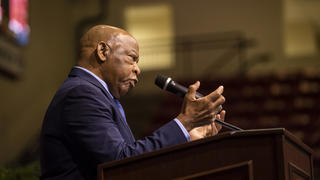 U.S. Rep. John Lewis (D-Ga.) shared memories of Martin Luther King Jr., Rosa Parks and the civil rights movement of the 1960s in a speech today at Saint Joseph's University. In his address, Lewis praised King for the changes he made in the world and shared his hopeful vision for a path forward.
"If it weren't for [King], I don't know what would have happened to our country," Lewis said. "He taught us to stand up, to speak out."
The event was the culmination of a yearlong commemoration of the 50th anniversary of King's own speech on SJU's campus in October 1967. Taicha Morin '20, a communication studies major and outreach coordinator of the Office of Inclusion and Diversity, reflected on the year's events and on Lewis' place in history.
"It has been so important for our community to consider deeply the legacy and wisdom of Dr. King, and to continue to do so as we move forward," she said. "There are few people whose lives serve as finer examples of staying awake — staying woke, in today's language — as Congressman Lewis."
At the event, President Mark C. Reed, Ed.D., presented Lewis with the President's Medal for Excellence in recognition of his decades of fighting for equal rights.
"[Congressman Lewis] models all that Saint Joseph's University seeks to instill in its students: faith in God, empathy for others, courage in the face of adversity and commitment to action and the Jesuit principle of service to justice," Reed said.
Lewis recounted the first times he heard about King in 1955 and his early days following King and Parks from the days of the Freedom Riders, who protested the segregation of public buses, through Bloody Sunday and the marches from Selma to Montgomery, Alabama.
When he first started paying attention to King, Lewis says that he learned how to "get into trouble — the right kind of trouble. And I've been getting into trouble since."
He recalled his dozens of arrests for nonviolent protests, including during 1963 sit-ins against segregated lunch counters in Nashville, Tennessee.
"We were told over and over again that if we continued to sit in we'd be arrested," he said. "My first arrest, I felt free. I felt liberated. I felt like I had crossed over."
In addition to King, Lewis spoke of his admiration for Robert F. Kennedy, the U.S. senator who fought for equality until his assassination just a few weeks after King was killed in 1968.
"If these two men had lived, our nation and our world would be better," Lewis said. "Each of us here today has an obligation, a mission and a mandate to pick up where they left off. We can do it. We must do it."
Lewis discussed the issues still facing the country today, including racial injustice and immigration reform, calling for those present to follow his example in speaking out.
"I say to you as students, as young people, as parents and teachers: never give up. Never give in. Never lose faith," he said. "We will get there. We will create the beloved community."
Despite ongoing struggles, Lewis closed his speech with a vision of the country's progress since the civil rights movement began.
"Martin Luther King Jr. helped liberate America," he said. "As a country we are better. As a people we are better. We have come too far. We are not going back. We are going forward."
---