Dr. Condoleezza Rice Delivers Carfagno Lecture on Hawk Hill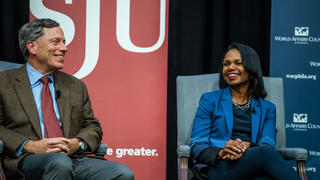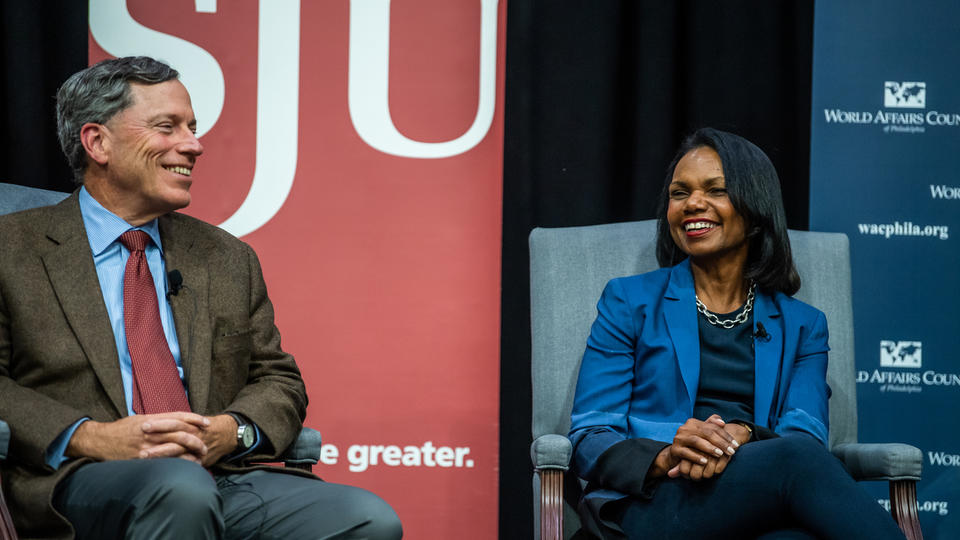 Nearly 30 years after the fall of the Berlin Wall and on the 18th anniversary of the September 11 terrorist attacks, Former Secretary of State Dr. Condoleezza Rice spoke to the Saint Joseph's community and guests about the importance of a shared narrative and global partnerships.
"If America is not a confident America, then it isn't going to be prepared to reengage in an international system," said Rice, who had served as President George W. Bush's national security advisor at the time of the 9/11 attacks before becoming the 66th U.S. Secretary of State from 2005 to 2009. Speaking about the current political divide that puts our current democracy at risk and erodes our confidence as a global power, she noted, "When I'm asked about what keeps me up at night, it's not Iranians, it's not the North Koreans. It's us."
Rice and co-author, Dr. Philip Zelikow of the University of Virginia, shared professional reflections and discussed their new book, "To Build A Better World: Choices To End The Cold War And Create A Global Commonwealth" with moderator Craig Snyder, president of the World Affairs Council of Philadelphia, as part of the Evelyn S. and Anthony M. '60 Carfagno Endowed Lecture Series at Saint Joseph's University. The series is designed to promote civic engagement and thought leadership by providing informative, engaging discussion, directed by experts in the field. 
At the event, University President Mark C. Reed welcomed 1,500 guests and led a moment of silence for the victims who had lost their lives on Sept. 11, 2001, including three alumni. 
"Tonight's discussion explores topics as relevant today as they were 30 years ago with the fall of the Berlin Wall  … global tensions, societal and cultural shifts and diplomacy among world leaders," Reed said. "We are so fortunate to have Former Secretary of State Dr. Condoleezza Rice and esteemed Professor of History Philip Zelikow discuss with us their fascinating book and the intricate details they have uncovered and analyzed about a defining time in contemporary world history." 
Rice and  Zelikow examined some of the decisions world leaders faced during the former Soviet Union's decline, how those decisions reshaped foreign policy and current U.S. relations abroad.
"If you want to change the world, if you want to build a better world, you have to do it through partnerships," Zelikow said. "Of course in those partnerships, we're going to put America first … . That's the way to build a better world."