Expanding Our Commitment to Students in Recovery by Offering On-Campus Residence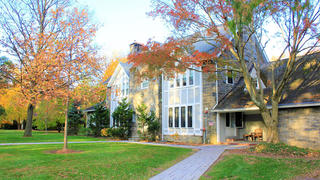 Saint Joseph's University continues to expand its commitment to students in recovery by offering an on-campus residential community in Hogan Hall. The residence serves as an additional support option for students in active recovery. The residence is the first-of-its-kind in the Philadelphia region, as it will be staffed and supported by University personnel with deep expertise in collegiate recovery including a dedicated residence manager, drug and alcohol counselors and case managers in the University's Office of Counseling & Psychological Services and Office of Student Outreach & Support.
"As a Jesuit institution, we promote care for the whole person. This approach guides us in supporting our students in recovery as well," said Cary Anderson, Ed.D., vice president for student life and associate provost. "We continuously evaluate how we can strengthen our ongoing efforts to support our community of students in recovery, and believe this residence option will allow those students to academically, socially and spiritually thrive in a supportive environment."  
The residence program structure focuses on individualized recovery plans for each resident. Programming and vibrant social activities will be a central part of the residence's community building efforts.
Saint Joseph's aims to address the multi-faceted issues of addiction both on campus, in the community and amid the ongoing national conversation. Just over one year ago, the University launched the Center for Addiction Recovery and Education (CARE). CARE's four-part mission confronts the stigma of addiction through education, research, advocacy and community engagement. According to a recent study, it was estimated that approximately 840,000 full-time students attending college across the nation will be in recovery as of 2019. While the recovery residence is administered through Student Life's Office of Student Outreach and Support, CARE will closely collaborate and communicate with collegiate recovery staff.
Hogan Hall Recovery Residence builds on the University's existing resources and services for students in recovery including counseling and psychological services (CAPS), the student health center and The Flock, the on-campus student group for recovery.
For more information on Saint Joseph's recovery resources, please email recovery@sju.edu.