Field Hockey Cracks Top 10 in NFHCA Coaches Poll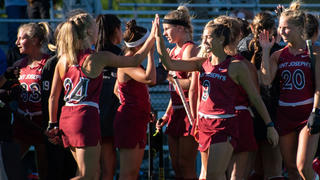 The Saint Joseph's field hockey team broke into the top 10 in the Penn Monto/NFHCA Division I Coaches Poll released on Tuesday morning.
The Hawks moved up two spots to 10th after a weekend that saw them hold previously-unbeaten Lock Haven without a shot in a 2-0 win before trouncing Delaware, 6-0. SJU also held steady at 11th in the NCAA RPI.
Two of the Hawks' next three opponents remained in the poll, as Harvard slipped one spot to 15th while UMass jumped up two places to 20th. North Carolina, which the Hawks will visit on Oct. 23, moved up a spot to number one in the nation.
Five previous opponents are ranked in this week's poll as well; Penn State held steady at No. 6 while Virginia was one of the poll's biggest movers, up three spots to No. 7. Boston College jumped two places to 16th, and both Rutgers and Duke slipped two slots each to 21st and 22nd, respectively.
Saint Joseph's hosts Richmond on Friday before Harvard comes to Hawk Hill on Sunday.
This story originally appeared on sjuhaws.com.