Field Hockey Soars to Ninth in NFHCA Coaches Poll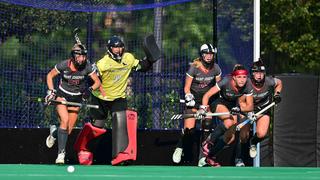 On the back of a pair of wins over top-10 teams, the Saint Joseph's field hockey team is ranked ninth in the newest NFHCA Division I Coaches Poll, released on Tuesday afternoon.
 
The ranking is the highest in program history after SJU was ranked 10th during both the 2018 and 2019 seasons. The Hawks jumped eight spots, up from 17th in last week's poll, and were the poll's biggest riser.
 
On Friday, the Hawks knocked off the three-time defending national champions, then-#4 North Carolina, 3-2, before toppling then-#8 Rutgers, 2-1, on Sunday. Freke van Tilburg tallied twice against UNC and once more against Rutgers to earn Atlantic 10 Offensive Player of the Week honors, while Manu Ghigliotti added a goal on Sunday to nab A-10 Rookie of the Week accolades. Katy Benton made it a clean sweep of the weekly conference honors as she was tabbed the Defensive Player of the Week after helping spearhead an outstanding team defensive effort across both games and adding a pair of assists against the Tar Heels.
 
North Carolina slipped two spots to sixth while Rutgers made the same drop, falling to 10th. Previous SJU opponents Maryland and Penn State came in at seventh and eighth, respectively.
 
The Hawks have four games remaining on the schedule against teams ranked in this week's poll. SJU will visit #21 UMass and #3 Boston College on October 15 and 17, while #22 Delaware comes to Hawk Hill on October 1 and Ohio State, re-entering the rankings at #24, closes out the regular season at Ellen Ryan Field on October 31.
 
Michigan remained atop the poll, with Iowa ranked second; BC, Northwestern, and Louisville rounded out the top five.
 
The Hawks will stay local this weekend as they visit crosstown rivals Penn and Temple on Friday and Sunday, respectively.
This story originally ran on sjuhawks.com.