First Cohort Begins New STEM2 Program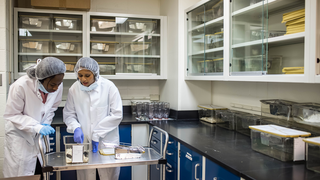 KEYS TO THE ARTICLE
A new program at SJU addresses the need for professionals who are educated in the STEM fields, in particular young people from traditionally underrepresented groups.
The program is a collaboration across departments, creating a holistic educational experience true to the mission of Saint Joseph's University.
The students in the first-year cohort are diverse in their backgrounds and identities, united by a common goal to follow their passions and to be successful in their chosen fields.
 
This fall, nine new students started at Saint Joseph's as part of a new program called STEM2. The program (pronounced STEM Squared) was created to provide access to education and a career path to leadership roles for students from groups that are traditionally underrepresented: lower income, first-generation college students and students of color.
 
The name STEM Squared was chosen to represent two definitions of the acronym. First, STEM stands for science, technology, engineering and mathematics. Paul Angiolillo, Ph.D., professor of physics and the first principal investigator of the grant, added a second layer of meaning: Support and Transform to Excel toward the Magis. The magis is the Jesuit philosophy of doing more for Christ, and therefore doing more for others.
 
The STEM fields have experienced explosive growth in recent years, outpacing overall job growth in the U.S. According to a recent Pew Research Center study, occupations in these areas have grown 79% since 1990. Despite this growth, there is a shortage of skilled professionals in these fields and employers report having trouble filling positions. In addition, there continues to be a lack of diversity in the workplace, especially in the higher levels of leadership.
 
The STEM2 program set out to address this inequity. Fundamental to the program is the collaboration between departments across the University. Admission, the sciences and education departments, the Center for Inclusion and Diversity, and Campus Ministry all play a role in achieving the program's goals. Those goals are twofold: recruitment and retention of the students in the program.
The aim is "to provide a holistic experience while they're here. It's not just taking courses. It's providing opportunities in terms of research and internships."
Funding is provided by a five-year grant from the National Science Foundation (NSF), providing scholarships for two cohorts of students. Each student receives $10,000 every year for four years while at Saint Joseph's. "NSF has made a real, pointed effort over the last 10 years to bring an eye to diversity within the STEM disciplines," says Nicole Stokes, Ph.D., associate provost for diversity, equity and inclusion.
 
The recruitment phase began once the grant was awarded. The admission team worked closely with the Center for Inclusion and Diversity and faculty from the science departments, leading a focused effort to successfully fill the first-year cohort.
 
In many ways, the program goes beyond scholarships to provide the holistic education that is central to the University's mission. Borrowing from the successful model employed by the John P. McNulty Scholars Program, each student is mentored in research projects by a faculty member and a student peer. They learn and grow as they prepare to be future leaders. "That's the idea," says Li. "The first year, they have peer mentors. The next years, they're going to be mentors to the second cohort."
 
One of the things that data shows," says Stokes, "is that students of color, even if they're academically prepared and doing well, are not always mentored and can slip through the cracks. This program mentors them by getting them acclimated and connected to faculty so they start to get a professionalization into the field."
 
Another component of the program involves students participating in community service projects through Campus Ministry and outreach programs coordinated by the biology, physics and chemistry departments.
 
Retention is the second goal of the program and involves yet another University department. Stacy Olitsky, Ph.D., associate professor of teacher education and co-principal investigator of the grant, conducts the research and reporting aspects of the program. She interacts with students to learn about them and their views at the start and throughout their four years. "The NSF wants to learn from our approach to improving retention," says Li, "so they have evidence that other institutions can use."
 
The students in the first-year cohort represent a cross-section of diversity in gender, racial and ethnic identity, and choice of majors. They include a field hockey team captain and an Eagles fan with a computer science major. A dance enthusiast with a pet tarantula pursuing environmental science. A biology major who volunteers in a hospital. A competitive swimmer and cellist who speaks fluent Korean. A computer science major on the track and field team who plays the piano and enjoys art.
 
They all met each other in late September at a virtual meet-and-greet hosted by the Center for Inclusion and Diversity. The students were introduced to faculty members and learned about the resources and connections available on campus. "It was a wonderful experience," says Julia Iacovella '24, a biology major. "It helped me feel I'm already part of a formed community. I'm so grateful to know people who have similar goals, interests and mindsets as me, and can't wait to get to know them even better as the year progresses."