Former 'Hawk' Writer Goes On Assignment at the Tokyo Olympics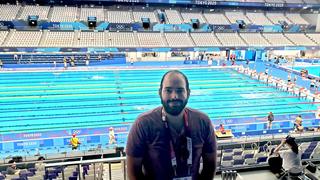 Matthew DeGeorge '10 began his journalism career writing for The Hawk student newspaper at Saint Joseph's University. Currently a staff writer for the Delco Times, DeGeorge found himself flying to Tokyo this summer where he covered the Olympic games for Swimming World Magazine — a publication he freelances for. SJU News caught up with DeGeorge during his whirlwind international travels to talk about the professional path that got him to the Olympics, how he spent his time on Hawk Hill and what wisdom he has to share with aspiring journalists. 
Can you share how your professional journey took you from

The Hawk

student newspaper to covering the Tokyo Olympics? 
After graduating from St. Joe's, I started as a freelancer, then a part-timer, then a full-timer at the Delaware County Daily Times, where I'm currently a writer and the assistant sports editor. My experiences at Delco have given me the chance to meet a lot of great people and opened doors to expand my coverage. On the side, I freelance for Swimming World Magazine, where the editor is a former staffer at Delco. 
Working with Delco and covering sports in Philadelphia, particularly as a beat writer for the Philadelphia Union over the last nine seasons, has opened up doors for other freelance opportunities with publications like The Guardian and The Penn Gazette. I've also published two books on swimming history. 
How has SJU prepared you for your career in journalism and why did you gravitate toward sports coverage? 
I attended Saint Joseph's as a biology major. One of the very first things I did on campus as a way to meet people and get involved was go to an activity fair where I learned about the student newspaper. I always had an interest in sports growing up, both playing and as a spectator. I was a voracious reader of all kinds of stories and I was a good enough writer to be confident in giving it a try. 
Once I got to The Hawk, I found a community of friends I really connected with! Many of whom I stay in contact with to this day. After working as a reliable writer my freshman year, The Hawk's sports editor began student-teaching and the assistant sports editor was away for a semester in Washington, D.C., so the sports editor job was offered to me. I jumped at it and kept at it for five semesters. Working with Jenny Spinner, Ph.D., who advises for The Hawk, was pivotal in deepening my connection to journalism and pursuing it as a career. 
Around the time I was a junior, I started to realize that the time most of my biology peers were spending in the lab was time I spent in the newspaper office. When Usain Bolt trained on campus before Penn Relays my junior year, for instance, I skipped out on a biology class to take pictures and write a story. 
I completed my biology degree with honors and thoroughly enjoyed the classwork in the sciences, but after graduation I set out to pursue a career in journalism.  
What has your experience at the Olympics been like as a journalist during such an outlier year?
Although I have nothing to compare it to, it feels a lot like covering pro sports last summer when everything first came back from the pandemic. There's a lot of mask wearing and hand sanitizing. We're all on a soft quarantine for the first 14 days, which means our movements are limited to our hotels, the venues and dedicated transportation, with only 15-minute windows to get food somewhere outside "the bubble." We're saliva tested and have to enter our health conditions daily. Our movements are pretty strictly controlled — not only is there no adventuring around the city, but there's also not really any wandering from venue to venue, which are apparently spread out across the region much more widely than they would be in a normal Olympic year. 
That said, it's been a wonderful experience. This is still the pinnacle of athletic achievement for the vast majority of the thousands of athletes that are here. The organizing committee has done a good job of constructing atmosphere in the venues and, for swimming at least, teammates of the swimmers are doing that pretty well. The legions of Japanese volunteers and workers have been nothing but polite, welcoming and helpful, even though there is a lot of pushback against the Games within the country. 
All in all, we are so lucky to be here as journalists, and the gratitude and respect that comes with that feels palpable, certainly from me and also from many of the athletes. 
All in all, we are so lucky to be here as journalists, and the gratitude and respect that comes with that feels palpable, certainly from me and also from many of the athletes.
What swimmers should we be keeping an eye on? Do you have any predictions?
Predictions aren't my game. I tend to gravitate toward the most compelling stories. So I'll be watching someone like Lydia Jacoby, who is a 17-year-old from Alaska, the first Alaskan swimmer to make the Olympic team and now a gold medalist. Or someone like Erica Sullivan, who won silver in the 1,500 free, the first time it's ever been contested in the Olympics, and is very forthcoming about her mental health struggles after her father died. Or Hunter Armstrong, who went from a high school football player to a meteoric rise in the men's backstroke. 
What are some of the most exciting games you have covered?
The memories of games like that tend to be ephemeral and only come back in moments when I'm not trying to list them. The kind of trivia aspects of games — the buzzer-beaters, the highlight plays, the championships — tend to flatten over time. I'm someone who is always looking for different sports to cover or different stories to tell, so that's the novelty that gets me excited. 
As I mentioned, what I tend to enjoy most is a narrative arc. It's most represented in a high school sports season when I cover a team that goes on a long playoff run. You get to a point toward the end of the season, after you've covered a team four or five times and you have to really dig in to find something new, and that leads you to some of the higher order stories: Connections between players, how they got there, some historical context. It also presents itself when you're on a beat like I am with the Union — you begin to understand success in 2021 in the light of failures of 2017, etc. Those are the kinds of stories that I enjoy finding, and the type of, "you know, this is the first time since such and such year that we've done X" is always really exciting to me. 
Any advice for aspiring journalists?
Saved the toughest one for last! 
Journalism is a difficult field right now and a lot of people can do everything right and still struggle because of factors that are way beyond their control. The business model was broken and has been co-opted by a corporate structure that isn't interested in preserving its core mission. And the consensus of the public as to an impartial media's role within a democracy is under attack. It's not an industry that is making any of its workers rich and it demands dedication. 
All that is not to discourage but set the expectations. A lot of people feel drawn to this work (I certainly do). And that's something I welcome (and that our industry should welcome). That said, it's not easy, and being ready for that is important. 
In terms of more actionable steps, it's important early in your career to be agile. Be ready to learn new skills, not just for your marketability but for your sanity, and make yourself available to new ideas to find the thing or things that you can be good at and that you want to devote to. Be open to meeting people, willing to introduce yourself, ready to ask questions and listen to the answers, willing to sound silly asking a question because you never know where it might lead.