Former Hawks Basketball Star Larry Kenney '41 Turns 100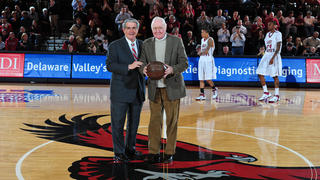 When Larry Kenney looks back on his time on Hawk Hill, "I carry nothing away except a great affection for the Jesuits."
Kenney '41, who made the comment in a 2013 video interview, is thought to be Saint Joseph's University's oldest living athletic alumnus. He attended SJU from 1937-1941, and on June 13, he will celebrate his 100th birthday. 
"I graduated with 85 boys – there were 85 in my class," Kenney said in 2013. "So that's how I made the team -- there weren't that many people there. My coach at the time was Bill Ferguson. He was the one who founded [legendary SJU men's team] the Mighty Mites and where I learned a lot was to scrimmage against him."
Kenney was born on June 13, 1920 in Philadelphia to Irish immigrants. His father, James Kenney, was a carpenter. When the 1918 pandemic struck, the mayor ordered all carpenters to start making caskets. For the next few years, James Kenney was the largest casket-maker in the city. He was able to buy property in Wildwood, N.J., and built a basketball court in his backyard. It was the only basketball court in Wildwood, and the only one in the surrounding areas. Everyone wanted to play on "Kenney's Court," as it was locally called. From children to professional athletes, people would come from all over to play basketball. It was here that Kenney first learned the sport.
Although he spent his summers in Wildwood, Kenney lived in Philadelphia. He and his four brothers all attended Saint Joseph's Preparatory School. His father built the school's gym – the Kenney Gym – and Kenney was able to continue playing basketball in high school. 

Kenney played basketball for all four years at what was then Saint Joseph's College. His freshman year was the first time the Hawks' freshman team had ever defeated Temple University's freshman team. Kenney led his team in scoring every year, and was named the city's leading scorer his senior year of college. His career high of 39 points in a game ranks sixth by a Hawk, tied with Jameer Nelson '04, who went on to play 14 seasons in the NBA.
"Larry is the consummate St. Joe's Hawk, and we are so grateful for what he contributed, on and off the basketball court," says Jill Bodensteiner, director of athletics. "We want to wish him a very happy 100th birthday."
"Larry represents the spirit of The Hawk Will Never Die!" adds Billy Lange, head coach of Saint Joseph's men's basketball program. "He is an inspiration to us all… a century of a life well lived."
During his time on Hawk Hill, Kenney could often be found in the headlines of The Hawk with titles such as "Kenney & Co. Smash 16-Year Temple Jinx" and "Kenney Named Court Captain." In one edition, Kenney was featured on the cover, and on the back page was a pretty girl with a cigarette in her hand, advertising Chesterfield cigarettes. Her name was Frances Marie Burke, a model and Miss America 1940. She would eventually become Kenney's wife.
When asked how his parents met, Kenney's son, Larry Jr., responded, "Where everyone else meets: at the Jersey shore."
"I carry nothing away except a great affection for the Jesuits."
After college, Kenney went to Penn Law School for a semester until World War II broke out.
His bad eyesight prevented him from being shipped overseas. "I could have scored more points in basketball if only my eyesight was better," Larry Jr. says he often jokes. Instead, Kenney was sent to Red Bank, New Jersey to work for the Signal Corps, a branch of the United States Army. Established in 1860, the Signal Corps is in charge of managing communications and information systems support for the military.
After the war, Kenney returned to Philadelphia, dropped out of law school, and joined his father and brothers at the James A. Kenney Casket Company. He continued to play basketball in amateur leagues, where company teams played against each other. By the late 1960s, Kenney was living in Wynnewood, Pennsylvania, married, and had four children that he was preparing to send to college. He partnered with a vault company in New Jersey to make burial vaults to house and protect caskets. Two years later, Kenney owned the vault business. By the mid-1980s, he had moved on from caskets and was concentrating solely on vaults, and had brought Larry Jr., into the business.
Kenney eventually retired, and traded basketball for golf. He and his wife, Frances, moved from Wynnewood to Haverford. They had 10 grandchildren, and four great-grandchildren. In December 2017, Frances passed away at the age of 95, and Kenney moved in with his daughter, just down the road from Saint Joseph's University.
When asked the secret to his longevity, Kenney's second piece of advice is to take walks. "He was always a walker," Larry Jr. says. "He'd been putting in a mile a day around Haverford College."
Kenney's first piece of advice for a long life is more tongue-in-cheek and immediate: smoking two packs of cigarettes a day, starting at age 13 and quitting at 40.
Perhaps he is just thinking of that woman in the Chesterfield ad.