Former SJU Baseball Pitcher Battles Back from Injuries to Play Professional Ball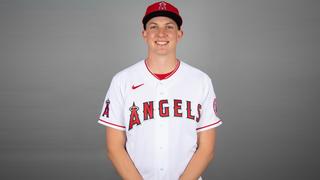 When Hayden Seig '20 started his collegiate pitching career at Saint Joseph's, it was hard for him to believe that his dream to play professional baseball would come true. 
Seig demonstrated early on that he was a clutch pitcher for the Hawks, but he also struggled with performance anxiety on the mound and battled injuries. The entire time his teammates and his coaches never wavered in their support. 
"What was cool about the whole process was having an entire team around me that supported that dream, even through a lot of down years," Seig says.
In his senior year, he finally felt like he was on a good path to get drafted to the professional ranks — 47 appearances on the mound, an impressive 11.06 strikeouts per nine innings, 107 batters struck out in 87.1 innings — but he ended up injuring his elbow and was unsure if he would ever play again. 
The season was subsequently cut short due to the COVID-19 pandemic, but there was a silver lining for Seig — the NCAA offered spring sport student-athletes an extra year of eligibility.
"Jill [Bodensteiner], and the school in general, was very supportive of those seniors coming back and, honestly, it was an easy decision to come back and play for a fifth year," Seig says.
A Second Chance
When Seig returned to Smithson Field, he pitched some of the best games of his life, helping the team reach the A-10 tournament. 
"His talent level was unbelievable," says Pitching Coach Patrick Brown, who continued to help Seig overcome the physical demands of the game.
Seig would spend the next three months undergoing rigorous rehab and strength training to play his best — regardless of the outcome.
"I kind of dropped all expectations. I said, if I play pro baseball, great. If I don't, let me give it my all and see what happens," Seig says. "To have the support of the team, to have the support of my coaches and to just get out there and throw was a dream come true."
But Seig's journey didn't end there. He was recognized during that tournament run and ultimately, after a brief stint with the Fargo-Moorhead RedHawks, he got a call from the Angels organization to play for their Single-A affiliate, the Inland Empire 66ers.
Five days after signing, though, Seig was involved in a car accident that left him trapped in the passenger seat of the team van on the way to their practice facility in Arizona.
"I remember sitting inside of the car thinking I might never throw a baseball again, but at the same time, feeling thankful that I still have my life," Seig says.
Leaning on Faith
That accident forced Seig, whose faith has always played an extremely important part in his life, to look at baseball and life through a new lens.
"I was at that point that I said, no matter what, I'm going to figure out how to get through it," says Seig, who underwent surgery on his leg following the crash. "Me as a person doesn't change whether or not I can play baseball." 
In his Twitter bio, Seig has the proverb, "Lean not on your own understanding." He has come to accept and embrace the unforeseen path of his life and baseball journey.
At Saint Joseph's, Seig felt the support from Head Coach Fritz Hamburg, who would work around Seig's schedule with the Agape Christian Fellowship meetings that he led.
"St. Joe's was so much more about the whole person," Seig says. "It wasn't just about me as an athlete, it was about me as Hayden. And I'm just extremely appreciative of how that shaped who I am now."
After the accident, Seig felt blessed to be alive. It would be a long recovery, but it certainly wasn't his first time facing a setback in his baseball career.
"I think the thing that works out for him in his favor and why I think his ceiling is so high is because he truly loves baseball and he loves putting in the work," Brown says. "He doesn't just love going out there pitching games and dominating but he loves everything that goes with it — getting to know his body more, getting to know how he's moving more, he's just really in tune with all that stuff."
Seig is excited and blessed to be able to continue his baseball career. He made his first appearance with the Angels organization in game two of the 2022 season.
"It's a dream come true to be back out on the field. I pitched in a game as an Angel for the very first time Saturday and it just brings a smile to my face — it's unbelievable."