Giving New Life to Medical Waste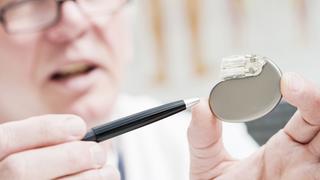 An estimated 1 to 2 million people worldwide die each year due to lack of access to an implantable cardiac defibrillator, also known as a pacemaker. Over 80% of these deaths occur in middle-to-low-income countries like Nigeria or Ghana, where the $60K price tag is unfathomable without medical insurance. 
Aloysius S. Ochasi, S.J., Ph.D., assistant director of academics and consultations, has been working to offset this type of medical inequity through Saint Joseph's Institute of Clinical Bioethics. Together with Paige Conrad '22, he's been reaching out to mortuaries across the United States to source scarcely used pacemakers from corpses and send them to those who need them most in Africa. 
"Most mortuaries are hesitant to get involved with the project," says Conrad, currently a biology major on her way to medical school. "They're worried about liability with the reimplantation."
Conrad has been working on this project with Ochasi for a little over two years now and recently secured a large haul of previously owned pacemakers from West Laurel Hill Cemetery. 
"I walked into the mortuary and they just kind of handed me a bag full of pacemakers," she explains. "They were really eager to get involved."
Undertakers are required to remove medical devices from bodies being prepared for cremation or burial. Typically, these quarter-sized devices are discarded as medical waste, but some of the pacemakers being thrown away have just recently been implanted and hold enough charge to sustain life for many, many years.
If the battery life on the pacemaker is over 70%, you're talking about adding a decade to a patient's life.
"If the battery life on the pacemaker is over 70%, you're talking about adding a decade to a patient's life," explains Ochasi. "The risk of infection from reimplantation is less than 2% and the chances of a patient like this dying without the device is high."
After they are sourced, the pacemakers are refurbished and reprogrammed by Daniel Mascarenhas, M.D., an award-winning cardiologist who has been working with different partner organizations to actualize this project in a variety of low-income countries for more than 10 years now.
Transport of the pacemakers can be anxiety-inducing. Getting them through TSA requires a cover note from Mascarenhas and landing with them in Africa can be risky.
"Customs officials require lengthy explanations," explains Mascarenhas, who travels with an entire arsenal of previously used medical supplies — pacemakers recovered from corpses, catheters previously used in angioplasties or factory-packaged stents that are past their expiration dates. 
"It's challenging to find the right partners to work with us overseas," says Ochasi. "These devices are exorbitantly expensive and we don't want to risk them being hijacked and sold for profit. So we do have folks on the ground who are making sure the pacemakers go directly to the poorest of the poor — people who really need them."
To date, Ochasi and Conrad have successfully shipped 20 pacemakers to patients in dire need of cardiac support in Nigeria and Ghana. Mascarenhas has distributed over 400 across a variety of hospitals in Asia.
So, why go through the hassle of shipping these pacemakers overseas when there are plenty of uninsured patients right here in the U.S.? 
Reimplantations like this can't be executed in the United States. The FDA, whose jurisdiction only extends through the United States, has declared pacemakers are single-use medical devices and, therefore, there is no chance that these reimplantation efforts could be aimed at helping anyone stateside. 
Lying at the heart of Ochasi's mission is his search to spread goodwill through the judicious use of medical resources. While these pacemakers are considered waste in the United States, they are saving lives in Africa.
"Justice means a lot," says Ochasi. "We talk a lot about social and distributive justice and this project puts these cherished SJU values into action. We're slowly improving the quality of life for indigent patients in these countries."