Graduate Finds Passion for Farming and Fermentation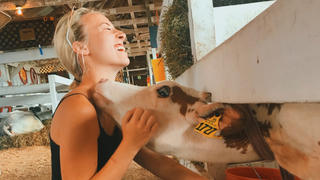 Keys to the Article
Julianne Hunt '21 came to Saint Joseph's with the intent of being a pre-med student, but decided to pursue her lifelong passion for farming.
She was hired at Roba Farms as a farm manager, and will help them open their new cidery with the knowledge she acquired from a fermentation course she took at the University.
Hunt double majored in biology and classical studies, while also acting as a Hawk Host, participating in two Winter Immersion Program retreats and working in the biodiversity lab.
Julianne Hunt '21 has wanted to be a dairy farmer since she was a child. Having grown up in a rural town near Scranton, Pennsylvania, she loves working with the earth and has always been drawn to the farming lifestyle.
But the idea of a farming career made her parents a little apprehensive, so Hunt decided to major in biology at Saint Joseph's with the intention of pursuing a career in health sciences.
However, she says she never felt the fire for the medical side of biology. Instead, she fell in love with botany.
"I took a plant systematics course, which explores how plants evolve over time and how they're related to each other," Hunt explains. "It was my favorite class. I couldn't wait to go every day."
She signed up for a summer internship at Heritage Farm, an urban farm near the University that provides the community with locally grown produce as well as education opportunities. At Heritage Farm, Hunt was able to supplement her classroom learning with hands-on experiences.
"At the end of the day, farming is 90% practical. It's great that you know how plants get pollinated, but you also need to know how to drive a tractor."
When the COVID-19 pandemic hit the United States, Hunt used her return home as an opportunity to apply to every single farm in her hometown. She milked cows in the mornings for Manning Farm Dairy in North Abington, Pennsylvania, and in the afternoons she planted and picked vegetables at Roba Family Farms.
This past December, she was hired at Roba Family Farms as one of their farm managers. She will also be assisting with the opening of a new cidery at the farm.
"[The owners] were always talking about opening their own cidery, but they needed someone to make the cider," says Hunt. "I told them I had taken a fermentation class at St. Joe's and that I have a degree in biology. They offered me the job, and I've been traveling around with them to learn how to make our own hard cider."
Hunt's fermentation class was taught by Michael McCann, Ph.D., professor and chair of the biology department. 
"He's a very passionate professor, and when he talked about science – especially fermentation – I was on the edge of my seat," she says.
McCann was also Hunt's advisor, and was very supportive when she decided to go into agriculture. He also supported her decision to double major in classical studies.
"Biology is super interesting, but it's dense," says Hunt. She needed to nurture the emotional, artistic side of her brain, and classical studies was the perfect outlet for her.
"I was really drawn to my Latin class," she says. "It was nice to be able to have discussions about architecture and people who lived thousands of years ago. To be able to step into a completely different world and learn about that culture … it was nice to just kind of breathe – especially while I was taking other courses like physics."
Hunt admits that it was hard work double majoring in biology and classical studies, but she owes her work ethic to her parents. She says it was a privilege to be a first-generation college student, because she saw her parents work hard their whole lives to provide for her.
Her work ethic also shines in her extracurriculars. In addition to being a double major, Hunt was a Hawk Host and participated in two Winter Immersion Program retreats before the pandemic. She also worked as a lab member in the University's biodiversity lab, where she cared for endangered species and researched aquaponics. 
As her four years at Saint Joseph's comes to a close, Hunt reflects the impact Hawk Hill has had on her identity, especially the Jesuit ideal of cura personalis, or care for the whole person.
"I find the idea intriguing," she says. "You're more than just your job. I'm more than just a daughter, but it's part of who I am. And that connects me to being a farmer, which connects to my passion for social change and social justice."